Press Release
Nurses condemn California senate committee vote to protect insurance companies, not nurses and health care workers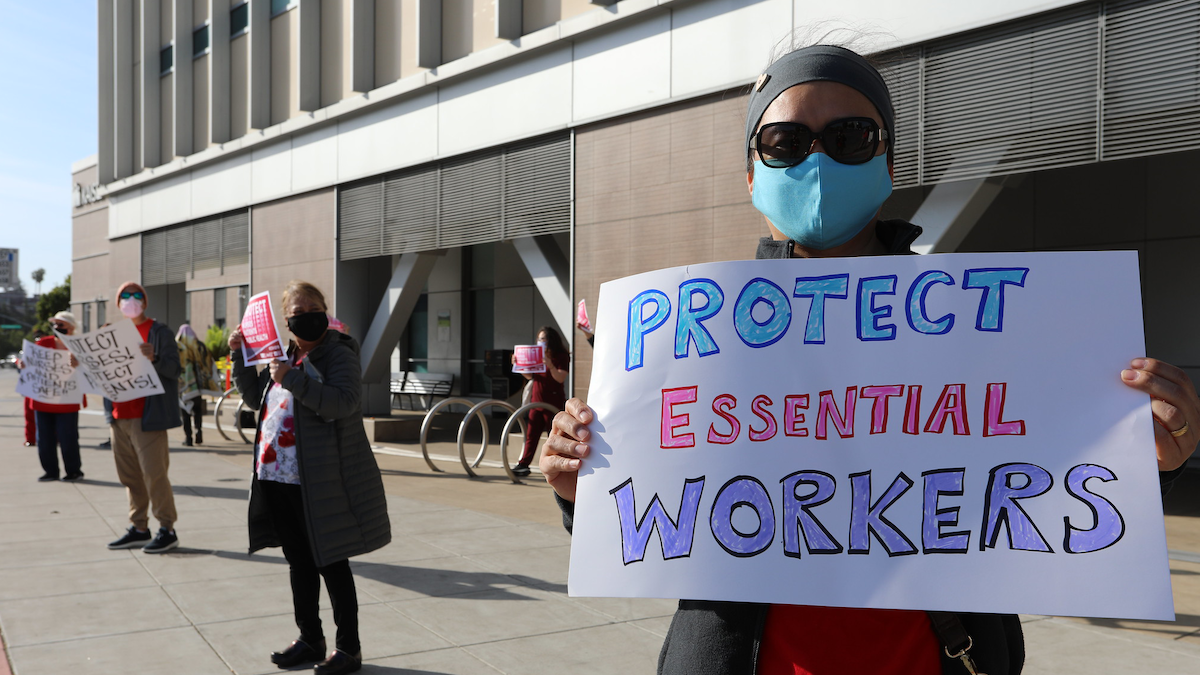 The California Nurses Association (CNA), representing 100,000 registered nurses, strongly condemned the state Senate's Labor, Public Employment, and Retirement committee for failing to pass SB 893 (Caballero), a bill that would have made nurses and other direct-care hospital workers automatically presumed eligible for workers compensation for infectious and respiratory diseases, including COVID-19, as well as musculoskeletal injuries, which nurses experience at extremely high rates.
As SB 893 author Sen. Anna Cabellero pointed out during hearing testimony, the bill would have brought "gender and economic parity" to nurses, a women-dominated profession, given that California police officers and firefighters, male-dominated professions, already have presumptive eligibility for a whole host of illnesses and injuries.
The following is a statement from CNA presidents Deborah Burger, RN; Zenei Cortez, RN; and Malinda Markowitz, RN:
This week, members of the California Senate Labor, Public Employment, and Retirement committee failed nurses in the state, as well as hospital workers who directly care for our patients, by voting no on SB 893—or in the case of three cowardly senators, abstaining from voting at all. This bill would have given California's nurses the same presumptive eligibility protections that male-dominated professions in this state, such as police officers and firefighters, already enjoy and deserve for a whole host of issues.
Our male-dominated counterparts interact with our patients out in the world, and then they bring them to nurses. Yet, nurses do not have ongoing, permanent presumptive eligibility for a single illness or injury. Committee Chairman Sen. Jerry Hill said that all nurse presumptive eligibility must have a sunset, and that's why he could not vote for SB 893.
Nurses do not deserve for our protections to have an expiration date. Our male counterpart professions do not have an expiration date for their presumptively eligible conditions. The illnesses and injuries we commonly face at work do not suddenly stop, and we have no idea if or when COVID-19 will no longer be a workplace threat, so we need ongoing protections.
Nurses are beyond tired of being pressured to use our sick or vacation time for conditions we acquired at work, and spending time and energy fighting for our common injuries and illnesses to be approved for workers comp. It's 2020, and we demand gender parity. We demand legislation that protects us from infectious diseases, not just COVID-19, because we don't know when the next pandemic is coming. We demand ongoing protections for our extremely high rates of musculoskeletal injuries.
Nurses face threats on the job every day. If our Senators can't stand up for nurses now, at a time when the whole world is more aware than ever before of the critical role that nurses play in protecting public health, when will they stand up for us? We are beyond disappointed in this vote, which leaves women workers fighting for equal protections, so that we can protect our patients, in turn. California, a state known for its progressive legislation, is better than that.