Press Release
Nurses, caregivers hold virtual press conference to demand Palomar Health put patients first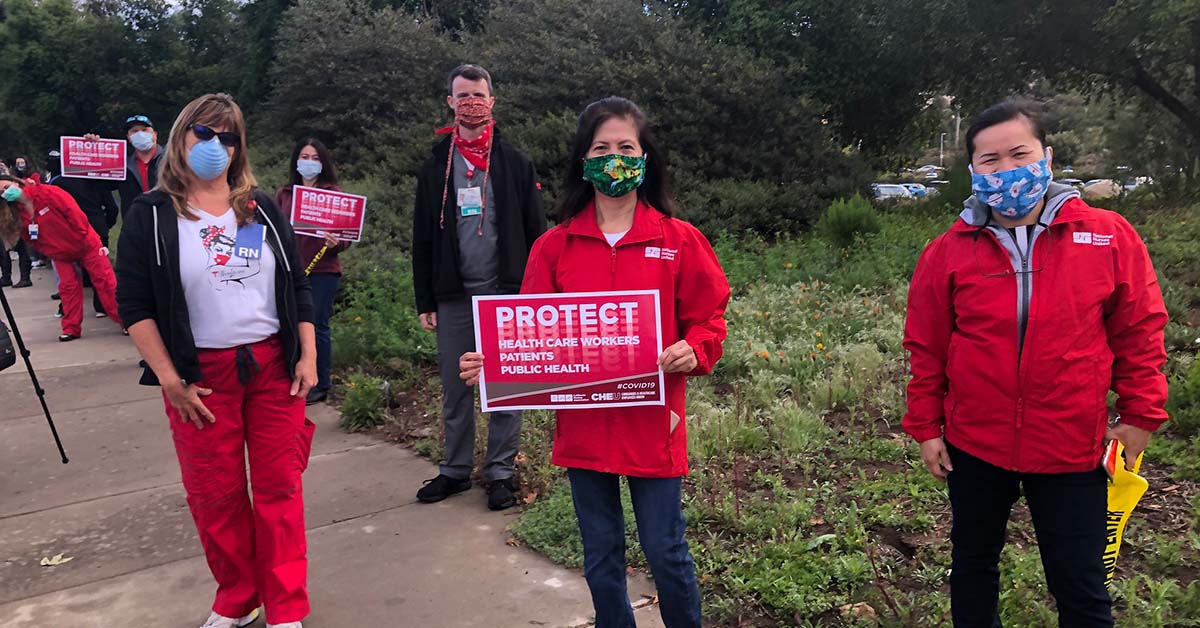 Registered nurses and caregivers will hold a virtual press conference Monday, Sept. 13 at 6 p.m. to affirm their commitment to safe patient care conditions during times when Palomar Health has failed to put patients first, the California Nurses Association (CNA) and the Caregiver and Healthcare Employees Union (CHEU) announced today.
During the Covid-19 pandemic, RNs and caregivers say they have tirelessly worked on the front lines while Palomar Health administration attacked them by laying off their colleagues—creating a staffing crisis, applying for waivers of the state-mandated safe nurse-to-patient staffing ratios, and creating uncertainty by restructuring departments.
Nurses and caregivers say they are disappointed that Palomar Health has not taken affirmative measures to be transparent with frontline workers when making changes that impact patient care. They are calling on the Palomar Health administration and the Palomar Health board to protect patients, nurses, caregivers, and the community by being transparent.
"Many of us have worked at Palomar Health for many years and we feel this is our home," says Palomar RN and CNA chief nurse representative Sue Phillips. "We have seen the transformation of Palomar Health, but in the most recent years, the changes have negatively impacted the nurses and caregivers. These changes affect our daily ability to provide the safe patient care we want to give to the community."
Registered nurses and caregivers have been at the bargaining table with Palomar Health for nearly five months to address patient care conditions and short staffing. RNs and caregivers affirm that if conditions at Palomar Health don't improve, it will be challenging to retain qualified staff amidst the ongoing pandemic.
Who

: Registered nurses, caregivers, and concerned community members

What

: Virtual press conference

When

: Monday, Sept. 13, 2021, at 6 p.m.
To attend the press conference, please email press@nationalnursesunited.org.
"We want to put our patients and their safety first," said Pacita Balcom, a certified nursing assistant at Palomar and a CHEU representative. "We are calling on Palomar Health and the board of directors to staff all the departments safely, stop restructuring units, and be transparent in sharing information that affects the nurses and caregivers."
California Nurses Association represents around 1,300 nurses at Palomar Health hospitals. The Caregiver and Healthcare Employees Union represents around 1,700 ancillary caregivers. California Nurses Association/National Nurses United is the nation's largest and fastest-growing nurses' union representing more than 175,000 registered nurses across the country.