Press Release
Nurses, Caregiver and Healthcare Employees Urge Hospital to Rectify Short Staffing and High Turnover as Flu Season Gets Underway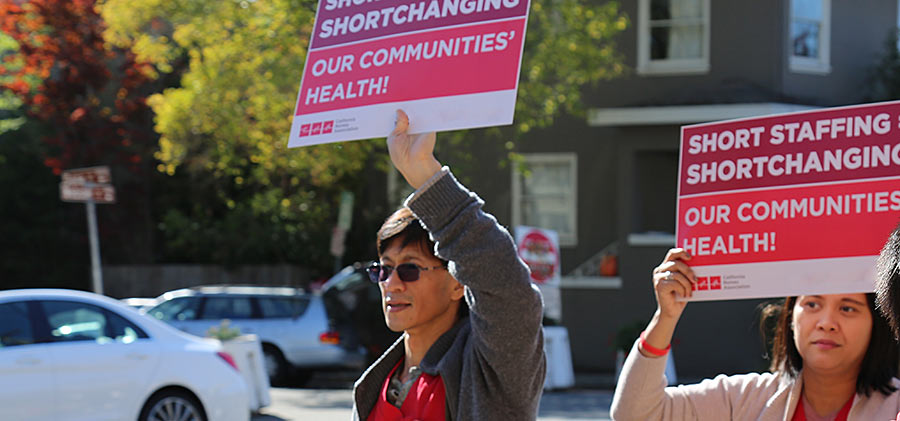 Informational Picket Planned Nov. 12 at Shasta Regional Medical Center in Redding
Nurses, caregiver and healthcare employees will hold an informational picket at Shasta Regional Medical Center (SRMC) in Redding on Tuesday, Nov. 12. They are urging hospital management to immediately resolve the facility's chronic short staffing and high turnover rates announced California Nurses Association (CNA) and Caregivers and Healthcare Employees Union (CHEU) today.
Nurses and healthcare workers at SRMC are advocating that the hospital maintain appropriate staffing levels and anticipate the greater staffing needs during flu season, when the patient load increases and more staff take sick days. According to nurses, patients experience excessive wait times in the emergency department, ranging from 2 to 24 hours. Staff is often asked to work overtime shifts lasting from 18 to 24 hours. Management can start to rectify these problems, nurses say, by filling at least 28 RN positions and 8 nurses aides positions, 4 in the ER and 4 in the Telemetry unit. 
"We're planning a picket because as nurses it is our duty to advocate for quality care for our patients. Management continues to ask us to do more with less, especially less staffing. This contributes to high turnover and that in turn contributes to short staffing. It's a vicious cycle and it has to stop," said Michelle Gaffney, an RN in the ICU at SRMC. "They treat the hospital like a giant chess board, moving patients and staff in and out of units, trying to cobble together temporary fixes to ongoing staffing shortfalls. We're calling on the hospital to do right by our patients and increase staffing to the levels necessary for flu season and beyond."  
What: Nurses, Caregiver and Healthcare Employees' Informational Picket
When: Tuesday, Nov. 12. 6:30 a.m. – 12:30 p.m.
Where: Shasta Regional Medical Center, 1100 Butte St., Redding
"Due to short staffing we are holding and treating admitted patients in the ED and actually discharging them from the ED when they should be transferred to the ICU, PCU, ACE, Med/Surg or Ortho/Neuro units. We are holding those patients not because there is a lack of beds in those units but because there is a lack of staff," said Tiffany Kraft, an RN in the ED. "We are asking for adequate staff so we can transfer those patients to the appropriate unit where they can receive the optimal level of care for their condition."
"As a respiratory therapist I know that a delay in respiratory care can worsen a patient's condition and this is absolutely avoidable with adequate staffing, which includes increased staffing to treat the respiratory problems that arise during flu season," said CHEU member Frances Lloyd. "Under management's current staffing policies, I can only attend to patients in the ER and ICU and this care may be interrupted if I'm called away as a member of the rapid response team. We are calling on SRMC to put appropriate staffing levels in place on a day-to-day basis, so that no matter where a patient is in the hospital, they can get the care they need in a timely way."
Shasta Regional Medical Center is part of the Prime Healthcare, which includes 45 hospitals in 14 states, and with 15 hospitals in California, is the largest for-profit hospital chain in the state. In 2018 the chain and its founder and CEO, Dr. Prem Reddy, were ordered to pay $65 million to the federal government to resolve allegations hospitals submitted false Medicare claims. The settlement with the Department of Justice covered ten hospitals including Shasta Regional Medical Center.
The California Nurses Association has 100,000 members statewide and is affiliated with National Nurses United, the largest and fastest growing union of RNs in the nation. CNA/NNU has won landmark health and safety protections for nurses and patients in the areas of staffing, safe patient handling, infectious disease and workplace violence protection.