Press Release
Nurses call on world leaders to increase global vaccine access during UN General Assembly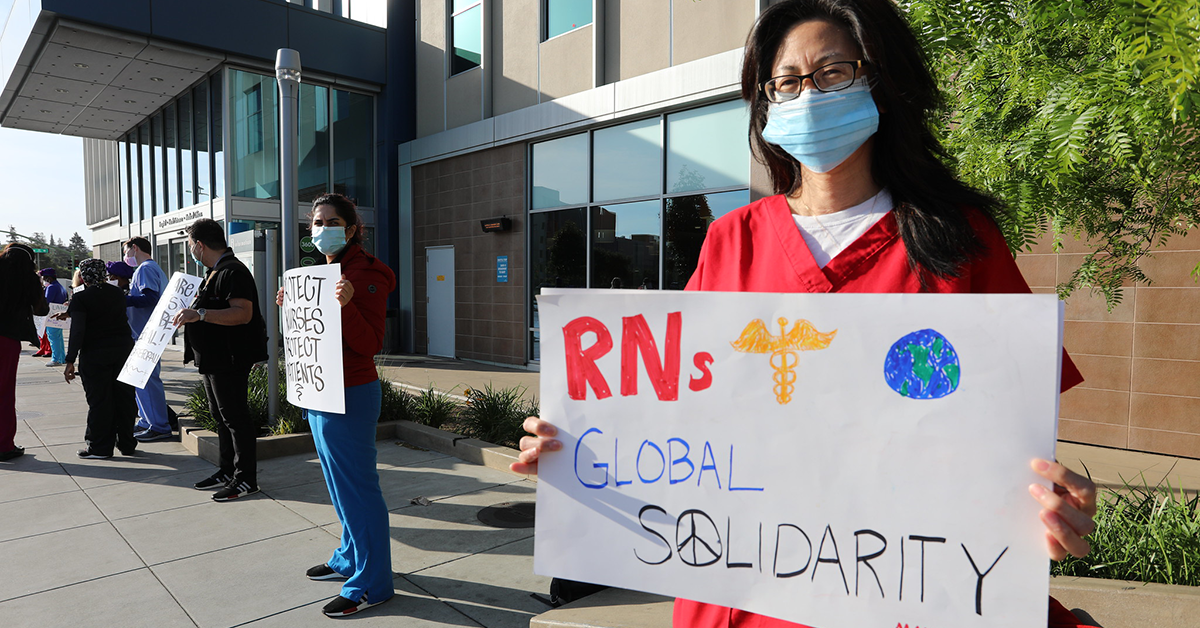 National Nurses United: It's time for a global response to the Covid-19 pandemic
As governments from across the world meet at the annual U.N. General Assembly and President Biden hosts a summit on the Covid-19 response, National Nurses United (NNU), the United States' largest union of registered nurses, calls on the president and every world leader to immediately work together to end this pandemic. NNU President Deborah Burger, RN released the following statement:
"The global response to Covid-19 continues to fail millions of people in low- and middle-income countries across the world. While wealthy nations increasingly have resources to protect against this virus and treat patients suffering from it, others have been left without those resources. The dramatic lack of access to vaccines, testing and diagnostic tools, and treatments in countries in the Global South is unacceptable and dangerous.
Nurses know that we will never emerge from this pandemic unless the world quickly acts to drastically increase access to vaccines, diagnostics, and treatments for Covid-19. If we do not do this, the illness, death, and suffering caused by this pandemic will continue, and we may see the development of dangerous variants.
NNU applauds President Biden for convening an international summit during the U.N. General Assembly about the Covid-19 response, and for taking action to increase global access to vaccines in recent months, including exports from the United States. We also applaud the Biden Administration's support for a TRIPS Waiver at the WTO to allow for the widespread production of vaccines. However, the shortage of highly effective vaccines in low- and middle-income countries continues today, and nurses recognize that donations will not be enough to address this shortage. Right now, just over 3 percent of people in low-income countries have received any dose of a Covid-19 vaccine. It is critical that wealthy countries work together to quickly increase production of vaccines and therapeutics.
NNU calls on President Biden and other world leaders to immediately take action to increase manufacturing of and access to Covid vaccines and therapeutics. Every leader must commit to speedily enact a temporary emergency waiver of certain World Trade Organization intellectual property rules that currently prevent the widespread production of vaccines, diagnostics, and treatments.
Further, we call on President Biden to commit to funding the immediate manufacturing of billions of additional doses of Covid vaccines within the next year, to use his full authority to require U.S. companies that hold monopolies over Covid vaccines and therapeutics to transfer their technology to manufacturers in the Global South, and to reallocate excess doses of Covid-19 vaccines in the United States to low- and middle-income countries before those doses expire."