Press Release
Nurses call on House to join U.S. Senate in passage of reforms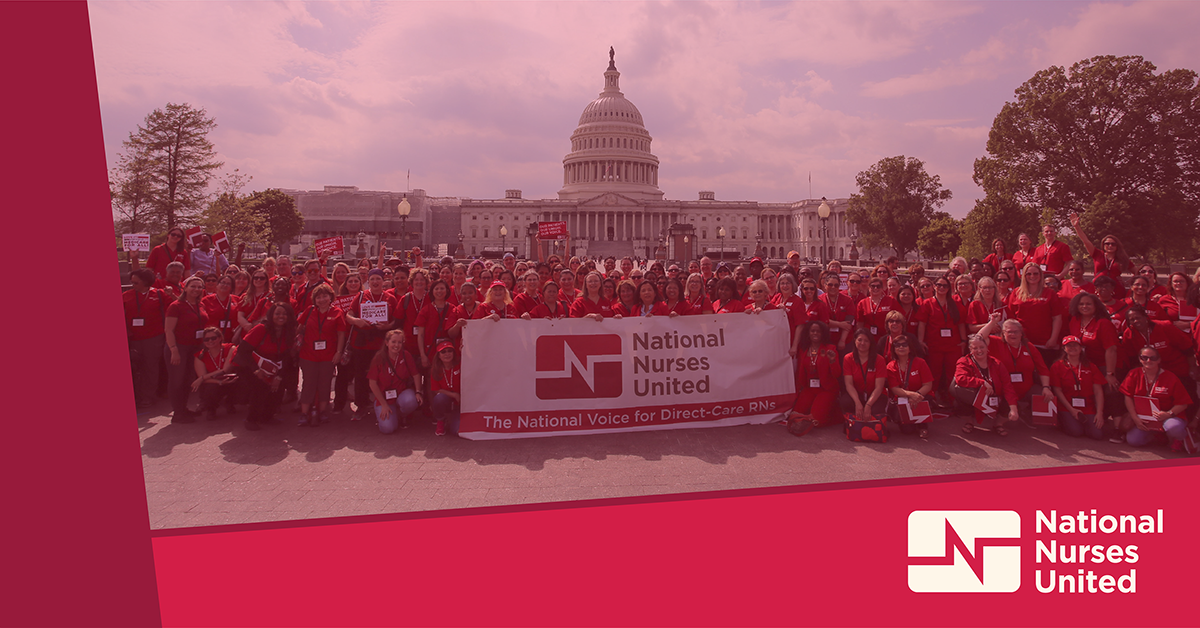 NNU praises role of progressives in fighting for social change
National Nurses United (NNU) today applauded the U.S. Senate for passing the Inflation Reduction Act, which the union called "an important first step to enact reforms to rein in pharmaceutical price gouging and act on the climate crisis," and urged the U.S. House of Representatives to pass the bill as soon as possible.
"While many of the sweeping initiatives proposed by the landmark Build Back Better legislation were not achieved, nurses welcome what has been accomplished," said NNU President Jean Ross, RN. "This is not the end of efforts by NNU, other health care and climate activists, and our progressive allies in Congress to win vital social change legislation, but it will save lives, hold more corporations accountable, and serve as a base for future vital social justice reforms."
NNU members, she noted, "have campaigned for years to address the crisis our patients face when they can't afford far-too-costly medications produced by profit-first pharmaceutical giants. We have seen too many patients put their lives at risk by skipping needed medication or cutting pills in half at grave danger to their life and health."
Senate passage of the bill marked an exceedingly rare defeat for the pharmaceutical industry, one of the most powerful corporate lobbies "which has long held sway in Washington and state capitals," said Ross. "This bill demonstrates that even powerful corporate interests can be beaten, and it will encourage all of us to press to extend the gains here. The passage of this bill, even with the concessions and limitations in it, is a direct testament to mass action, and mass pressure which has been at the heart of every social reform in U.S. history."
The drug pricing caps will allow the Center for Medicare and Medicaid Services to negotiate lower prices on prescription drugs for seniors on Medicare, though just a limited number and not until 2026, cap out-of-pocket costs for seniors to a maximum of $2,000 per year that currently exceed $10,000 a year for the costliest drugs and restrict insulin costs to $35 a month for Medicare recipients. "Ensuring the government can begin to negotiate lower drug prices is exactly how countries across the planet provide medication at lower prices for their people. We have opened the door and can now begin to eradicate this disgrace in the United States," Ross said.
Obviously, she added, "those drug pricing protections need to be extended to all Americans and to all prescription drugs, not just the limited formulary included in the legislation." The Republican strategy to block capping insulin costs for non-Medicare beneficiaries "was a heartless, cruel act that we will join with others in reminding voters this fall," Ross continued. A Yale University study found that 14 percent of the nation's 7.4 million insulin users are spending more than 40 percent of their income after food and housing costs on the medicine, the Washington Post's Jeff Stein pointed out.
On climate change, the bill includes $60 billion to aid low-income, disadvantaged communities that have long faced the worst impacts of fossil fuel pollution, and will create jobs by a significant investment of federal funds for renewable energy production, and new tax credits for consumer acquisition of solar panels and electric vehicles. One study estimates that the bill will cut annual U.S. greenhouse gas emissions by about 1 billion metric tons by 2030, helping drive down carbon emissions by about 42 percent from 2005 levels. NNU also welcomes the bill's permanent extension of funding for the Black Lung Disability Trust Fund for coal miners harmed by black lung disease.
Though, again, as Ross noted, the bill also has harmful gifts to the fossil fuel industry demanded by Sen. Manchin in the bill. "Still," continued Ross, "in a Congress that has refused to act on needed climate action for decades, we agree with Sen. Bernie Sanders that the bill 'does begin to address the existential crisis of climate change,'"
NNU, Ross continued, also welcomed the bill's establishment of a 15 percent corporate minimum tax, to redress the scandal of some of the nation's biggest, most profitable corporations paying no taxes at all or receiving tax rebates, and a new tax on stock buybacks of corporations that purchase shares of their own stocks, both of which should pay for much of the bill's provisions.
"Our work on transformative health care reform, climate justice, and corporate accountability is far from finished," Ross concluded. "But every social change law was only a beginning as well. This is a modest, but substantial step. The House should act quickly to pass it so President Biden can sign it into law.
National Nurses United is the largest and fastest-growing union and professional association of registered nurses in the United States with more than 175,000 members nationwide.