Press Release
Registered nurses call on CDC to prioritize health care workers for second Covid-19 booster shot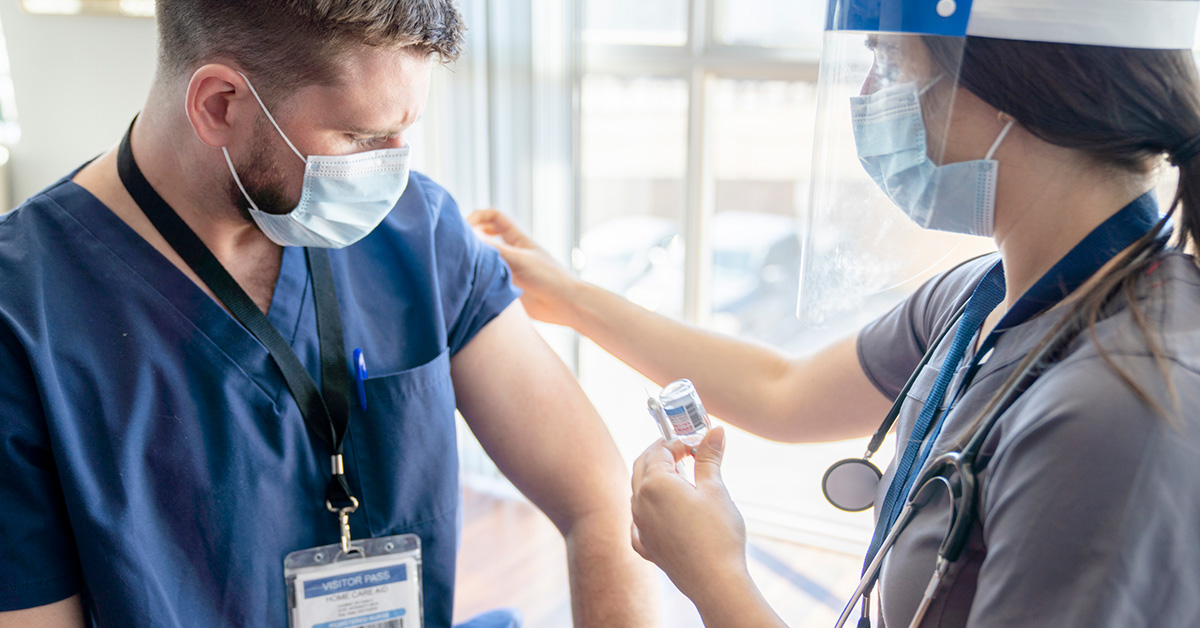 National Nurses United (NNU), the largest union of registered nurses, sent a letter to the Centers for Disease Control (CDC) today, calling on the agency to immediately approve a recommendation for a second Covid-19 vaccine booster for nurses and other health care workers. NNU is sending this letter one day after the U.S. Food and Drug Administration and CDC authorized a second booster dose for "either the Pfizer-BioNTech or the Moderna COVID-19 vaccines for older people and certain immunocompromised individuals."
In today's letter, NNU delineates why it is imperative that health care workers be prioritized to get a second booster shot:
"Frontline nurses and other health care workers were among the first to receive a booster dose in early October. Last September, nurses across the country were beyond grateful and relieved for your courage to prioritize our health and safety as we battled the highly contagious and deadly SARS-CoV-2 Delta (B.1.617.2) surge when you included "those in high risk occupational and institutional settings," including health care workers in the CDC's recommendations on who should first receive the first booster. However, we are dismayed that health care workers were not included in yesterday's recommendations and strongly urge you to rectify that matter immediately.
With the highly transmissible and immune evasive Omicron sub-lineage, BA.2, now dominant in the United States, this puts nurses and other health care workers susceptible to infection and severe disease. While Covid-19 vaccines still protect against any of the Omicron sub-lineages, health care workers who have worked on the frontlines of the pandemic for over two years are several months out from their initial booster dose. This danger is further magnified by the failure of the U.S. Occupational Safety and Health Administration to continue enforcing its Emergency Temporary Standard for health care workers, leaving frontline caregivers especially vulnerable at this time.
We urge you to afford frontline health care workers with the necessary protection from Covid-19 so that we can continue to provide safe patient care by amending yesterday's recommendation to include health care workers in the group of people to be prioritized to receive a second booster shot."
National Nurses United is the largest and fastest-growing union and professional association of registered nurses in the United States with more than 175,000 members nationwide.