Press Release
Nurses Call on El Paso Hospitals to Step Up Safety Measures as Virus Crisis Explodes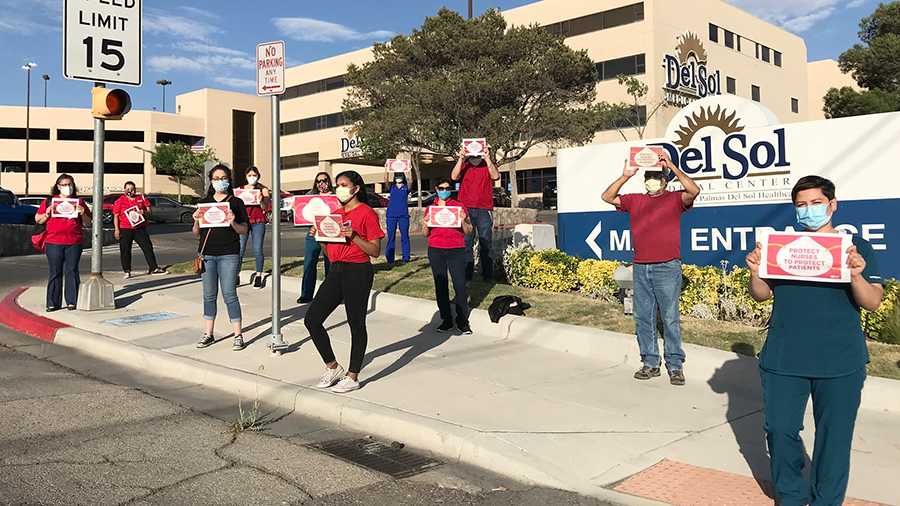 With the Covid-19 pandemic continuing to explode across El Paso, National Nurses United today called on all regional hospitals and other health facilities to escalate safety precautions to protect patients and health care workers to limit the spread of the deadly virus.
 
El Paso County today reported 1,128 new coronavirus cases, with more than 45,000 cases in the county. The county data shows 934 people were hospitalized due to Covid-19, with 245 in intensive care, a rise by 22 patients since Wednesday. There were also 114 on ventilators, then El Paso Times reported. Covid-19 patients made up 42% of all county hospitalizations, a 2% rise from Wednesday.
 
The NNU, which represents registered nurses at five El Paso hospitals, urges hospitals and community leaders to sharply escalate infection control safety measures.  
 
"Our community is facing unprecedented times. We must take immediate action to dramatically limit the spread in the community, in our health care system, and protect the lifeline that is our frontline health care workers and patients who are in grave risk," said Del Sol Medical Center RN Ariana Lucio.
 
NNU is urging all county hospitals and health facilities as a matter of public policy to:
Test all emergency patients immediately; ensure separate triage and care areas for ER patients with symptoms of the virus.
Mandate pretesting of all non-emergency hospital patients. Ensure all hospitals establish separate and distinct areas to care for Covid-19 patients, separate from other patients who may have Covid-19 and from those who have been ruled out.
Ensure all healthcare facilities provide nurses and health care workers appropriate PPE including respirators at least as protective as a single use N95 filtering facepiece respirator, eye protection, and other appropriate gowns, health and shoe coverings and medical grade gloves for every encounter with a Covid-19 positive patient or patient who could have Covid-19.
Provide rapid testing for healthcare workers where they work, both symptomatic and non-symptomatic staff. Any worker exposed to Covid-19 should be placed on a 14-day paid precautionary leave and tested at the end of that period. Provide presumptive eligibility compensation for all lost work time and medical costs for those who test Covid-19 positive.
"Increased infection prevention measures" are essential "to decrease the spread" of the virus "to protect the health and safety of our community," said Lucio.
 
"Healthcare workers in El Paso currently have the highest rates of infection of any group and if we don't take urgent measures to protect them it will become very hard to protect the whole community," added NNU President Jean Ross, RN.