Press Release
Nurses to Bring Grinch, Coal to HCA Offices, Unsafe Virus Conditions Betray Holiday Spirit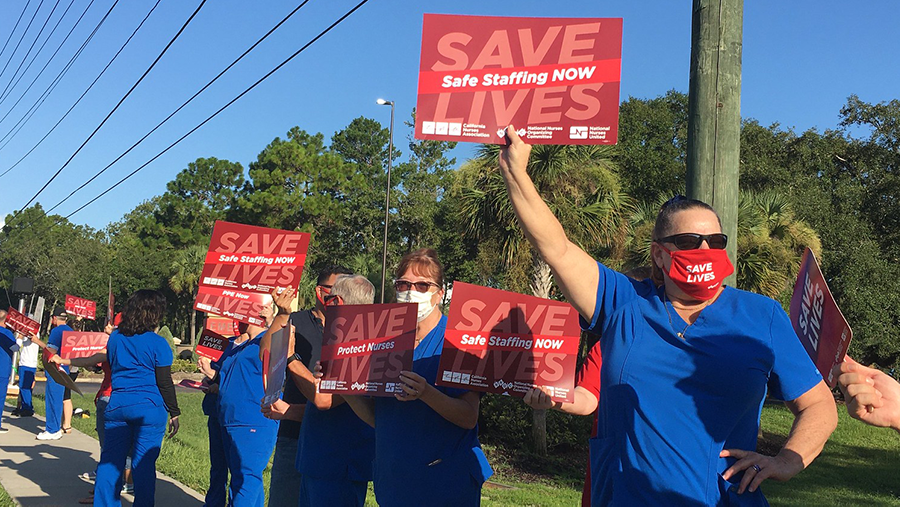 HCA administrators are delivering a somber holiday season in their West Florida hospitals, say registered nurses, and RNs from eight West Florida HCA hospitals intend to remind the top executives of their betrayal of the holiday spirit for nurses and patients with a visit to HCA's West Florida Regional offices today.
The RNs will bring the Grinch, lumps of coal, and some off-key carols to the HCA officials to convey their displeasure with the unwelcome holiday gifts of unsafe staffing amid the pandemic surge, failure to notify frontline nurses of exposure to Covid-19, and a shocking rise in the loss of RNs who have left due to unsafe conditions. More than 400 RNs have left the bedside from eight HCA West Florida hospitals in the last six months.
What: Nurses to Visit HCA Regional Office with the Grinch, lumps of coal
When: Thursday, December 17, 4 p.m.
Where: HCA West Florida Headquarters,
             3031 N. Rocky Point Dr., Tampa
"Everyone in the country has known for 10 months that this winter pandemic surge was coming. Yet HCA has ignored our efforts to do safety planning and done little to prepare for the crisis rocking our hospitals," said Judy Preuss, an RN who works at Oak Hill Hospital in Brooksville. "Our patients, our neighbors, our community need to know the deterioration of safety measures we are facing."
"Overwhelmed nurses are being required to provide care for an unsafe number of patients in the hospital intensive care units and on other hospital floors. It means we are regularly not able to devote the essential time and individualized care each of our gravely ill patients need, properly monitor changes in a patient's condition, and are more prone to make mistakes," said Jackie Creevy, RN, who works at Doctors Hospital of Sarasota.
"When exposed to confirmed infected patients, our nurses typically find out through our colleagues -- not hospital managers. The hospitals' failure to ensure safety puts us, our coworkers, and our own families at increased risk of becoming sick, or worse, with Covid-19," said Keosha Morris, RN, who works at Largo Medical Center.
"This is on top of being so short staffed that we can't possibly ensure our patients' safety. Too many of our experienced nurses are no longer willing to put up with these risks. We are seeing an exodus of staff we need to have at the bedside with us," Morris added.
"Our conditions reflect a lack of respect for nursing concerns, such as adequate staffing, and lack of basic hospital supplies, such as IV pumps, EKG cables, and oxygen regulators," said Martin Peebles, RN, also of Largo Medical Center. "Nursing concerns about inadequate staff and supplies are met with disdain, ridicule, and even hostility. HCA cannot go on facing the pandemic with such disdainful treatment of nurses."
Nurses will be joining the event from Blake Medical Center, Bradenton; Doctors Hospital of Sarasota; Fawcett Memorial Hospital, Port Charlotte; Largo Medical Center; Medical Center of Trinity; Northside Hospital, St. Petersburg; Oak Hill Hospital, Brooksville; and St. Petersburg General Hospital