Press Release
Nurses Blast Late Session Bill to Overturn RN Standards As ALEC-Style Threat to Patient Protections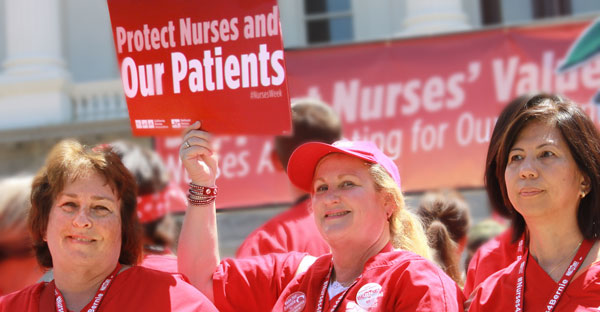 The California Nurses Association today condemned a last minute legislative maneuver to erode decades of nursing oversight of the public board that governs professional nursing practice, including critical regulations that protect patients in California.
SB 1194 by Sen. Jerry Hill of San Mateo was hurriedly scrapped together last week – a process commonly known in California legislative parlance as "gut and amend" – to replace a similar bill, SB 1195, defeated earlier in the legislative process this year.
Like its earlier rejected version, the last minute bill would decapitate the existing nurse leadership of the Board of Registered Nursing (BRN) who would be replaced with a single political director for all public consumer boards who has no experience or expertise in patient protection or nursing practice issues.  
The director would have unilateral authority to overturn any action or proposed regulation to protect public safety, both new proposals and updates of existing safety measures and RN standards, by the BRN board, which includes registered nurses and other health professionals and consumer advocates.
"There is a chilling undertone to this legislation that parallels the anti-regulatory agenda of the far right American Legislative Exchange Council in seeking to eliminate regulatory protections that are critical to health and safety oversight on public boards," said CNA co-president Deborah Burger, RN.
"With this cynical, under the radar, attempt to rush through already defeated legislation with minimal opportunity for public review and comment, Sen. Hill is putting at risk public protections that Californians have counted on for many years," Burger added. "Nurses will strenuously oppose this bill, and we will not forget this attack on our patients."
CNA will protest the bill at a last minute hearing expected Wednesday by the Assembly Committee on Business and Professions which still does not have a specific time or location in the end of the session rush before the August 31 close of session deadline. Over the past few days, nurses have been calling committee members urging them to oppose the bill.