Press Release
Nurses #BernieBus to Visit South Carolina Communities of Need in Final Week
Nurses say Sanders stance on healthcare, education, and jobs is prescription for change in state that ranks 38th in uninsured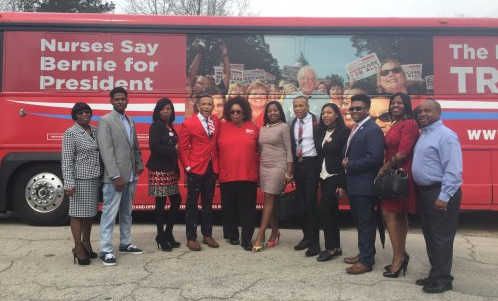 RN Martese Chism with members of the Calvary Baptist Church in Chester, SC yesterday.

In the countdown to Saturday's South Carolina primary, National Nurses United¹s registered nurses will visit several underserved towns that have been negatively impacted by the effects of the economy. Nurses are seeking to connect with voters leading up to the Democratic Party primary in South Carolina to explain why they support Sen. Sanders.
Nurses see first-hand the devastating health impacts of social and racial inequality in this nation and under the current fragmented and flawed system, low income communities, including millions of children, lack adequate health care, said Martese Chism, an RN traveling on the #BernieBus. Low income communities can¹t afford to pay for needed medications and are the hardest hit by environmental pollution. We believe, as Sen. Sanders does, that access to high quality health care is a human right and should not depend on ones ability to pay. Medicare for All is a cornerstone of Bernie¹s campaign and that is one of the reasons we support him,² said Chism.
The first stop on the #BernieBus itinerary today is Bamberg, with a population of 3,700 that is 54 percent Black, and a median income of $2,100. Bamberg¹s only hospital closed its doors in 2012 due to bankruptcy. Denmark, the next stop, has a racial makeup that is 85.91% Black, a median income of $17,578 for a household and 35.2% of the population below the poverty line. In Allendale, the third stop, 80.03% of the residents are Black and the median income for a household was $16,632, and the median income for a family was $21,167. About 36.7% of families and 41.2% of the residents were below the poverty line, including 59.5% of those under age 18 and 21.1% of those age 65 or over.
MONDAY SOUTH CAROLINA BUS SCHEDULE
11:30 a.m. Bamberg, SC
12:30 Denmark, SC
2:00 p.m. Allendale, SC
5:00 p.m. Columbia, SC
6:30 p.m. Voice of Our People Black History Month event,  Columbia, SC
National Nurses United is the largest organization of nurses in the country, with 185,000 members nationwide, and was the first national union to endorse Bernie in August, 2015. The bus has been talking to voters at historically black campuses, churchs, community gatherings, union halls, and Walmart parking lots throughout South Carolina, and Georgia in the last several weeks.
In addition to the #BernieBus, NNU nurse members across the country also continue to knock on doors, phone bank, hold house parties, and participate in marches for Bernie.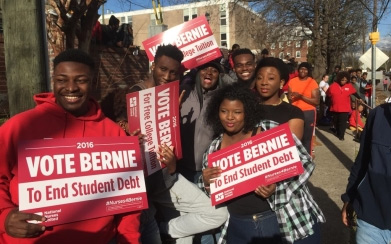 Students at Allen University in Columbia outside the #BernieBus last week.