Press Release
Nurses Begin Radio Campaign in Support of Gavin Newsom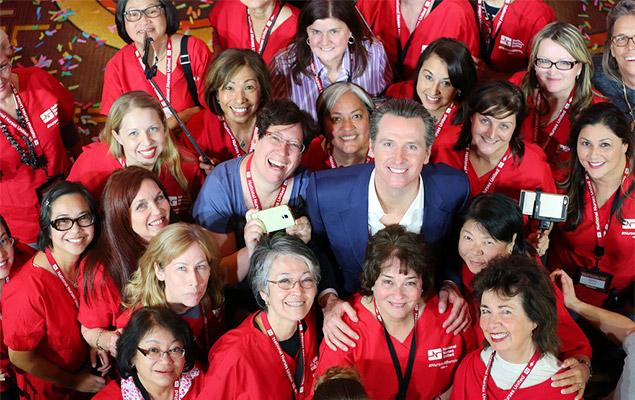 "We've taken the candidates' temperature, and marked their charts. Nurses trust Gavin Newsom for Governor."
With that message, the California Nurses Association/National Nurses United announced it has begun a major radio campaign in support of Lt. Gov. Gavin Newsom in his campaign to become California's next Governor.
The radio ads, from CNA's "Nurses for Newsom for Governor 2018" campaign committee, are now airing on a number of Spanish and English language stations in the Los Angeles market. Larry Grisolano, director of media and polling for former President Barack Obama's campaigns, produced the ads, for his firm AKPD, formerly run by David Axelrod.
Featuring two Southern California working registered nurses in rotating voices, the ads, which run in both English and Spanish, emphasize Newsom's stance on critical healthcare issues, and the particular importance of those issues to California's Latino and residents.
"Latinos have high rates of diabetes, cancer, and liver disease. And too many are uninsured. Gavin Newsom has the only plan to provide health care for every Californian.
"Polluting factories near our homes cause asthma, especially in our children. Gavin Newsom will crack down on polluters to protect our air and water" – the nurses note.
The ads may be heard in their entirety at https://www.facebook.com/NewsomCampeondeSalud/videos/768654186669818/
CNA is engaged in an active campaign for Newsom, with a special emphasis on his role as a leading supporter of guaranteed healthcare through a universal, Medicare for all single payer system, such as proposed in the CNA-sponsored bill SB 562, which was passed by the California Senate last year. Nurses and other healthcare activists continue to campaign for the bill having knocked on over 11,000 doors in every California Assembly district the past 10 months.
"In direct contrast to other major candidates for Governor, Gavin is committed to enacting the only healthcare reform that will protect all Californians, including the 15 million Californians today who have no health insurance or who are unable to get the care they need even if paying for insurance because of the high out of pocket cost," said CNA Co-President Zenei Cortez, RN.
"From healthcare to affordable housing to environmental justice to economic security, Gavin is the strongest candidate for California families. We are proud to support him," Cortez said.