Press Release
Nurses back second March For Our Lives, urge real action to end gun violence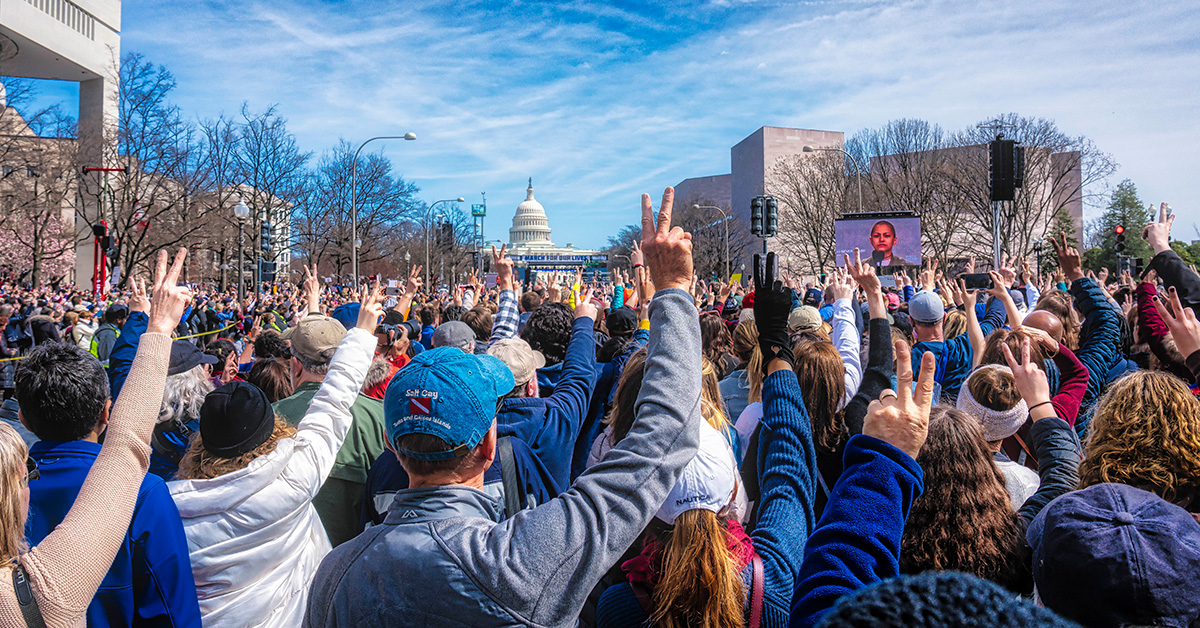 National Nurses United today welcomed the second, student-led March For Our Lives protests planned in Washington, D.C. on June 11, and around the country to demand meaningful action to end the massive gun violence so horrifically seen the past two weeks in Buffalo, N.Y. and Uvalde, Texas.
 
NNU is calling on legislators and chief executives in Washington and in state capitals to enact immediate and impactful gun control reforms, most especially a ban on assault rifles and the deadly ammunition used in recent mass shootings at the Tops supermarket in Buffalo and Robb Elementary School in Uvalde.
 
"Gun violence is a public health emergency," said NNU President Jean Ross, RN. This year alone, there have been more than 200 mass shootings, following nearly 45,000 gun violence deaths in the United States last year. Gun violence has become the leading cause of death for children and teens up to the age of 19.
 
"These terrifying events in Buffalo and Uvalde must be a call to action," Ross continued. "We cannot let politicians and lobbyists who have sanctioned gun violence by blocking common sense reforms continue to allow this devastation of our communities and nation. This is not about 'playing politics,' it is about saving lives.
 
"This cannot be explained just by blaming 'mental health challenges' as Texas Gov. Abbott insists," said Ross. "Public health programs, and mental health services, in particular, have been systematically underfunded, undervalued, and increasingly decimated. Those cuts are harmful to everyone, and they must be reversed and expanded. But they are not the main cause of gun violence," Ross continued.
 
"This past week we've heard a lot of other excuses about inadequate law enforcement response, insufficient armed guards at schools, stores, or places of worship, and 'parental neglect.' But let's not get confused: The main reason for this mass slaughter is the proliferation of weapons of mass destruction. And it must stop," Ross said.
 
"Nurses advocate for our patients' health and for public health," said Ross. "We will be joining efforts to win the gun control reforms we need to make our society safe. This means confronting the extremist agenda of rightwing politicians and their gun lobby backers, and it means holding them accountable for disregarding the health and safety of our communities. And it means understanding clearly how gun violence and the threat of gun violence is linked to all the rightwing and racist assaults on our diverse nation and our democracy."
 
March For Our Lives was first organized by students in March 2018 with a massive action in Washington in response to a mass shooting at Marjory Stoneman Douglas High School in Parkland, Fla. that year. Information on this year's Washington action and scores of support events across the country may be found at https://marchforourlives.com/.
 
While some states have since passed gun safety reforms, no federal legislation has won approval in Washington. Several states, led by pro-gun officials, have instead weakened public safety measures against gun violence, and have also weakened access to violence prevention.
 
NNU members participated in a number of the 2018 March for Our Lives actions, and NNU has endorsed public policy reforms to end gun violence over the past several years. In September 2019, NNU elected leaders joined the call for a ban on assault weapons.
 
As Ross noted then: "Nurses all too regularly care for patients with gun injuries. But the massive injuries we are seeing today that result when people are shot with assault weapons is very different because of the very nature of these weapons and ammunition. The only purpose of these weapons is to kill human beings."
 
In addition to a ban on the manufacture, sale, and possession of assault weapons and magazines with more than 10 bullets, NNU encourages Congress and state legislators to consider other reforms that would reduce gun violence and save lives. Among those are:
Ban manufacture and sale of "bump stocks" and "trigger cranks," and limit magazines to 10 bullets maximum
Institute red flag laws that allow families to petition a state court to order the temporary removal of weapons from those who may be a danger to themselves or others.
Require universal background checks for the purchase and transfer of guns and ammunition and improve reporting requirements to the National Instant Criminal Background Check System to make universal background checks more effective.
Hold corporate manufacturers and sellers of firearms and ammunition to the same liability standards as other manufacturers. 
National Nurses United is the largest and fastest-growing union and professional association of registered nurses in the country, with more than 175,000 members nationwide.