Press Release
Registered nurses at San Jose's two HCA hospitals ratify 3-year contract with multiple provisions to improve patient care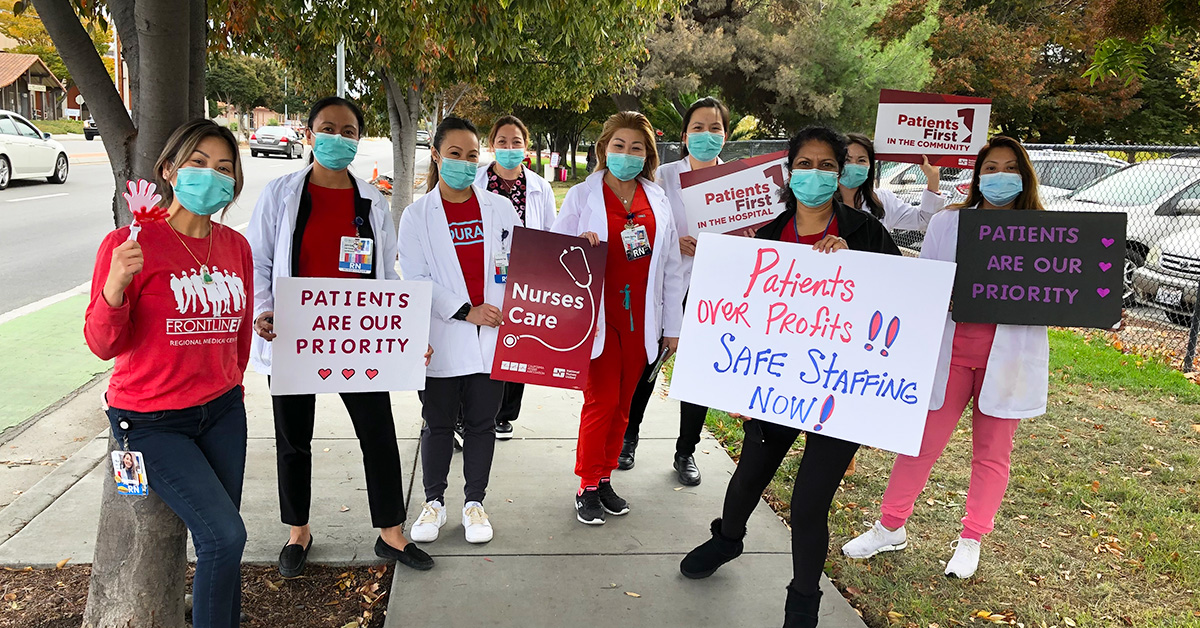 Registered nurses at two HCA hospitals in San Jose, Calif. — San Jose Regional Medical Center and Good Samaritan Hospital — have ratified a three-year contract which includes numerous provisions designed to improve patient safety, announced the California Nurses Association/National Nurses United (CNA/NNU) today.
"We are very pleased that HCA recognized the nurses' solidarity and commitment to provide the highest quality of care to all our patients," said Lydia Vasovich Gmerek, chief nurse representative and a member of the bargaining team from Good Samaritan Hospital. "We believe that, with the gains made in this contract, we will be able to better recruit and retain experienced nurses and therefore provide high-quality care to our communities."
HCA agreed to hire 34 more full-time RNs to provide meal and rest breaks for nurses. Nurses say this will improve patient care, as studies clearly show that nurses who are fatigued and exhausted are more likely to make errors.
"Having a meal break and a chance to eat is so very important for us," said Mary Jean Dimapasoc, a registered nurse and member of the bargaining team from Regional Medical Center. "Providing quality care demands not only a great deal of physical energy, but enormous amounts of emotional and mental energy as we deal with our patients' ever-changing needs. It is very important to have a bit of down time to unplug from the work and to relax and regroup so we can be fully there for all our patients."
CNA represents 835 nurses at Good Samaritan and 570 nurses at San Jose Regional Medical Center. The nurses voted overwhelmingly to approve the contract on July 14.
Other highlights of the agreement include:
Health and safety improvement provisions that ensure that the hospitals follow the strictest standards of infectious disease control regulations between federal, state, and local regulations. HCA has committed to providing the highest level of personal protective equipment to nurses who are caring for patients who are suspected of or confirmed to have an infectious disease. In addition, the hospital will provide infectious disease testing for nurses.
New nurse retention provisions, including a commitment to strengthen preceptor programs and a stipulation which ensures that preceptor and preceptee are given one shared assignment. Another provision ensures that newly graduated nurses will not be floated during the first six months of employment.
Economic gains to help retain and recruit experienced nurses. The agreement includes increases that range from 17.4 percent to 29.4 percent over the life of the contract. The hospital has also agreed to double differentials for nurses who work hard to staff shifts.
New provisions to strengthen the union's role in protecting nurses who advocate for safe patient care.
The California Nurses Association/National Nurses United is the largest and fastest-growing union and professional association of registered nurses in the nation with 100,000 members in more than 200 facilities throughout California and more than 175,000 RNs nationwide.