Press Release
Nurses Ask Santa Clara County to Review Trauma Designation for Regional Hospital In Advance of Maternal Health Closure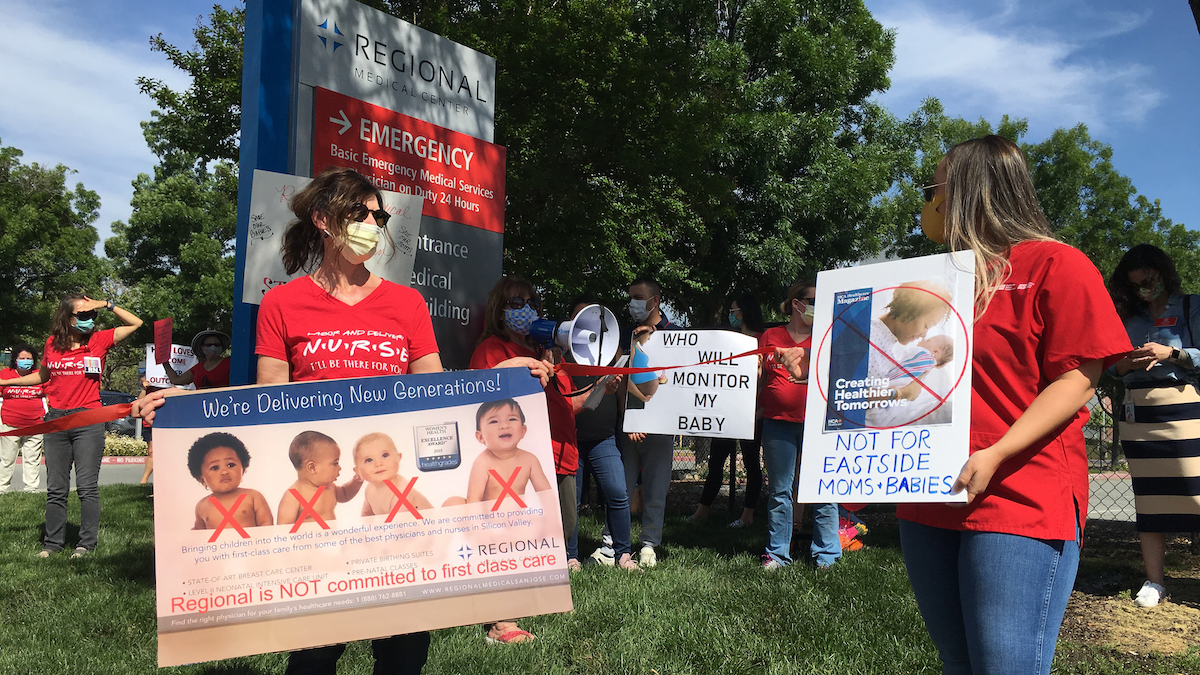 With the closure of mother-child services at Regional Medical Center of San Jose now just two weeks away, the California Nurses Association/National Nurses United has asked Santa Clara County to review if HCA and Regional can meet their commitment under its Level II Trauma designation to safely care for laboring women and their newborns.

Trauma designation means a hospital is equipped and staffed to provide emergency medical care, including birthing care. Registered nurses at Regional have warned for weeks that elimination of its Women's Services may put laboring women and their newborns in danger, especially as many are likely to end up in Regional's ER which nurses say is not properly prepared to provide the birthing services specified for trauma centers by California law.

"An ER is where lives must be saved, not lost," said CNA President Malinda Markowitz, RN. "HCA must ensure the health safety of our future mothers and their families, and the entire East San Jose community by keeping its mother-child services open."

In a letter to the Santa Clara County Emergency Medical Services Director Jackie Lowther May 13, CNA warned that "not all trauma patients who are sent to Regional because of its Trauma II designation will be able to safely access the care that they need" under the threatened closure.

CNA/NNU called on the EMS, which certifies trauma center designation, to hold Regional "accountable" to "maintain all necessary services to provide safe and competent trauma care."

California regulations require a hospital provide OB/GYN services "staffed by qualified specialists," access to pediatric intensive care and other safety specifications.

Laboring Women Still Likely to Come to Regional ER for Birthing Care

Regional late last week informed CNA its "goal ideally is that no laboring patients would come to RMC." Yet the hospital has not provided details of where else the patients should go for care.

With long travel times, especially on public transit for the high number of low income residents in Regional's service area, it is probable many laboring women would end up in Regional's ER, especially as the hospital continues to advertise a complete package of care in its "all new Family Birthing Center."

Regional is one of only three designated trauma centers covering all of Santa Clara and San Mateo counties. Births, C-Sections, and maternal health patient discharges at Regional in 2019 were the highest in five years.

Regional ER RNs have voiced concerns that "they will be expected to provide care that is outside the scope of their competency and training," wrote CNA/NNU. And, Regional's chief nurse officer last week told the union that training for ER nurses, who have never delivered a baby, would not even be completed until the end of June, a full month after the closure.

Is Regional ER Adequately Prepared to Safely Care for Laboring Women?

CNA has also raised concerns that the courses may not adequately prepare ER staff for acute neonatal clinical emergencies and potential complications that can be life-threatening to both the mother and her fetus, with OB/GYN physicians only "on call," and a hospital that will no longer have a neo-natal intensive care unit.

"Our members who currently work in the units to be closed have reported that no other RNs in the hospital have been trained to do fetal monitoring and that the hospital does not plan to do any fetal monitoring for patients who arrive at the hospital either in labor, or with traumatic injuries," CNA/NNU wrote to Lowther.

"Moreover, no RNs are trained in neonatal resuscitation, which is usually conducted by a team of RNs who administer medications, perform chest compressions, assist with breathing, monitor vitals, and perform charting," the letter noted.

The closure coincides with the ongoing global coronavirus pandemic. The ER is the primary entry point of patients with confirmed or suspected infection, and laboring women risk potential exposure to COVID-19 patients in the Regional ER, which has been a virus hot spot. The San Jose Mercury News reported this week that Regional "has itself recorded more coronavirus deaths than any other medical facility in the county, death records show."

"There is a clear path for Regional," said Markowitz who is also a San Jose resident. "Respect our community and comply with the privilege and commitment of operating as a Trauma facility by continuing to provide full maternal-child care at Regional Medical Center."

The Department of Health and Human Services (HHS) recently announced Regional Medical Center received additional stimulus funds of more than $18 million from the CARES Act.  This is in addition to the almost $8 million in stimulus funds from an earlier distribution. Over the past decade, HCA has made more than $25 billion in profits. Regional has received over $44 million in profits and $2.3 billion in operating revenue over the last 5 years.