Press Release
Nurses Applaud San Luis Obispo County Vote to Uphold Rejection of Phillips 66 Train Project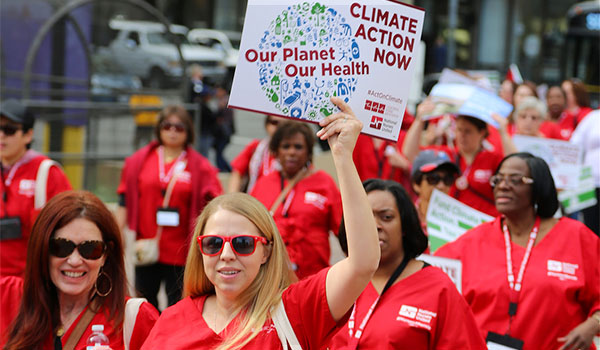 The California Nurses Association/National Nurses United welcomed the San Luis Obispo County Board of Supervisors vote to uphold the Planning Commission's rejection of a controversial proposal by Phillip 66 to transport millions of gallons of crude tar sands oil through the county by rail every week.
"This community has sent a decisive message to Phillips 66 that we strongly oppose this proposal. These oil trains are a danger to this community, and we ask Phillips 66 to respect the wishes of the people here, and not appeal this decision any further," said Sydnee Raphael, RN, French Hospital.
"As registered nurses, our focus is on preventing the adverse health risks, and dangers that these oil trains would pose. These range from the risk of derailment and explosion, to the degradation of local air quality and the climate as a whole, from the processing and use of the tar sands crude that these trains would carry through our communities, if the fossil fuel companies had their way," said Sierra Vista RN, Sherri Stoddard, a member of the California Nurses Association Board of Directors.
"This is a victory for all residents of San Luis Obispo County, particularly seniors and those with respiratory or other illnesses," said Joan Silva, an RN at French Hospital, and a resident of Atascadero.
Nurses have repeatedly joined with central California coast residents opposing the oil trains as a threat to public health and safety, as well as exacerbating the climate crisis. The oil trains pose an even greater risk to vulnerable populations, say nurses, especially children and infants with still-developing lungs and respiratory systems. People with pre-existing respiratory and cardiovascular diseases also face an especially acute risk from potential spills.
Last fall the San Luis Obispo Planning Commission voted 3-2 to reject the plan by the oil giant to build a spur connecting rail shipments to the Nipomo Mesa refinery that would allow the transport of three trains every week with 80 rail cars hailing some 2.2 million gallons of the dangerous crude oil. With yesterday's vote, the County Board of Supervisors upheld that rejection.
Rail accidents involving tar sands crude oil have created deadly blasts, and polluting spills with long term health hazards for communities around North America.