Press Release
Nurses Applaud Pending Release of OSHA Federal Workplace Safety Standard, Warn Protections Still Needed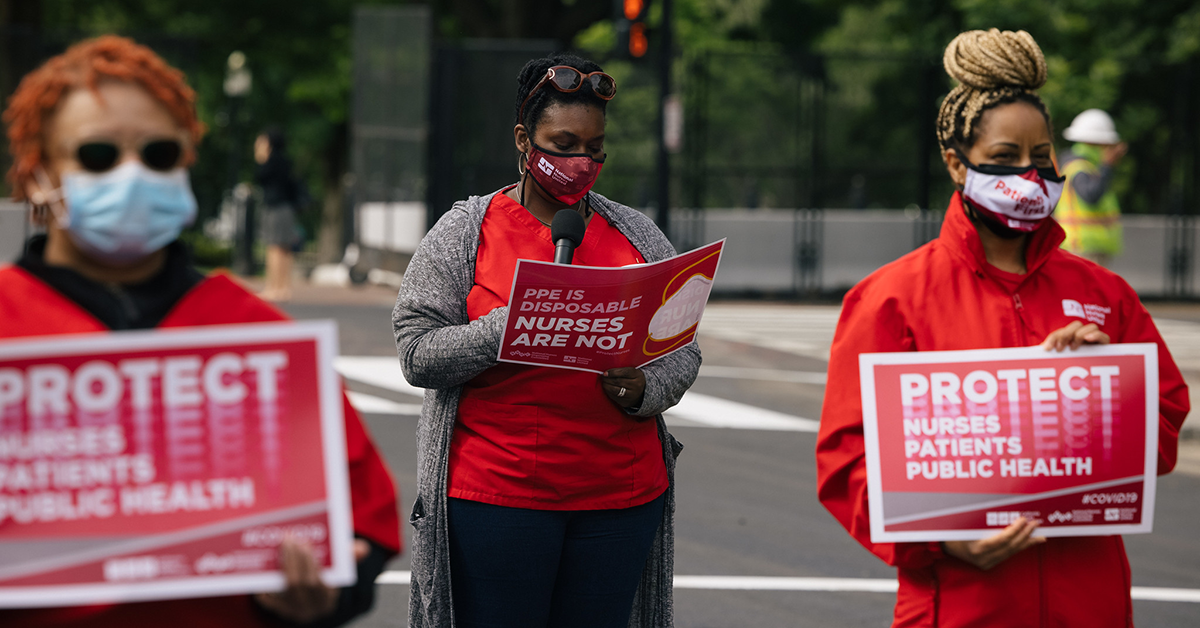 With the Covid-19 pandemic still a substantial threat across the United States, National Nurses United (NNU) today applauded the Biden administration's announcement of the release of an Occupational Safety and Health Administration (OSHA) Emergency Temporary Standard (ETS) on Emerging Infectious Diseases to ensure safe workplaces for nurses and other frontline health care workers.
Labor Secretary Marty Walsh announced the decision today at a hearing of the House Committee on Education and Labor. While the content of the ETS will not be posted until Thursday, NNU emphasized the importance of an enforceable mandatory standard for health care employers.
NNU will closely assess the new ETS to see if it requires respiratory protections to prevent workers from becoming infected through aerosol transmission of the virus, which will be critical for the protection of nurses and other health care workers, as well as other concerns raised by nurses.
"This is still a dangerous and deadly pandemic," said NNU President Zenei Triunfo-Cortez, RN. "Americans continue to be infected and die. Nurses and other frontline caregivers remain in danger, especially with the pullback in safety measures across the country that will likely only increase the number of infections, hospitalizations, and deaths."
As of today, more than 400 RNs have died, among more than 3,800 health care worker deaths overall, according to NNU tracking data. Since the data has not been collected in many places, the full accounting may never be known.
While the ETS is targeted to health care employers, Triunfo-Cortez said NNU also supports stronger workplace pandemic safety measures for all workers, all patients, and all communities.
Triunfo-Cortez praised Committee Chair Bobby Scott "for his leadership in urging issuance of an emergency standard to mandate safer practices by health care employers," and the support of Secretary Walsh for an ETS.
Corporate employers have heavily lobbied the Biden administration to block release of the ETS and "no doubt contributed to the delay in final issuance of this critical regulatory oversight and protection for workers," Triunfo-Cortez noted, praising the decision of the Biden administration to move forward on an ETS despite the opposition.
Throughout the year of the pandemic in 2020, the Trump administration refused calls by NNU and many others to require increased workplace protections for health care and other essential workers. In just his second day in office, President Biden issued an executive order on January 21, 2021, mandating the promulgation of an ETS.
NNU has had to battle hospital employers from the outset of the pandemic to ensure the provision of optimal personal protective equipment and other infection control measures.
The failure and foot-dragging of many hospitals is "directly responsible for the appalling level of infections and deaths we have experienced," said Triunfo-Cortez. "An ETS is a major step toward requiring accountability for hospitals who consistently put their budget goals and profits over our health and safety."
NNU expressed thanks to the co-chairs of the Congressional Labor Caucus—Representatives Mark Pocan (D-WI), Donald Norcross (D-NJ), Linda T. Sánchez (D-CA), Debbie Dingell (D-MI), Steven Horsford (D-NV), and Tom Suozzi (D-NY)—for leading more than 100 members of Congress in a letter to President Biden last week urging him to immediately issue the ETS.