Press Release
Nurses applaud the introduction of Medicare for All Act of 2021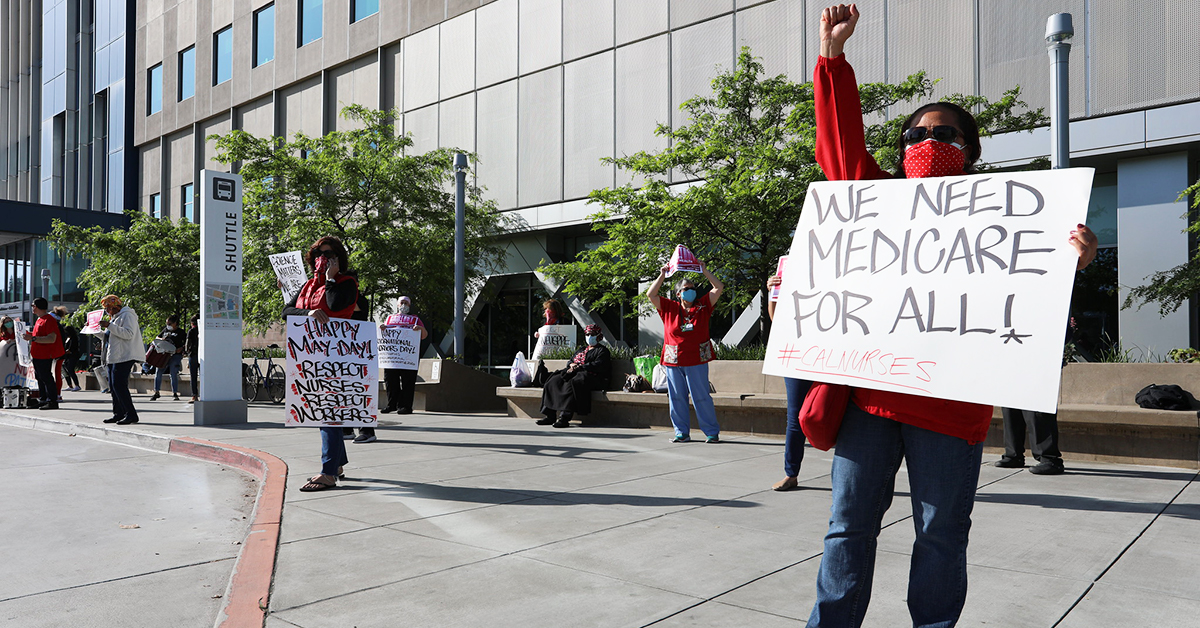 RNs lead massive grassroots campaign to push passage of legislation
National Nurses United applauds the introduction of the Medicare for All Act of 2021, introduced by Representative Pramila Jayapal (D-WA) and Representative Debbie Dingell (D-MI), and co-sponsored by more than half of the House Democratic Caucus including 14 committee chairs and key leadership Members.
"The pandemic has highlighted in deadly detail what nurses have known for decades: Our current health care system, based on private insurance tied to employment, is a colossal failure and leaves far too many of our patients to suffer and die unnecessarily," said Bonnie Castillo, RN and executive director of National Nurses United. "We thank Rep. Pramila Jayapal and Rep. Debbie Dingell for their leadership in guaranteeing health care is a human right. While we mourn the more than 500,000 lives lost to Covid, we rededicate ourselves to the fight to ensure that everyone is provided with high-quality health care regardless of where they live, how much money they make, or their health, immigration, or employment status. Nurses will never rest until we get this done."
WHAT:  Town hall to mark introduction of Medicare For All Act of 2021
WHEN:  March 17, 2021, 12 p.m. EST
This event will be livestreamed on National Nurses United's Facebook page
Speakers will include: Rep. Pramila Jayapal (D-WA)
                                       Rep. Debbie Dingell (D-MI)
                                       Bonnie Castillo, RN, Executive Director, NNU
Medicare for All Act of 2021 highlights include:
The most comprehensive list of services covered, of any bill to date—including primary care, hospital care, women's reproductive health services, dental, vision, mental health, substance abuse treatment, prescription drugs, long-term care and support, the cost of transportation for disabled and low-income patients, and more.
Guaranteed, universal coverage for every resident of this country.
Real choice; no narrow networks, and you can keep your doctor, hospital, and other providers if you move or lose your job.
Free at point of service. No copays or deductibles for any part of the program.
Long-term care for the disabled and elderly, with prioritization of home and community-based services and support.
A two-year transition period. In the first year after enactment, everyone over 55 and under 19 would be fully covered by Medicare, and two years after enactment, all Americans would be covered.
Drug pricing reforms to drastically reduce the outrageously high costs of prescription medications in the United States.
A focus on improving health care in rural and underserved communities through providing a special projects fund devoted to the building and staffing of new health care facilities in rural and underserved areas.
The majority of Americans support Medicare for All and support continues to grow.
An April 2020 poll by Hill.TV/HarrisX found that 69 percent of registered voters support Medicare for All, with 88 percent of Democrats and 46 percent of Republicans supporting it.
Medicare for All will address the health care injustice made clear in the Covid pandemic
"We have seen disproportionate suffering and death in our Black, Brown, and Indigenous communities throughout this pandemic," said Jean Ross, RN and a president of National Nurses United. "Medicare for All will address health care inequities by extending coverage to everyone in the country, so the focus can be on preventative care, not crisis care, and it will ensure that hospitals that serve lower-income areas have adequate funding. Furthermore, it will mean free care for everyone at the point of service, so no one has to choose between basic necessities for their family and their health." 
National Nurses United, the largest and fastest growing nurses' union in the country with 170,000 members, has been fighting for Medicare for All for decades and is now leading a massive grassroots mobilization campaign to ensure that elected leaders support this legislation.