Press Release
Nurses applaud introduction of federal legislation to prevent workplace violence in health care, social service settings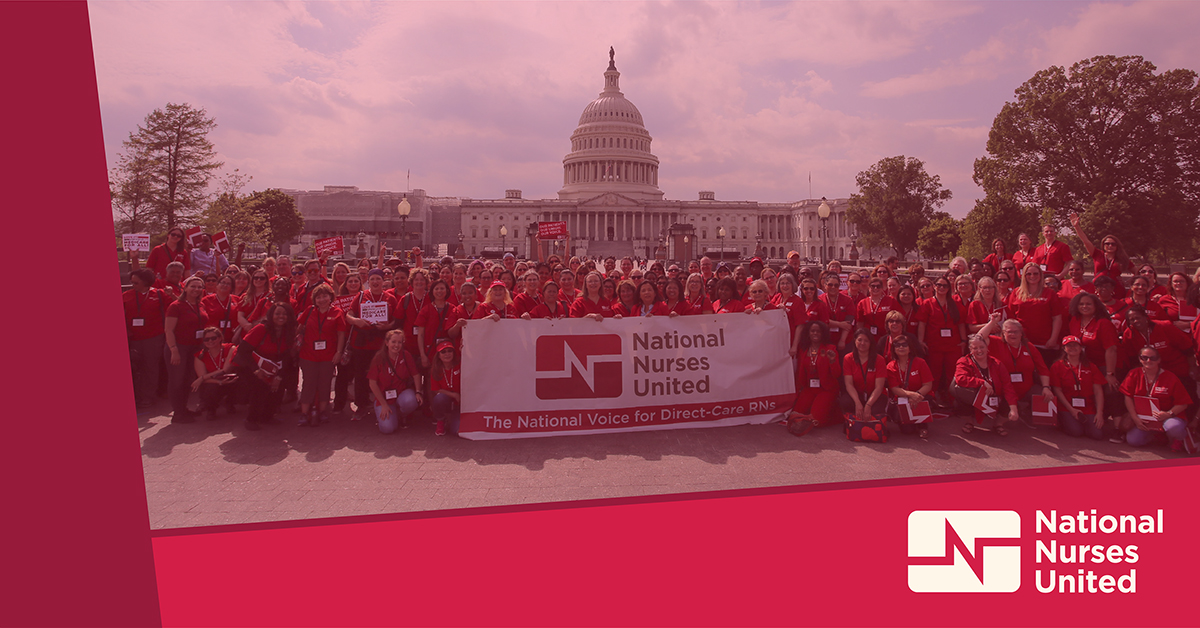 Workplace Violence Prevention for Health Care and Social Service Workers Act sets high standard to protect workers and patients
National Nurses United (NNU), the nation's largest union of registered nurses, today announced its support for the Workplace Violence Prevention for Health Care and Social Service Workers Act, officially reintroduced today in the U.S. Senate by Sen. Tammy Baldwin (D-WI). The House version of the bill, H.R. 1195, led by Rep. Joe Courtney (D-CT), was passed by the U.S. House of Representatives on April 16, 2021.
Sen. Baldwin and Rep. Courtney spoke at a press conference earlier today along with NNU President Jean Ross, RN; AFL-CIO Secretary-Treasurer Fred Redmond; American Federation of Teachers (AFT) President Randi Weingarten; Roosevelt Day, residential counselor and AFSCME member in Trenton, N.J.; Valencia Davis, member of United Steelworkers (USW) Local 7600 in Riverside, Calif.; and Meg Dionne, RN in Portland, Maine and National Nurses Organizing Committee/NNU member.
The bill would mandate that the federal Occupational Safety and Health Administration (OSHA) create a federal standard requiring health care and social service employers to develop and implement a comprehensive workplace violence prevention plan. This legislation is especially important given that health care and social service workers face extremely high rates of workplace violence.
"Our nurses, doctors, social services workers, and health care professionals deserve to work in a safe environment free from violence," said Sen. Baldwin. "Health care workers have faced unprecedented obstacles just to stay healthy and do their jobs through the pandemic, and on top of it all, they have seen senseless violence against them. It is unacceptable and we must provide basic protections and safety standards to a workforce that serves people during some of their most vulnerable times."
"Nurses are an absolutely critical workforce within our health care system, and it's a workforce that's been under tremendous stress not just for the past few years, but for many years even before the pandemic hit," said Rep. Courtney. "I've been married to a nurse practitioner for over 30 years, I've worked alongside Connecticut's nurses and health care professionals ever since I came to Congress, and we've pressed forward time and again to address the growing crisis of on-the-job violence taking place against the same people we depend on to care for us when we're sick or injured.
"Nurses didn't join this profession to take abuse, and the best way to retain and recruit qualified health care professionals is to ensure they don't have to worry about getting physically assaulted at work every day," said Courtney. "That's exactly what our Workplace Violence Prevention for Health Care and Social Service Workers would do, and it's because of the grassroots support of groups like National Nurses United that we've come so close now to the finish line. We already passed this bill in the House on a bipartisan basis by a vote of 254-166, the president has said he'd like to sign it, and thanks to Senator Baldwin, we are finally moving on to press forward in the Senate. I hope every senator will cosponsor our bill and show health care workers real support instead of lip service."
"So many nurses across the country are physically and verbally attacked each year, and the violence is getting worse," said NNU President Jean Ross, RN at the press conference. "??We are bearing the brunt of a broken health care system at a time when people's frustration and stress are at their highest. Nurses report being punched, kicked, bitten, beaten, and threatened with violence as they provide care to others—and some have even been stabbed or shot.
"We need the Workplace Violence Prevention for Health Care and Social Service Workers Act to help protect us on the job, so we can continue to care for you, your loved ones, and our communities," concluded Ross. "We strongly urge the Senate to take up this bill with the urgency it deserves, pass it, and send it to the president's desk for his signature."
"This groundbreaking legislation will hold health care and social service employers accountable for the safety of their workers," said Bonnie Castillo, RN and executive director of NNU. "It's time for employers to stop putting people's lives in danger. Everyone deserves to be safe in their workplace, and that includes hospitals, clinics, and social service settings that are so crucial now more than ever given the deadly Covid-19 pandemic.
"We are grateful for the leadership of Sen. Baldwin and Rep. Courtney for spearheading this important legislation," Castillo continued.
"Working people's lives are on the line," said AFL-CIO Secretary-Treasurer Fred Redmond at the press conference. "There is an epidemic of violence against health care and social service workers and it must be stopped. Workplace violence is not just part of the job. It has been a worsening problem for more than a decade and it is preventable. Of the workers providing critical care on the front line, women are at the greatest risk of workplace assaults, suffering 7 out of 10 serious workplace violence injuries.
"An OSHA standard would protect these workers while requiring employers in the health care and social service sectors to develop and implement a workplace violence prevention plan tailored to specific workplaces and worker populations," said Redmond. "It's time for our Congress to act."
"Our nurses and health industry workers care every day for the sick, the elderly, and the mentally ill, yet they often feel unsafe or unprotected themselves from the assaults that occur in hospitals and other health care-related settings," said Randi Weingarten, president of the American Federation of Teachers. "While the Occupational Safety and Health Administration has left these workers vulnerable, incidents of workplace violence continue to rise, with 69 percent of reported cases occurring in health care settings. Thankfully, this bill addresses this increasing trend head on and provides long-needed protections and specific and enforceable safety standards for people who work in frontline health care jobs."
"My work has put me and my coworkers on the front lines for caring for some of the state's most vulnerable and challenging mental health crises in a community-based setting," said Roosevelt Day, a residential counselor and AFSCME member, who noted that his employer is refusing to negotiate language to establish a health and safety committee, insisting they didn't need one. "The bill does not require a cookie-cutter approach. It does require our employer to sit down with my union to identify and implement evidence-based practices to prevent violence."
"I've been working in health care for 38 years, providing hands-on care to the most vulnerable people in my community, sometimes that includes patients that are on psychiatric holds to watch them for their own safety," said Valencia Davis, of USW Local 7600, who described an incident with a patient who locked her in the room with him and grabbed her, requiring her to scream for help. In another traumatic incident, a patient was banging hard on a window and when Davis asked him why he was doing that, he replied, "I'm banging on the window to see how hard it is so I'll know how hard I have to throw you through it.
"Every health care worker in America deserves … a safe workplace so we can provide the best care," concluded Davis.
"People who are experiencing serious mental health issues are incredibly underserved throughout our country, and many of these people end up in the ER, often for months at a time," said Meg Dionne, an ER RN in Portland, Maine, who spoke about a nurse who was strangled by a patient and also got two black eyes. "Hospitals need to be a place of healing. We don't want to criminalize our patients, we want to heal our patients. We want to foster an environment that prevents workplace violence before it starts.
"We cannot always prevent violent outbursts, but if we have appropriate staffing levels and prevention plans in place, we can recognize the signs of escalation and keep the environment safe for everyone involved, patients, nurses, staff, family, and everyone," continued Dionne. "That's why I'm excited about the Workplace Violence Prevention for Health Care and Social Service Workers Act, and I really want to thank Senator Baldwin for reintroducing it. Nurses across the country urgently need the Senate to pass this."
The federal legislation is modeled after a groundbreaking California health care workplace violence standard that was the result of state legislation sponsored by the California Nurses Association/National Nurses United.
A recent NNU national survey of more than 2,500 hospital nurses found that nearly half of RNs (48 percent) reported a small or significant increase in workplace violence, up from 30.6 percent in September 2021 and 21.9 percent in a March 2021 survey. This is a nearly 57 percent increase from September 2021 and a 119 percent increase from March 2021.
More specifics of Sen. Baldwin's federal legislation:
Addresses an epidemic of violence: Workers in the health care and social assistance industry face extremely high rates of workplace violence. Between 2011 and 2016, as reported in the U.S. Bureau of Labor Statistics Census of Fatal Occupational Injuries, at least 58 hospital workers died as a result of violence in their workplaces. In 2016, the Government Accountability Office found that health care workers at inpatient facilities were five to 12 times more likely to experience nonfatal workplace violence than workers overall.
Requires federal OSHA to create a federal workplace violence prevention standard mandating employers develop comprehensive, workplace-specific plans to prevent violence before it happens.
Covers a wide variety of workplaces, including hospitals, residential treatment facilities, non-residential treatment settings, medical treatment or social service settings in correctional or detention facilities, psychiatric treatment facilities, substance use disorder treatment centers, community care settings such as group homes and mental health clinics, and federal health care facilities such as those operated by the Veterans Administration and the Indian Health Service, as well as field work settings such as home care and home-based hospice, and emergency services and transport services.
Sets a quick timeline on implementation to ensure timely protection for health care workers.
Sets minimum requirements for the standard and for employers' workplace violence prevention plans, based on the groundbreaking California legislation. These requirements include unit-specific assessments and implementation of prevention measures, including physical changes to the environment, staffing for patient care and security, employee involvement in all steps of the plan, hands-on training, robust record keeping requirements, including a violent incident log, and protections for employees to report workplace violence to their employer and law enforcement, among other requirements.
###