Press Release
Nurses Applaud Federal Move to Halt Dakota Pipeline, Call for Permanent End to Project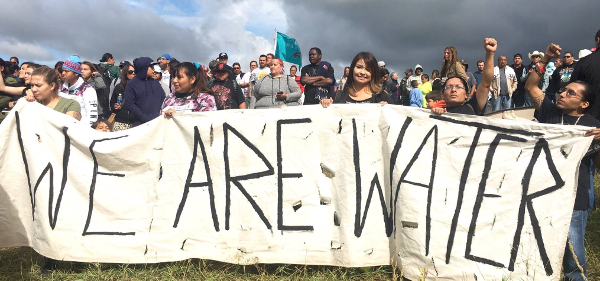 National Nurses United Friday welcomed the move by the federal government to stop construction on the Dakota Access pipeline project that has been the center of protests by the Standing Rock Sioux Tribe and supporters. Nurses urged the government to permanently block the disputed project that nurses say is a threat to public health, as well as to the tribe's sacred sites.

"We commend the leaders and members of the Standing Rock Sioux, the many First Nation allies who have joined them, and the environmentalists and other supporters who have participated in the protests against the Dakota Access pipeline. The decision of the Departments of Justice, Army and Interior is a direct result of the efforts of the pipeline opponents who have taken this courageous stand on behalf of all of us," said NNU Co-President Jean Ross, RN.

The proposed 1,172-mile pipeline would carry nearly a half million barrels of dirty crude oil every day across four states from the Bakken fields of North Dakota to Illinois, threatening water resources as well as the tribe's ancestral sites.

NNU also condemned the recent attack on protesters by private security guards using dogs and pepper spray.

"It is long past time to call into question all these dangerous pipeline projects that have become increasingly common, generally with far less public notice than the Dakota Access pipeline, or the similar successful campaign against the Keystone XL pipeline, has garnered," Ross added.

"Like Keystone, the Dakota pipeline would carry dangerous crude oil across multiple state lines. As with Keystone, and similar crude oil pipeline projects, these projects pose a continual threat to public health from the extraction process through the transport to the refinery.

"Contrary to claims of supporters, pipeline transportation of this volatile oil is far from safe. We have already witnessed many examples of pipeline spills from ruptured pipelines that have contaminated water supplies and led to numerous problems of respiratory ailments and other health symptoms associated with the spills," Ross said.

Crude oil projects also contribute to the escalation of climate change. "As a nation, we also have an obligation to step up climate action to protect public health and the future for the generations to follow us. Today's decision by the federal government to intervene is a great first step. It should become permanent," Ross said.