Press Release
Nurses Applaud Biden Support for Vaccine Waiver To Assist International Covid Pandemic Fight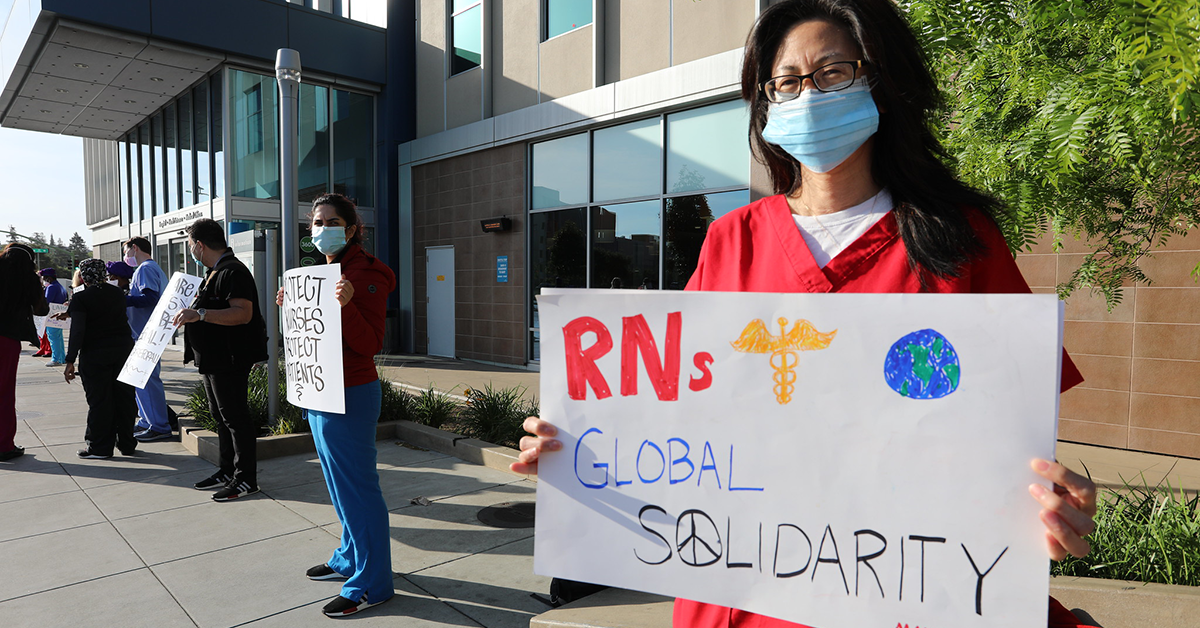 National Nurses United (NNU) today applauded the decision of the Biden administration to support waiving intellectual property (IP) protections to accelerate delivery of vaccines globally to aid the effort to save lives amid the still-escalating Covid-19 pandemic.
"With the horrific spread of infections, hospitalizations, and deaths in countries from India to Brazil that have been subject to unwarranted restrictions on access to lifesaving vaccines, it is up to all nations to ensure the vaccines are available immediately worldwide," said NNU President Jean Ross, RN.
"The welcome statement by President Biden's U.S. Trade Representative Katherine Tai joining this effort is a landmark decision that is also a tribute to health care and human rights activists, and nurses in particular, around the world who have been pressing for this humanitarian step," Ross added. Tai pledged the United States to participate in World Trade Organization (WTO) negotiations "to make it happen."
Ross, in January, and NNU Executive Director Bonnie Castillo, RN, in April, participated in meetings with Ambassador Tai urging the administration's support for the waiver.
"As nurses on the front lines, we can tell you with absolute certainty: People are dying and will continue to die because of strict IP laws that are preventing the generic production of Covid vaccines," Castillo said. "There is no time to waste; we need to urgently scale up the manufacturing of vaccines, and to do that, the WTO must grant this waiver."
"National Nurses United greatly appreciates President Biden's support for this waiver so that vaccinations of people in low- and moderate-income countries can be ramped up immediately. We urge that negotiations on the waiver move quickly at the WTO. It's crucial that the pharmaceutical companies come to the table to transfer their technology and share their knowledge, and that investment in vaccine manufacturing capacity internationally be increased as soon as possible," said Castillo.
Intellectual property rights, added Ross "are little more than a disgraceful effort to protect pharmaceutical profits at the expense of public health and safety. It is especially reprehensible in the midst of a pandemic that has already infected more than 150 million people and claimed more than 3 million lives."
In early March, Global Nurses United, a federation of nurse and health care worker unions in 29 countries, including NNU, called on the WTO's Council for Trade-Related Aspects of Intellectual Property Rights (TRIPS) "to support the 'Waiver from Certain Provisions of the TRIPS Agreement for the Prevention, Containment and Treatment of COVID-19' proposed by India and South Africa, and supported by more than 100 nations."
The letter noted that wealthy countries, especially the U.S. and Western Europe, dominate the vaccine supply and the billions of people living in lower-income, developing countries "may have to wait two years or more to get vaccinated because of the high prices being charged for Covid-19 vaccines. No one should die for drug company profits, especially during this global pandemic."
"Nurses around the world," the GNU members said, "believe strongly that, in the best interests of public health and ending the scourge of Covid-19, any and all treatments or vaccines that are shown to be safe and effective must be distributed equitably, and made available free at the point of service to all people.
"This virus," said Castillo, "does not recognize national borders, and our nation has the opportunity to play an important role on the world stage to ensure that low- and middle-income countries have access to the treatments and vaccines at low cost. Intellectual property rules must not create barriers to health treatments that unnecessarily cost human lives and undermine the global economy."