Press Release
Nurses Answer the Call: RNRN/NNU Sends More Volunteers to Care for Migrants and Asylum Seekers at the Border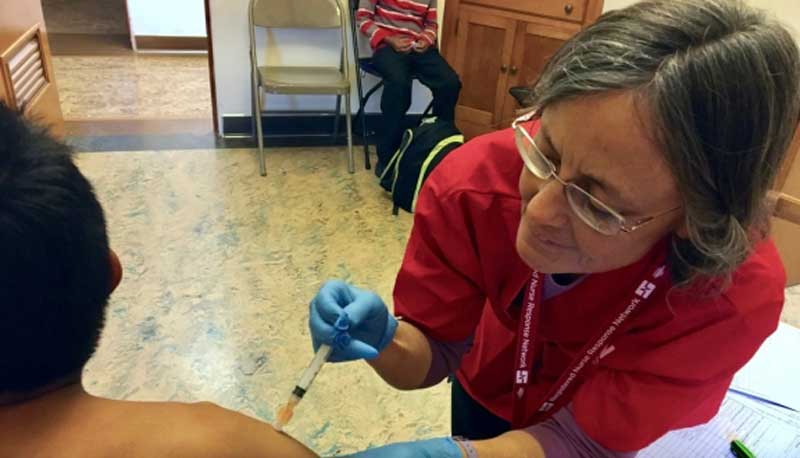 The Registered Nurse Response Network (RNRN), a disaster-relief project of the California Nurses Foundation and National Nurses United, will send a new team of volunteer nurses to Tucson, Ariz., March 1 through March 4 to assist in providing basic medical support to migrants and asylum seekers. National Nurses United (NNU) is concerned that migrant families, including their young children, are in need of medical care after their long and arduous journey and detention in federal facilities. Nurses say they are deeply troubled by the news that a 24-year-old woman gave birth to a stillborn baby in ICE custody last week. NNU has long expressed concerns about the conditions migrants face in federal detention, and those concerns were heightened in December with the deaths of two Guatemalan children who were in federal custody.
 
Cathy Kennedy, RN and a vice-president of NNU, went to El Paso with the first RNRN deployment to the border region in February. She says she was alarmed when migrants and asylum seekers said their properly labelled medications where thrown away by border patrol agents.
 
"This mother had a son who was 15 and a daughter who was 8. The son had a history of asthma, so she had an albuterol inhaler and his other medications, all labelled with his name," said Kennedy. "The mother said that when they were getting ready to cross the border, the border patrol agent took the medications and threw them in the garbage."
 
Kennedy says as she and the others at the shelter rushed to make sure the teen had an inhaler before the family left to meet their sponsors, the nurses were shocked to find out that the same border agent had taken the 8-year-old girl's seizure medication. "We were concerned that if she had a seizure, she and her family would be in a world of hurt. We were all very upset. To throw away medication, that to me is inhumane."
 
This will be the first RNRN deployment for Mallory Carellas, a registered nurse at Johns Hopkins Hospital in Baltimore. However, she has a great deal of experience working with disaster relief and humanitarian medical trips. Her master's work focused on international health with a focus on crisis relief. She says her interest in relief work goes back to  middle school.
 
"My first international trip was in Peru when I was in eighth grade. My church was in Peru building houses in a town where there had not been any rain for decades. There was no industry, no agricultural, they mined dirt," said Carellas.  "It was eye-opening about what life is like elsewhere."
 
RNRN has been sending nurses to the border region every weekend since the beginning of February. Nurses have treated migrants and asylum seekers for a variety of illnesses, including dehydration, sprained ankles, broken bones, exhaustion, chicken pox, colds, viruses and respiratory illnesses.  
 
RNRN will be working at a shelter operated by Catholic Community Services of Southern Arizona, which has cared for over 2,500 since October 2018.
 
RNRN volunteer nurses have cared for thousands of patients during disaster relief and humanitarian assistance deployments that include the South Asian tsunami (2004); Hurricanes Katrina and Rita (2005); the Haiti earthquake (2010); Hurricane Sandy (2012); Super Typhoon Haiyan/Yolanda (2013); Hurricanes Harvey and Maria (2017); Vulcan de Fuego Relief in Guatemala and Hurricane Michael (2018); and the Continuing Promise 2010 and 2015 humanitarian missions with the Department of Defense. RNRN volunteers have also provided first aid and basic response services to hundreds of community events across the country, as well as rotating teams who assisted the water protectors in Standing Rock in 2016.
RNRN is powered by CNF and NNU, the largest union and professional organization of registered nurses in the United States.