Press Release
Nurses Announce Opposition to Sen. Sessions for Attorney General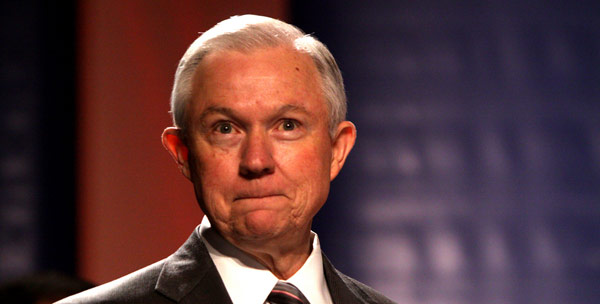 NNU Also Calls on Senate to Reject Tom Price as HHS Secretary
National Nurses United is joining with civil rights and civil liberties advocates to oppose the confirmation of Sen. Jeff Sessions to be the next U.S. Attorney General, NNU announced today. NNU will urge the Senate to reject Sessions' nomination.
In a letter to members of the Senate Judiciary Committee today, NNU Co-Presidents Deborah Burger, RN and Jean Ross, RN wrote, that "to vote in favor of confirming him as the chief law enforcement officer of the United States would abdicate your responsibility to provide the oversight necessary to ensure that basic legal rights are enforced evenhandedly and for the protection of all people."
NNU cited Sessions' pattern of "prejudices against people of color" as a lawmaker, as former U.S. Attorney for the Southern District of Alabama and Alabama Attorney General. That includes his aggressive pursuit of legal action against those defending voting rights for African Americans, and his grilling of then Supreme Court nominee, now Justice Sonia Sotomayor, about whether she could be fair to white Americans. 
"As an organization representing a predominantly female profession," Burger and Ross express expresses concerns about Sessions commitment to equal protection for women, including his posing doubts that protection of domestic violence against women should extend to tribal lands. They also warns that "confirming Sen. Sessions to the job of top prosecutor would exacerbate our national crisis over race issues in policing and our criminal justice system."
"In his public testimony, Sen. Sessions has failed to address widespread concerns raised by civil rights and civil liberties advocates that he would be a forceful advocate for voting rights, civil rights enforcement and equal rights that are antithetical to the leadership role an Attorney General should represent," said NNU co-president Deborah Burger, RN today.
"The Attorney General should be a champion for social justice and equal rights; nothing in Sen. Sessions past record, or statements in his confirmation hearings, provide reassurance that he will meet that fundamental test," Burger said.
She also noted a recent protest Tuesday by leaders of the NAACP in Sessions home state of Alabama. Birmingham NAACP leader Hezekiah Jackson noted the civil rights group has "found no evidence of (Sessions) ability, past or present to be impartial and unbiased as the chief law enforcement officer of the U.S. especially in the areas of civil rights, voting rights, and equal protection under the law."
Sessions is the second Cabinet nominee NNU has formally opposed.
Last month, NNU, the nation's largest union of nurses, also announced opposition the nomination of Rep. Tom Price as Secretary of Health and Human Services.
Testimony by Price yesterday the Senate Committee on Health, Education, Labor and Pensions reaffirmed NNU's opposition, said Ross today.
"We are appalled at the platitudes voiced by Price about maintaining the health coverage millions of previously uninsured people have gained under the Affordable Care Act, much less expanding it to the millions more still left behind, without offering any alternative to covering all Americans," said Ross.
Ross praised the challenge posed by Sen. Bernie Sanders to Price on whether healthcare for all people should be a right. "Rep. Price's disingenuous response that 'every single American has access to the highest quality care' demonstrates a staggering insensitivity to the tens of millions who continue to be shut out of this healthcare system, or have to ration care because of the cost even if they are paying for insurance," Ross said.