Press Release
Nurses and Veterans Call for Immediate Action to Improve Patient Care at VA San Diego Healthcare System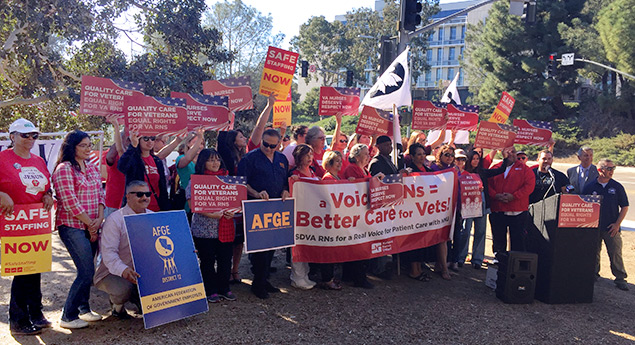 Press Conference – Wednesday Dec. 13 - 12 Noon
Registered nurses who work throughout the VA San Diego Healthcare System, including the medical center, outpatient clinics and residential care facilities will hold a press conference Wednesday, December 13, to draw attention to eroding patient care conditions, which include and contribute to chronic short staffing, high turnover and low retention of newly hired staff.
Representatives of Veterans of Foreign Wars, Paralyzed Veterans of America, Veterans Democratic Club of San Diego, Iraq Veterans Against the War, Democratic Veterans and Veterans for Peace will join nurses to speak out about their concerns as VA patients.
"San Diego VA nurses are urging management to make reforms that will ensure that our nation's heroes, the patients we serve, get the quality care that they deserve," said Erin McLeod, RN. "As VA nurses, many of whom are veterans, we are committed to improving the care throughout the San Diego VA because we know that the unique healthcare needs of veterans are best met through the VA system," said McLeod.
What: Press Conference - RNs and Veterans Speak Out On Needed Reforms at San Diego VA
When: Wednesday, December 13, 2017 - 12 noon
Where: San Diego VA Medical Center, 3350 La Jolla Village Drive, San Diego
"Veterans know that registered nurses at the VA are our advocates.  The quality of care we receive depends on nurses having the staffing levels and resources they need to do their job," said veteran, Sean McCrea, a member of Veterans for Peace. "We call on management to show respect for us veterans by listening to our RN advocates and immediately addressing the serious patient care issues they are raising."
"We are speaking out to the public because management has refused to address our patient safety concerns and instead focuses on punishing the nurses that flag problems in patient care," said Carla Melgun, RN. "As patient advocates it is our professional responsibility to monitor conditions and work to see problems rectified. We will not abandon our duty to protect our veterans as patients despite management's efforts to bully and intimidate us into silence."
Chronic staffing shortages impact patient care and hospital safety in numerous ways. For example:
All three experienced infection control nurses left due to poor working conditions, and only one has been hired to replace them. A lack of adequate controls increases the chance of hospital-acquired infections.
A shortage of RNs and ancillary staff creates slowdowns in the timely cleaning and turnover of rooms between patients. This delays patient transfers from the ED and between units to the appropriate level of care causing the VA San Diego to have among the highest ED wait times in the VA system.
Shortages in ancillary staff can jeopardize safe patient handling and lifting, and increase the risk of patient and staff injury.
Short staffing has impacted food services, including the timely delivery of meals to patients.
As of October the hospital had 80 vacancies. RNs note that the staffing shortage is exacerbated by the VA San Diego's excruciatingly slow hiring process. It often takes between three and six months for them to offer a position to an applicant who by then has already been hired by another employer.
National Nurses United, the nation's largest nurses union with 150,000 members, represents nurses at 23 VA facilities throughout the United States. NNU has won landmark health and safety protections for nurses and patients in the areas of staffing, safe patient handling, infectious disease and workplace violence protection.