Press Release
Registered nurses and social workers with CountyCare demand Cook County Health stop putting them at unnecessary risk of exposure to Covid-19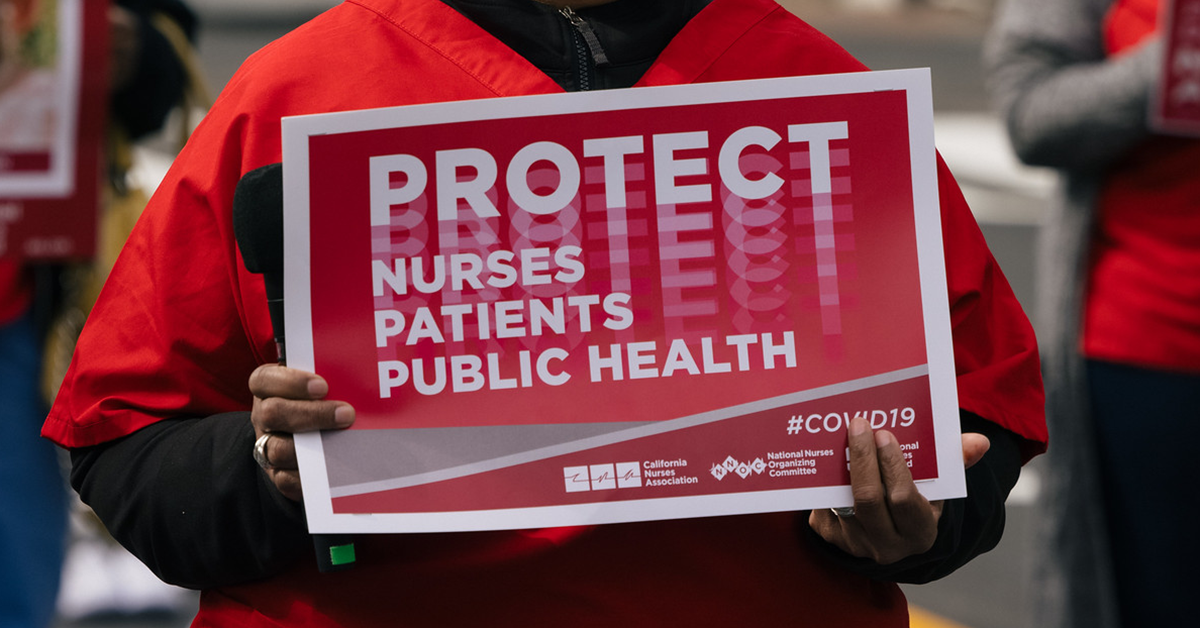 CountyCare registered nurses and social workers say they are being put at unnecessary risk of exposure to Covid-19 by Cook County Health, which refuses to allow those exposed to Covid-19 to isolate and work remotely, said National Nurses Organizing Committee/National Nurses United (NNOC/NNU) and SEIU Local 73 today.
"It is an egregious offense to put the health, safety, and welfare of the employees of CountyCare at risk," said Barb O'Brien, RN and care coordinator at CountyCare who has received several notices that she has been exposed to Covid-19 while in the county office.
What

: Virtual Press Conference with CountyCare RNs and social workers

When

: Wednesday, May 19, 12 p.m.
To attend the press conference, please email press@nationalnursesunited.org.
In April, CountyCare RNs and social workers, who have been working remotely for more than a year, were told they needed to return to the office for weekly visits. They were not provided N95 respirators.
During the past three weeks, three nurses have tested positive for Covid, and many nurses and social workers were notified they had been exposed to Covid while at the office.
Social workers and nurses who have been exposed are calling on Cook County Health to allow them to quarantine at home. However, Cook County Health is requiring them to return to the office unless they are symptomatic. Cook County Health's refusal to allow the nurses and social workers to isolate puts all staff at unnecessary risk for Covid-19.
"It is unfortunate that our concerns as health care providers for Cook County Health and CountyCare Health Plan services have not been addressed," said Barrie Newman, a licensed clinical social worker and member of SEIU Local 73. "We've attempted multiple times in multiple ways to communicate our concerns around health and safety to no avail. We serve vulnerable populations that have been disproportionately affected by this pandemic. It's important that we stay healthy to be able to serve our patients and members of CountyCare."
"Studies show clearly that people who are asymptomatic can spread the virus," said Rachel Earl, a registered nurse with CountyCare. "In fact, a Yale study found that people are most infectious one to two days before showing any symptoms. We have been able to do our jobs efficiently and effectively for more than a year working remotely, there is no good justification for Cook County Health to put our lives and the community's health unnecessarily at risk."
CountyCare nurses and social workers are care coordinators for some of the most vulnerable populations in the county, including homebound seniors, patients with traumatic brain injury, HIV-positive patients, and others.
"We care for populations who are extremely vulnerable and if we become ill, if social workers and nurses become ill, or even die, service for our patients and our clients can be disrupted," said O'Brien. "Cook County has a moral and legal obligation to make sure our workplace is safe, and they are failing to do so at CountyCare."
NNOC/NNU represents 1,300 Cook County nurses and SEIU Local 73 represents 83 Cook County social workers.
National Nurses United is the largest and fastest-growing union and professional association of registered nurses in the United States with more than 170,000 members nationwide. NNU plays a leadership role in safeguarding the health and safety of RNs and their patients and has won landmark legislation in the areas of staffing, safe patient handling, infectious disease, and workplace violence prevention.
SEIU Local 73 represents more than 29,000 workers, primarily in public service and publicly-funded positions in school districts, municipalities, social service agencies, and many other job classifications in Illinois and Indiana. We are dedicated to improving the lives of workers and their families.