Press Release
Nurses and caregivers hold speak-out to demand Palomar Health bargain in good faith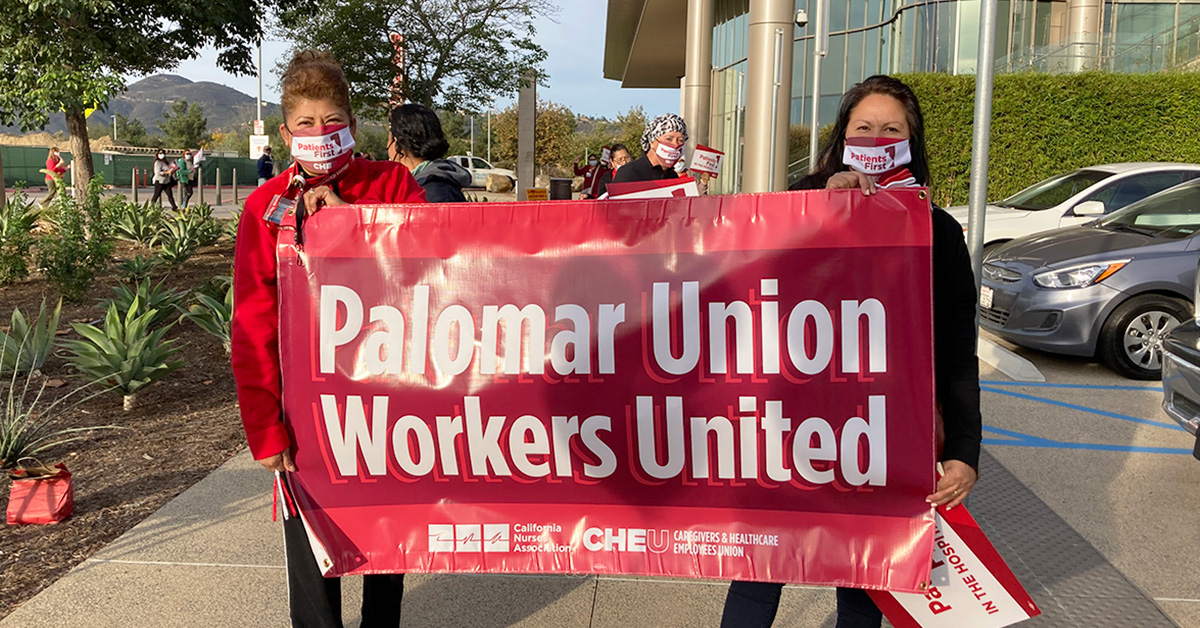 Nurses and caregivers say Palomar Health illegally declared an impasse during negotiations
Registered nurses and caregivers at Palomar Health will hold a speak-out on Monday, April 11, 2022, at 12 p.m. to call out Palomar Health's gross violations of labor law, up to and including bargaining in bad faith and threatening union members for exercising their voice, announced California Nurses Association (CNA), an affiliate of National Nurses United, and CNA affiliate Caregivers and Healthcare Employees Union (CHEU) today.
Palomar nurses and health care workers are calling on Palomar Health CEO Diane Hansen to respect the workers who serve the community and bargain with CNA and CHEU in good faith.
Contentious negotiations between CNA/CHEU and Palomar Health came to an abrupt halt when Palomar illegally declared an impasse after a turbulent negotiation session on Wednesday, March 23. Union members say Palomar negotiators used excessively threatening language and abused their authority by illegally declaring an impasse when the union had a proposal on the table for movement.
Who

:     Registered Nurses and Caregivers

What

:    Speak-out Press Event

When

:   Monday, April 11, 2022, 12 p.m.

Where

:  At the street entrance of Palomar Medical Center - Escondido
"It is unfortunate that this administration has been hostile and aggressive towards nurses and caregivers who are advocating for improvements for our patients, profession, and the community," said George Santiago, Rapid Response RN at Palomar Medical Center, Escondido. "This is a public hospital and we, as patient advocates, put patients first. Unfortunately, Palomar Health has not treated patient advocates with dignity or respect. Nurses and caregivers are calling on the community residents to support efforts to improve care and in telling Palomar Health to do the right thing to make sure patients are adequately cared for with needed staffing."
"Registered nurses and caregivers have been at the bargaining table with Palomar Health for nearly 12 months to address deficits in patient care conditions and short-staffing," said Grace Vicente, a Certified Nursing Assistant in the medical-surgical telemetry unit at Palomar Medical Center, Poway. "RNs and caregivers know that if conditions at Palomar Health don't improve, it will be challenging to recruit and retain qualified staff to take care of our community. We are not expendable, and we will not be disrespected. The abuse and mistreatment are harassing and hurtful to those who care, and they further exacerbate the retention crisis."
CNA and CHEU remain committed to winning a strong agreement that puts patients first. As a result, the unions have reached out to a neutral mediator to help all parties reach an agreement.
CNA represents approximately 1,300 nurses at Palomar Health hospitals. The Caregiver and Healthcare Employees Union represents around 1,700 ancillary caregivers.
The California Nurses Association/National Nurses United is the largest and fastest-growing union and professional association of registered nurses in the nation with 100,000 members in more than 200 facilities throughout California and more than 175,000 RNs nationwide.