Press Release
Nurses and Caregivers at Calais Regional Hospital Vote Overwhelmingly to Authorize a Strike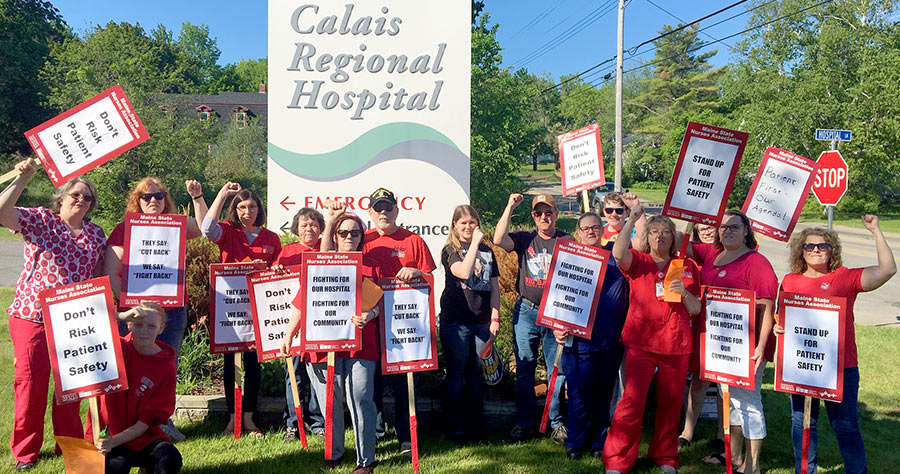 After one year of contract negotiations, the unionized caregivers at Calais Regional Hospital (CRH) in Calais, Maine have authorized a strike for the first time in that hospital's history, Maine State Nurses Association (MSNA)/National Nurses Organizing Committee (NNOC) announced today.
No strike date has been set at this time, but should the bargaining team decide to move forward with a strike, nurses and the other caregivers will provide hospital management 10 days' advance notice so that CRH can make appropriate preparations.
"We have asked for no new money or new benefits in this contract," said Anne Sluzenski, a registered nurse and member of the union bargaining team. "We simply asked for the status quo, in order to help Calais Regional get back on its financial feet. But our employer mistook our generosity for weakness and demanded concessions in our paid time off (PTO) and the language protecting our health insurance."
The Radiology, Lab and Sleep Technologists at CRH recently voted unanimously to join the existing union of nurses and medical lab scientists this past July. "We see patient care deteriorating by the day because of the poor decisions being made by our hospital's management," said Billie Jo Ham, one of the newly organized Radiology Technologists. "We are literally forced to work consecutive shifts from nights to days without enough time to sleep. Our fight, first and foremost, is for safe patient care."
According to the caregivers at CRH, the mistreatment of workers across the hospital has resulted in record-low employee morale, high turnover, and dozens of unfilled positions at this 25-bed facility. "Some of our most experienced nurses have recently left CRH for other opportunities," said Shirley Richardson, registered nurse. "They could not stand to be treated this way any longer. Those who remain have no choice but to stand up and fight back. If we're not fighting for our patients, no one else will."
Alison Monaghan, a Registered Nurse and union bargaining team member said, "It is up to management if they want to settle this contract before we strike or after we strike. For everyone's sake, we hope it is before."
To interview a nurse, contact Todd Ricker, 207-347-0126 or Chuleenan Svetvilas, 510-631-5337.
The unionized employees at Calais Regional Hospital are represented by the Maine State Nurses Association, the largest healthcare union in the state of Maine. MSNA is affiliated nationally with the National Nurses Organizing Committee.