Press Release
Nurses at Alhambra Hospital Ratify Their First Union Contract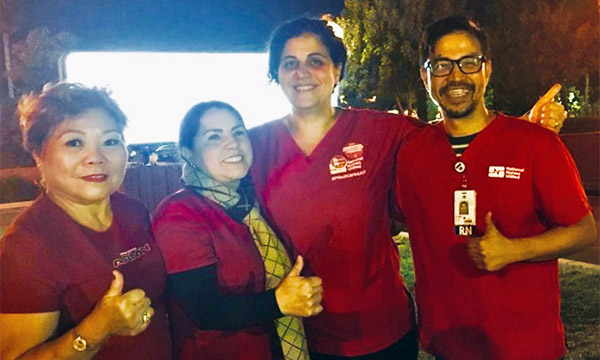 Registered nurses at Alhambra Hospital Medical Center (AHMC) in Alhambra, Ca. are celebrating the ratification of their first collective bargaining agreement which was overwhelmingly approved this week, the California Nurses Association (CNA) announced today.
"I feel very good about all that we have accomplished in bringing a union to our hospital and to win this contract," said Ana Vasquez, a registered nurse who has worked at AHMC since 1999. "We worked very hard to get this contract, but we now have a contract that will allow us to bring the highest level of care to our patients." 
The contract includes economic gains to help with nurse recruitment and retention which have long been a problem at the hospital. The average wage increase amounts to 15 percent in the first year of the contract, and 28 percent over the three-year term of the contract. The increases in wages rectifies the inequities in the current wage scale and bring nurses closer in parity to similar hospitals in the region.
"It's unbelievable, I love this hospital and I love the people I work with and now we have an opportunity to attract experienced nurses and keep them on the job," said Farah Gerami, an emergency room registered nurse who has worked at Alhambra for almost 18 years. "For too long, we've seen nurses leave after only a few months because the pay is better at other hospitals. Now we will keep good nurses and can create strong nursing teams. When you have strong teams of experienced nurses you have better outcomes for your patients and you can serve the community better." 
The contract also includes the formation of a professional practice committee. This committee of bedside RNs meets with management to advocate for safe patient care and make recommendations on nursing practice including the use of technology, staffing and acuity matters.
"This new contract gives us a stronger voice to advocate for our patients when we sit down with management," said Gerami. "We have always needed a place to talk about what needs to be improved in the hospital, and I just can't wait to start that."
Alhambra Hospital voted to join CNA in January 2017. CNA also represents registered nurses at two smaller AHMC affiliated hospitals, San Gabriel Valley Medical Center and Whittier Hospital Medical Center.
The California Nurses Association has 100,000 members statewide and is affiliated with National Nurses United, the largest and fastest growing union of RNs in the nation. CNA/NNU has won landmark health and safety protections for nurses and patients in the areas of staffing, safe patient handling, infectious disease and workplace violence protection.