Press Release
Nurses from Alameda, San Leandro Hospitals picket for safe patient care conditions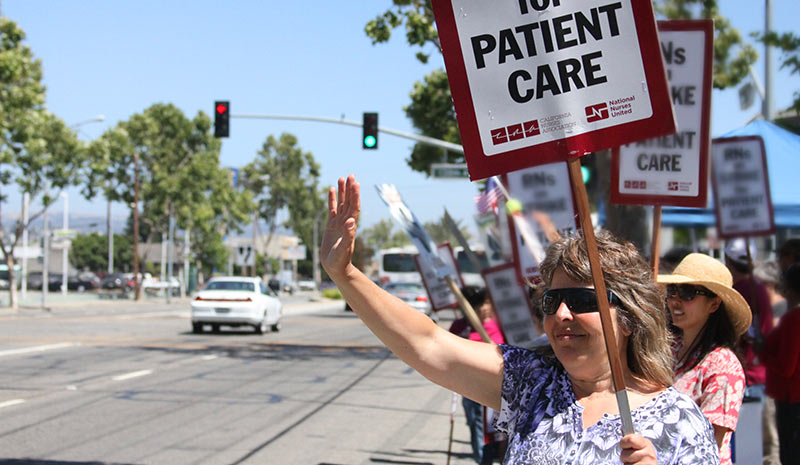 RNs Demand Alameda Health System Bargain in Good Faith and Not Balance Its Budget on Backs of Nurses, Patients
 
Nurses from Alameda Hospital and San Leandro Hospitals—both part of Alameda Health System (AHS)—will picket Wednesday, April 3, to draw attention to issues impacting safe patient care, and safe staffing, the California Nurses Association (CNA) announced today.
 
"We are very concerned about the future of our community, our patients, and the nurses who work for the health system. What AHS is failing to see is what is going on at the ground level: Units are consistently short staffed, patients are waiting for long periods of time without getting a bed, and nurses are burned out by the unbearable workload," said Emergency Room registered nurse Raychel Cooke, of San Leandro, emphasizing that poor conditions threaten the loss of experienced nurses for the community.
 
What: Alameda, San Leandro Hospital RNs picket for safe patient care
When: Wednesday, April 3, 2-4:30 p.m. (rally at 4 p.m.)
Where: Pickets to take place simultaneously at both hospitals:
Alameda Hospital, 2070 Clinton Ave, Alameda, 94501
San Leandro Hospital, 13855 E. 14th St., San Leandro, 94578
RNs at both hospitals have been bargaining a contract with management for the last five months, with no improvement in sight, according to nurses—who have filed unfair labor practice charges against AHS with California's Public Employee Relations Board (PERB), charging management with bad faith bargaining.
 
Management has proposed cuts which aim to undermine the advocacy of nurses for patient care, say RNs—who insist that cost containment measures at the facilities are the result of poor financial planning and should not threaten patient care and safe staffing levels.
 
"I have been a long-time nurse at Alameda hospital, and we as nurses, have made many sacrifices so that our patients continue to receive the best care. What we are seeing with the AHS administration is an inability to make decisions that protect the interest of patients and the community," said RN Karen Rothblatt, Operating Room Nurse at Alameda Hospital. "Those decisions will have a lasting impact, and what I'm afraid of is that we will ultimately lose good nurses."
 
Nurses encourage the community to come stand with them and to learn more at Wednesday's picket.
"As patient advocates, we feel that we have no choice but to stand up and say our community deserves better. Nurses make an oath to protect the people in our care, and right now, management needs to come to the table and make sure we have safe patient care conditions and safe working conditions. If it takes nurses standing together and speaking out to make that happen, we will always do what's right for our patients," said San Leandro Hospital Post-Anesthesia Care Unit RN Lisa LaFave.