Press Release
Nurses Across Country Protest GOP Tax Plan, Call it "Deadly for Working Families"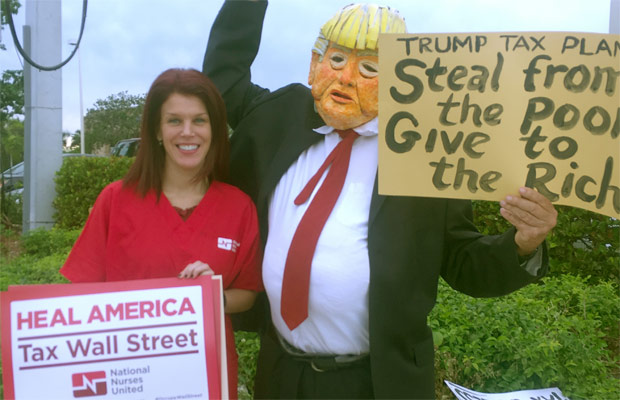 Las Vegas Rally at Sen. Dean Heller's Office Thursday Continues Week of RN Protests Against Bill Nurses Say Benefits Super Rich, Hurts Patients
Registered nurses and local community organizations will converge on Senator Dean Heller (R-NV)'s Las Vegas office Thursday, November 30, to demand a "No" vote on the Republican effort to rewrite the tax code—impending legislation which nurses say will decimate the health of already struggling working families, while entrenching tax breaks for the super rich.
"As patient advocates, nurses cannot stay quiet while Republicans in Congress and the White House are pushing legislation that would be so harmful to our patients, our families and our communities, by transferring more of the nation's wealth to those who need it the least, large corporations and the most wealthy Americans," said Deborah Burger, RN, co-president of National Nurses United (NNU).
What: RALLY—RNs Call on Sen. Dean Heller to vote NO on GOP Tax Plan
When: Thursday, November 30, 1 p.m.
Where: Outside Sen. Heller's Office, 8930 W. Sunset Rd., Suite 230, Las Vegas, NV 89148
Thursday'sNevadaprotestwill capoff a week of nurse protests against the bill. On Monday,Florida RNsrallied with community organizations outside Senator Marco Rubio (R-FL)'s office in Doral, Florida, and inAustin, Texas, nurses joined with the local community inanaction outside the office of Senator John Cornyn (R-TX)—to demand these republican senators vote "No" on GOPtax bill.
"As the most trusted profession in America, it's always good advice to listen to your nurse. Well nurses are standing up all across the country with tens of millions of other working people to demand our senators vote 'no' on this one-sided, unfair legislation," Burger said.
While Senator Heller has called this legislation a 'positive step toward providing families with the tax relief that they need,' nurses emphasize that any relief in the GOP bill for the middleclass and working poor expiresin just a few years' times, leaving working Americans worse off—whereas deep tax cuts for the rich are ongoing.
Nursesalsopoint out thataccording to the Joint Committee on Taxation,the House and Senate version of these GOP "tax reform" billswould increase the federal deficit by more than $1.4 trillion.Thisdeficit will likely bebalanced, say nurses, on the backs of patients—by slashing Medicare and Medicaid, and cutting Social Security and other programs that help working people.
Withtax legislation already through the House, and a vote on the Senate version of the bill likely to occur Thursday, RNs say they willnot back down.
"Our elected officials must put the interest of everyday Americans above the interest of corporations and the 1 percent," said Burger."Nurses will keep speaking out on the need for a more fair tax system that provides real support for the priorities our nation needs: healthcare for all, jobs at living wages, and an end to the threats of environmental degradation and the climate crisis. A no vote on this legislation is the deeply moral and right thing to do, because it shows care for working people over corporate profits, and to the benefit of our patients, we will stand for nothing less."