Press Release
Nurses to hold informational picket at Lovell Federal Health Care Center in North Chicago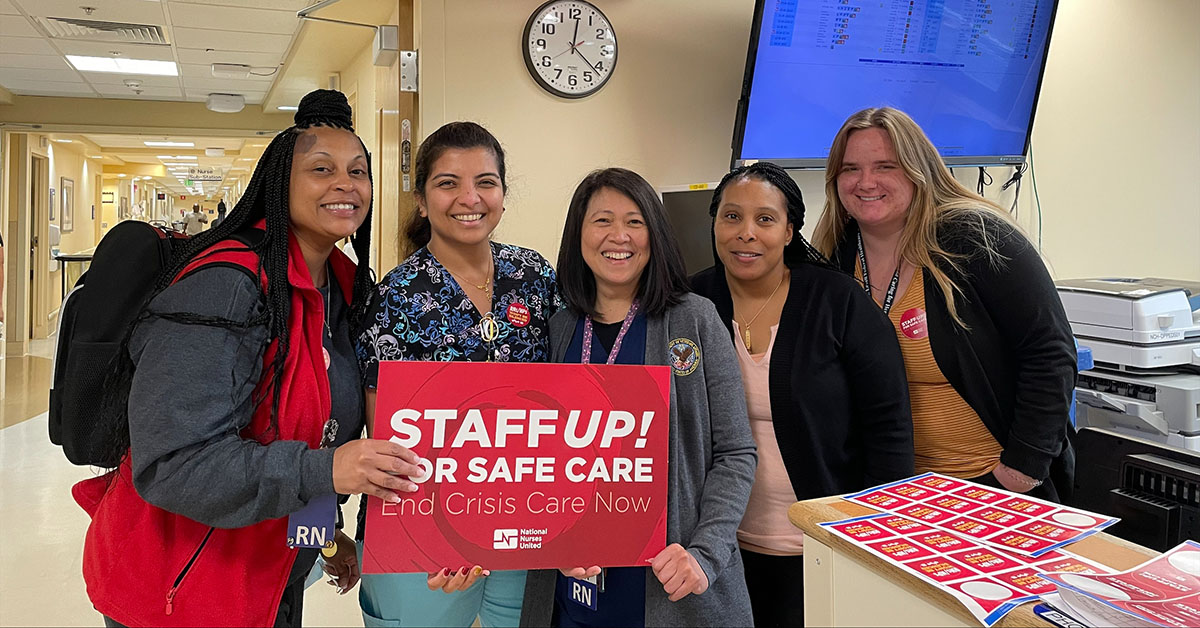 Nurses say flexible work schedules will improve morale, help recruit and retain nurses who care for veterans at Lovell Federal Health Care Center.
Registered nurses at Captain James A. Lovell Federal Health Care Center (FHCC) in North Chicago, Ill., will hold an informational picket on Thursday, Sept. 7, to make the public aware of management's refusal to implement flexible work schedules at the facility, announced National Nurses Organizing Committee/National Nurses United (NNOC/NNU) today.
According to a 2023 report by the Office of the Inspector General (OIG) of the U.S. Department of Veterans Affairs (VA), 92 percent of VA facilities reported severe understaffing of nurses. At Lovell FHCC, the vacancy rate has increased from 4.5 percent in 2022 to 13.9 percent in 2023. In addition, the VA's own research stated that the vacancy rates will drastically increase over the next five years.
Nurses at Lovell FHCC and across the country say the solution to the VA's nurse staffing crisis is flexible scheduling, which they have been urging the VA to implement for years.
"We know that we are facing a staffing crisis as Lovell FHCC VA's vacancy rate has increased more than 9 percent in the last year," said Monica Coleman, RN in the Office of Community Care at Lovell FHCC. "We are calling on the leadership of this hospital to rise to the occasion and implement flexible scheduling that will enhance the quality of patient care and provide better patient outcomes. VA Undersecretary Shereef Elnahal said that the evidence shows that flexible schedules attract new nurses and to retain highly skilled nurses."
What:

     RNs to hold informational picket and rally

Where:

   Captain James A. Lovell Federal Healthcare –
               VA Center, 3001 Green Bay Rd., North Chicago, IL, 60064;
               corner of Buckley and Lewis Main

When:

    Thursday, Sept. 7, picketing from 10 a.m. to 1 p.m., 

with nurse speakers and community allies at 

noon
VA nurses are demanding more flexible work schedules, which would boost morale and increase overall staffing by retaining and recruiting nurses because the current scheduling system is not competitive with practices at other area hospitals. These policies have proven to help recruitment and retention in the VA facilities where they've been implemented, as they improve working conditions, boost nurse morale, and offer better work-life balance, ultimately ensuring nurses are at their best to provide the best patient care.
For the past several years, nurses at Lovell VA have been urging management to implement flexible scheduling to no avail. Hospital administration refuses to use flexible scheduling as a tool to recruit and retain nurses, even though nurses know it works.
"If the administration does not implement flexible scheduling, it will be difficult for some nurses to stay," said Rajini Manoj, RN in the Greenhouse Long-term Care Unit. "Many nurses have worked here for decades. They don't want to leave, but without recruiting or retaining experienced nurses, the future of Lovell is uncertain."
According to the National Council of State Boards of Nursing, there are 228,740 nurses in Illinois with active licenses as of Aug. 31, 2023, but according to the most recent data from the U.S. Bureau of Labor Statistics (May 2022), only 139,590 are working as nurses. There is no nursing "shortage" in Illinois. Nationwide, there are more than a million registered nurses with active licenses who are choosing not to work at the bedside because of the hospital industry's unsafe working conditions. More data and information debunking the nurse "shortage" myth can be found here.
---
National Nurses Organizing Committee is an affiliate of National Nurses United, the largest and fastest-growing union and professional association of registered nurses in the United States with nearly 225,000 members nationwide. NNU affiliates also include California Nurses Association, DC Nurses Association, Michigan Nurses Association, Minnesota Nurses Association, and New York State Nurses Association.