Press Release
National Nurses United urges Congress to approve supplemental funding requests for Covid and mpox response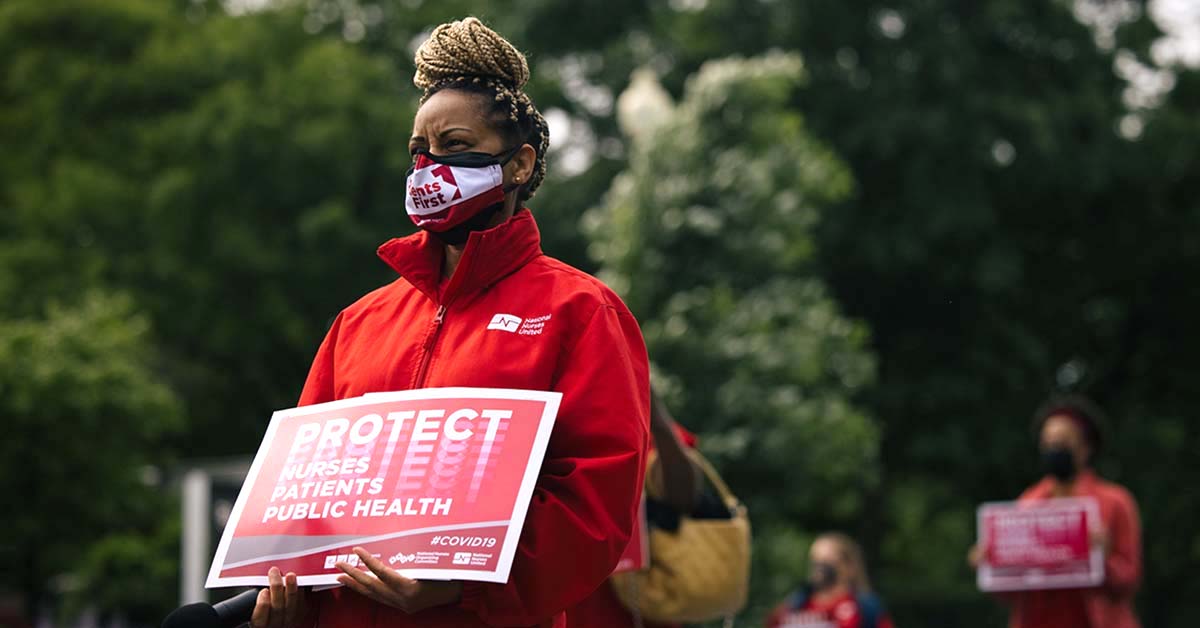 National Nurses United (NNU) sent a letter to Congress yesterday to express its support for President Biden's supplemental funding request for $22.4 billion for the Covid-19 pandemic response, and $4.6 billion for the mpox virus. In the letter, NNU, the largest union and professional association of nurses in the nation, urged Congress to address these ongoing public health emergencies.
The letter, signed by NNU Executive Director Bonnie Castillo, RN, and NNU Council of Presidents Deborah Burger, RN, Jean Ross, RN, and Zenei Triunfo-Cortez, RN, noted that "approximately 360 Americans are still dying every day from Covid-19" and that according to the Centers for Disease Control and Prevention, "daily new cases are about 55,000 — likely a massive undercount due to the widespread nature of at-home testing," which often go unreported.
Nurses support the White House's funding request to help fight mpox, including vaccines, testing, and treatment. "As we learned from Covid-19, early efforts to stop the viral spread are critical to a robust public health response that protects as many vulnerable people as possible," said the letter. "We were especially glad to see the inclusion of funding to help fight the spread of the virus globally, as well as money to help prepare for any future virus outbreaks."
Nurses have been on the front lines of the Covid pandemic for more than two years. Each successive subvariant has become more transmissible and better able to evade infection or vaccine-induced immunity. According to the CDC, about 90 percent of the population currently live in an area with high or substantial Covid transmission. In addition, the impact of long Covid continues to increase and poses a serious threat to public health. According to the American Academy of Neurology, long Covid is the third leading cause of neurological disorder in the United States.
"[W]e are deeply concerned about the lack of financial resources available to ensure the continuation of critical public health programs as the virus continues to circulate both at home and abroad," states the letter.
NNU's letter explains how crucial Covid-19 vaccinations, testing, and treatment are to protecting the health and safety of our communities and that they "continue to be provided free at the point of service for all patients," The funding request includes $2 billion to continue free testing programs and funding to cover the cost of administering vaccinations for the uninsured and underinsured
"Nurses have known since the beginning of the vaccine roll-out that unless we vaccinate the global population, we will not be able to control the pandemic here in the U.S.," the letter continued. "Unfortunately, there are still billions of people who have not received a single vaccine dose, with a large percentage of those people living in low- and middle-income countries. While we were heartened to see the $4 billion in funding to the Department of State and U.S. Agency for International Development (USAID) to support vaccination efforts, therapeutics, diagnostics, and preparedness and response capacity internationally, we estimate that adequately scaling up global vaccination efforts will require further funding."
The letter urges Congress to help nurses "protect our patients, our communities, and ourselves" by supporting the inclusion of Covid and mpox funding in any imminent government funding package.
"Nurses know that we will never emerge from this pandemic unless the world quickly acts to drastically increase access to vaccines, diagnostics, and treatments for Covid-19, in combination with effective isolation and quarantine measures, workplace protections for nurses and all frontline workers, and other measures," the letter concludes. "If we do not do this, the illness, death, and suffering caused by this pandemic will continue, and we may see the development of even more dangerous variants, both at home and abroad."
National Nurses United is the largest and fastest-growing union and professional association of registered nurses in the United States with more than 175,000 members nationwide.