Press Release
National Nurses United urges CDC to strengthen protections for nurses and other health care workers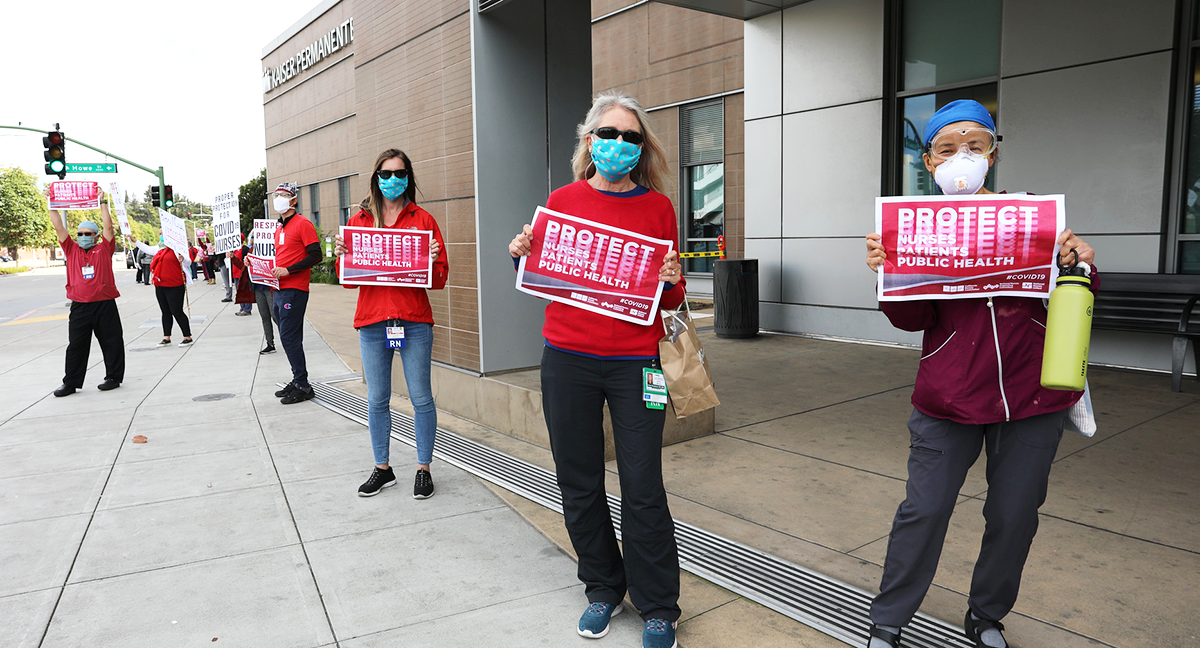 National Nurses United (NNU), the largest union and professional association of nurses in the country, sent a letter today to the Centers for Disease Control and Prevention (CDC), urging the agency to "recommend optimal workplace protections for nurses and other health care workers." The letter is a response to the CDC's Sept. 23, 2022 updates to the "Interim Infection Prevention and Control Recommendations for Healthcare Personnel During the Coronavirus Disease 2019 (COVID-19) Pandemic" and the "Interim Guidance for Managing Healthcare Personnel with SARS-CoV-2 Infection or Exposure to SARS-CoV-2."
The letter, signed by NNU President Jean Ross, RN, notes, "While some changes move in a more protective direction, overall, these updates will result in decreased protections for health care workers and our patients, which will result in increased transmission, illness, and death."
"Now is not the time to remove protections from Covid-19," states Ross in the letter. "The United States continues to see a significant level of transmission, with over 88 percent of U.S. counties experiencing high or substantial transmission. Over the past two months, more than five million new cases have been reported in the U.S., which the CDC estimates is likely only a quarter of the true infections that occurred."
"More than 350 people continue to die each day from Covid-19. Covid-19 was the third leading cause of death in the United States between March 2020 and October 2021," continued Ross. "In 2021, Covid-19 became the first and second leading cause of death for adults aged 45-54 and 34-44."
"The risk of reinfection has increased substantially with the emergence of the Omicron variant, combined with waning immunity from vaccines, and the lack of public health measures and dissembling from leaders about the ongoing pandemic."
The letter states that the infection control guidance updates will result in decreased protection for nurses, other health care workers, and our patients, including:
Only recommending the use of source control (such as a facemask) in health care facilities in areas where they may encounter patients when Covid-19 Community Transmission Levels are high
Specifying that health care workers may choose not to wear source control when they are in "well-defined areas that are restricted from patient access" if the Community Levels are not also high
Downgrading recommendations for visitation restrictions
Changing language on universal PPE use for health care providers from a clear recommendation ("HCP working in facilities located in counties with substantial or high transmission should also use PPE" [emphasis added] as described) to a suggestion ("facilities located in counties where Community Transmission is high should also consider having HCP use PPE" [emphasis added] as described)
Suggesting, not recommending that facilities could open dedicated Covid-19 units with health care providers who only care for those patients on their shifts. The guidance adds a note on feasibility, that "dedicated units and/or HCP might not be feasible due to staffing crises or a small number of patients with SARS-CoV-2 infection."
NNU's letter notes that the updated guidance for managing health care workers with Covid or exposure to the virus will result in decreased protections for nurses, other health care workers and their patients, including:
Stating that work restriction is not necessary for most asymptomatic health care workers following a workplace exposure. Work restrictions might be considered in specific circumstances (e.g. immunocompromised health care worker or unit of immunocompromised patients).
Removing explanatory details about the lack of data for the definition of close contact and the importance of considering exposures at distances of greater than six feet, particularly "over long periods of time in indoor areas with poor ventilation."
Removing details about the lack of data regarding the 15-minute definition of prolonged exposure.
Several recommendations move in a more protective direction than previous guidance, which are detailed on page 3 of the letter, such as adding language about offering resources and counseling to health care providers, patients, and visitors about the importance of getting a Covid-19 vaccine and additional recommendations about optimizing the use of engineering controls and indoor air quality.
"Nurses and other health care workers have been—and continue to be—on the front lines of responding to the Covid-19 pandemic," the letter concludes. "Our employers have time and again failed to protect us, often quoting CDC guidance as the reason. As a result of our employers' failures, as of September 23, 2022, at least 5,401 health care workers, including at least 495 registered nurses, have died from Covid-19."
"As general public health measures are rolled back, it is of even more importance that our health care facilities remain safe places for healing, including for our most vulnerable patients."
National Nurses United is the largest and fastest-growing union and professional association of registered nurses in the United States with more than 175,000 members nationwide.