Press Release
National Nurses United grieves the passing of our friend, brother, and health care hero, Ady Barkan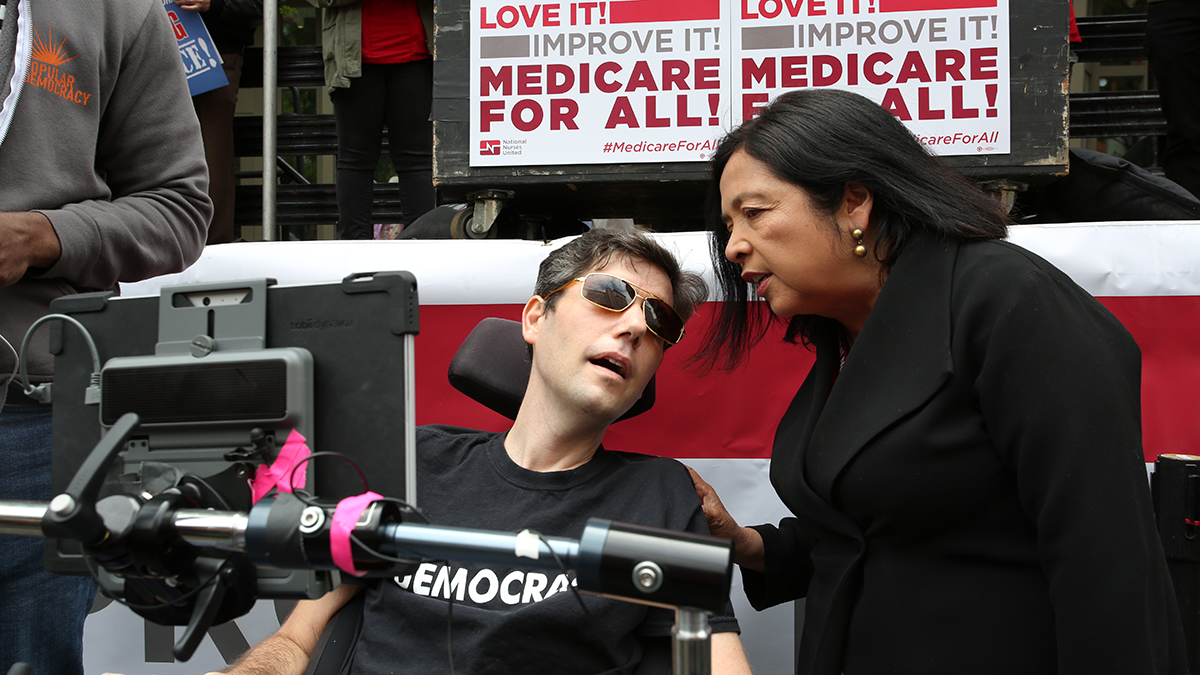 Registered nurses know that it takes extraordinary strength, courage, compassion, and commitment to fight to save the lives of others when you are a patient fighting a terminal illness yourself. But that is what made our dear friend and fellow health care activist Ady Barkan truly special.
National Nurses United (NNU), the nation's largest union of registered nurses, was heartbroken to hear of Ady's recent passing, and we extend our heartfelt condolences to his wife Rachael, to his children Carl and Willow, to his friends and colleagues, and to the endless web of people who were inspired by his incredibly powerful voice in the people's movement for Medicare for All.
A lawyer, activist, cofounder of the Be a Hero PAC, and organizer for the Center for Popular Democracy, Ady was diagnosed with ALS in 2016. He spent the precious time he had left fighting to win Medicare for all so that every person in the United States has guaranteed health care as a human right.

Among our many powerful memories of Ady, nurses recall his game-changing testimony in the first-ever Congressional hearing on Medicare for All in 2019. With the help of a special computer, he told his story of not only struggling with the effects of ALS, as a young father at the prime of his life, but also suffering from outrageous medical bills and spending hours of the precious time he should be spending with his family fighting with his insurance company. Ady did what nurses do: He cut right through the slick, corporate talking points and brought the focus back to real human beings.

NNU was also proud to partner with Ady and Be a Hero on projects including "Uncovered," a docu-series where Ady sat down with each presidential candidate ahead of the 2020 election to talk to them about health care. Ady's pointed questions had a way of making the value of health care as a human right undeniable and not something that could be argued. In 2020, Ady and Be a Hero also partnered with NNU to tell the stories of nurses on the front lines of Covid, raising awareness about nurses' need for PPE.  

Ady Barkan was not just our brother and ally. He was truly one of us, an honorary nurse and patient advocate. National Nurses United members promise to carry forward his good work, and when we win Medicare for All (because we WILL win), Ady's name will go down in history as a major reason why. His call to "Be a Hero" will never stop being a rallying cry for our grassroots movement, and we feel more inspired than ever to keep fighting, knowing how fiercely this incredible man cared, until the very end, about achieving a better world. Rest in peace, dear Ady.
Those wishing to support Ady's family can donate at this GoFundMe page.