Press Release
NNU delivers petition urging CDC to strengthen proposed infection control guidance; CDC cuts off public comments at advisory committee meeting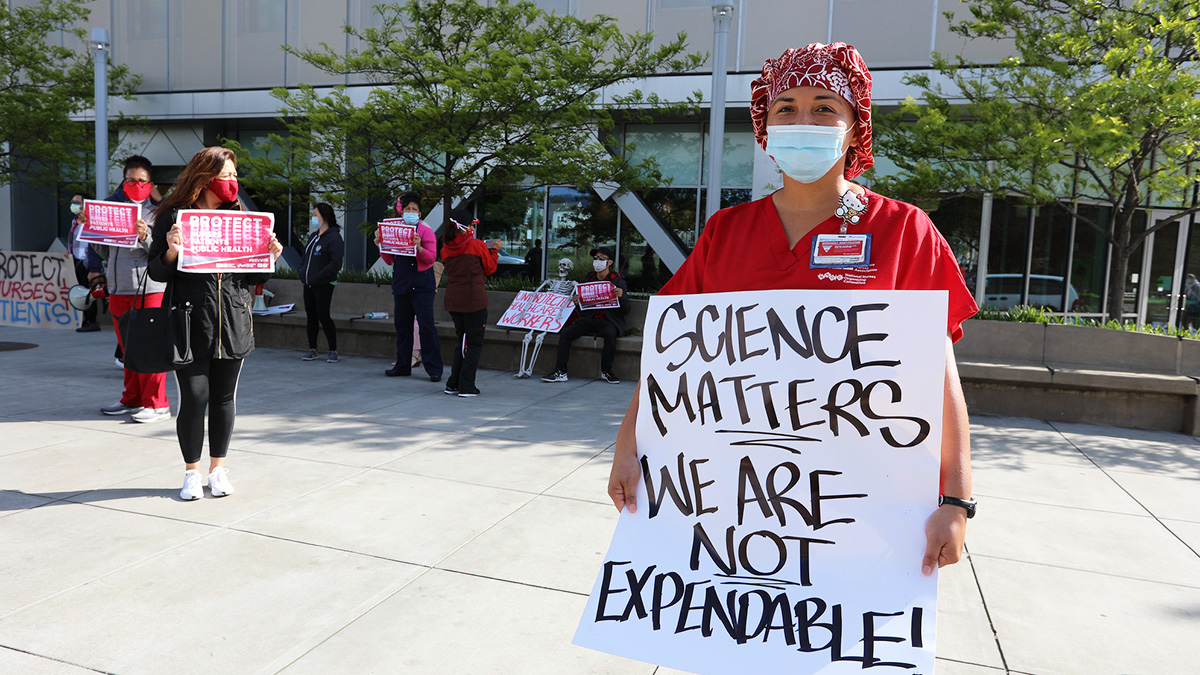 Nearly 11,000 signatories, including 11 unions and 45 organizations representing more than 6 million members, joined the petition
National Nurses United (NNU), the largest union of registered nurses in the nation, delivered a petition on Monday signed by nearly 11,000 individuals and organizations, including 11 unions and 45 public health, occupational health, and patient advocacy organizations collectively representing more than 6 million members across the country, to the Centers for Disease Control and Prevention (CDC) and its Healthcare Infection Control Practices Advisory Committee (HICPAC), urging them to fully recognize aerosol transmission of SARS-CoV-2 and other respiratory pathogens and to strengthen the CDC's Isolation Precautions guidance, which has not been updated since 2007. 
This guidance shapes infection control and prevention practices in hospitals, nursing homes, and other health care settings across the nation and around the world, including masking and other respiratory and eye protection, ventilation, and more. HICPAC/CDC has initiated a process to update the 2007 guidance.
HICPAC, the CDC's advisory committee on health care infection control, met yesterday and failed to address any of the concerns that have been raised about the proposed draft updates presented at their June meeting. (See NNU's letter to the CDC on the union's concerns.) HICPAC had been set to vote on the guidance yesterday but delayed the vote until November. 
"The CDC/HICPAC's draft proposed updates to the guidance, which were presented in June, go in the wrong direction, weakening the CDC's existing guidance," said NNU President Zenei Triunfo-Cortez, RN. "The draft updates are anti-science and put nurses, other health care workers, and patients at risk by proposing that surgical masks are adequate protection against aerosol-transmitted diseases, among other alarming updates."
Many members of the public registered to provide comment at yesterday's meeting. Those who spoke expressed concerns and outrage about the process and potential ramifications for patients and communities. Despite recognizing that more had registered to speak, the CDC cut off public comment after hearing from only 14 people. This comes on the heels of significant criticism of the lack of transparency in CDC/HICPAC's process and the committee's failure to engage a wide range of experts with important expertise, including direct care health care workers, unions, aerosol scientists, respirator and ventilation experts, and occupational health experts.
"It's unconscionable that the CDC cut off public comment at yesterday's HICPAC meeting, when we have been calling for increased public engagement in their process," said Triunfo-Cortez, RN. "HICPAC Work Group meetings have been conducted behind closed doors and no frontline nurses or health care workers serve on this committee. When we tried to get information about these meetings via the Federal Advisory Committee Act (FACA), our request was denied. We submitted a FOIA request to the CDC and received 279 pages of redacted documents." 
"The Covid pandemic shined a spotlight on both the critical role of health care workers and the life-threatening dangers they face each and every day," said Marcy Goldstein-Gelb, co-executive director of the National Council for Safety and Health (NCOSH). "Health care workers spoke out early and loudly about the critical need for protective measures and access to PPE. Because they were ignored, countless health care workers — and patients — became ill and died. So fast forward to today: We are asking the CDC and HICPAC to not repeat the grave lessons of the past, and instead listen to workers who are urging them to fully recognize aerosol transmission of SARS-CoV-2 and other respiratory pathogens in the updated guidance for health care settings."
"The lack of will to implement needed strategies must stop or countless American lives will be lost," said Dr. Kevin Kavanagh, board chairman of HealthWatch USA. "The CDC appears to be mustering its scientific and political might to discredit, not embrace, aerosol science and to give facilities a pass to justify their lack of implementation of needed protections. Currently, a worker is safer and has better gear in an Appalachian welding shop than working in the local hospital. No one should have to take care of a patient with a respiratory pathogen without a well-fitted respirator or work in a poorly ventilated building."
"As the nation's largest network of individuals bereaved by Covid-19, Marked By Covid recognizes the imperative of centering the expertise of those directly impacted by systemic decisions," said Kristin Urquiza, co-founder of Marked By Covid. "Frontline personnel, unions, patient advocates, healthcare providers, and aerosol and respiratory experts should take the lead in shaping updates to the 2007 Isolation Precaution guidance. 
"Substantial evidence supports the integration of superior protective measures like N95 respirators, enhanced ventilation, and advanced air filtration into the revised guidance," said Urquiza. "Those of us who've lost loved ones to Covid-19 remain forever indebted to nurses and health care workers who courageously cared for our dying family members and continue to save countless lives. Our responsibility is to prioritize their well-being, prevent further Covid-19-related suffering, and protect families from the anguish of loss and Long Covid."
NNU delivered a letter on July 10 to the CDC director outlining the union's concerns. A similar letter, signed by nearly 900 leading public health experts, was sent to the CDC on July 20 opposing the draft proposed guidance, which contradicts scientific research on aerosol transmission and proposes to weaken existing guidance.
---
National Nurses United is the largest and fastest-growing union and professional association of registered nurses in the United States with nearly 225,000 members nationwide. NNU affiliates include California Nurses Association, DC Nurses Association, Michigan Nurses Association, Minnesota Nurses Association, National Nurses Organizing Committee, and New York State Nurses Association.