Press Release
National Nurses United decries attack on Paul Pelosi and other violent extremism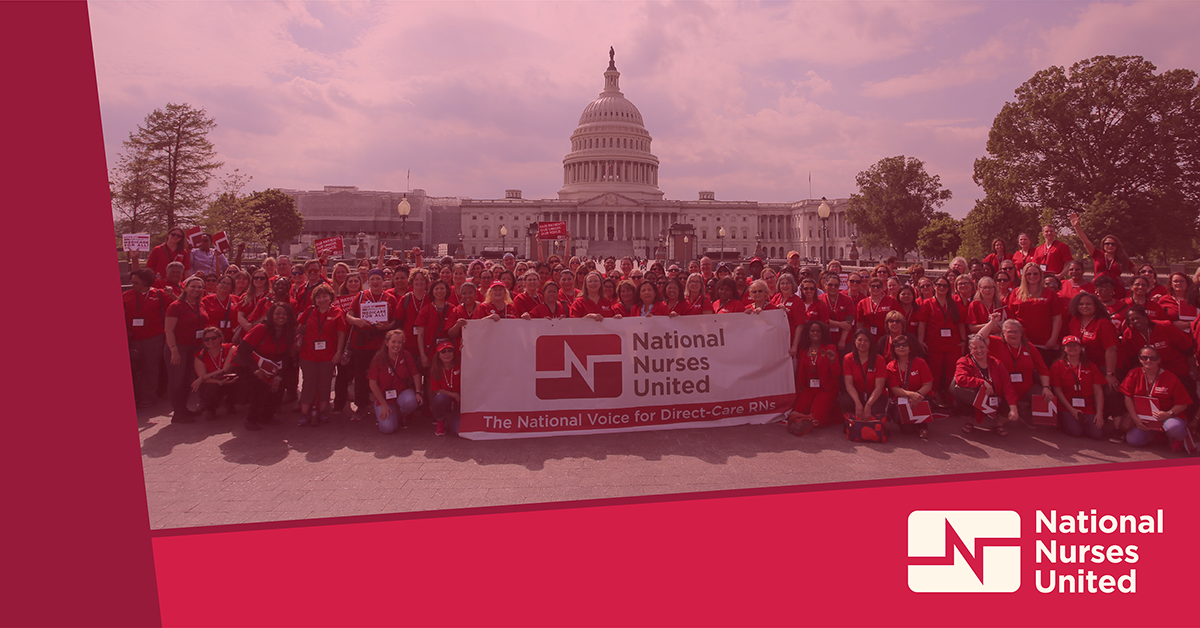 Nurses call on Trump, GOP to end violent rhetoric
National Nurses United (NNU) today called on the Republican Party, especially former President Donald Trump and others aligned with him, to publicly renounce virulent rhetoric that is encouraging the escalation of violent threats via mass media and assaults such as the recent attempted kidnapping of House Speaker Nancy Pelosi and the attempted murder and assault of her husband, Paul Pelosi.
"Nurses are horrified by the assault on Paul Pelosi and wish to convey our concern and sympathies to the entire Pelosi family," said NNU President Deborah Burger, RN. "We hope for the speedy recovery of Mr. Pelosi."
"The alarming rise of antisemitic and racist hate speech and attacks on our democratic system are jeopardizing the safety and security of many Americans, and ripping apart the social fabric of our nation," Burger continued.
"Dangerous threats that expose political leaders, election workers, and minority communities — including Jews, people of color, LGBTQ+ people, and immigrants — to harassment, intimidation, and violence are a stark warning sign of the erosion of our democracy, into an atmosphere that puts everyone at risk," Burger said. "The January 6 insurrection at the U.S. Capitol and the attack on Paul Pelosi show that these purveyors of hate are more than willing to move from violent speech to violent action. It is essential that the demonization and hate speech must end, so that healing can begin."
As Politico reported today, a 2020 paper from the Center for Strategic and International Studies documented that two-thirds of domestic terrorism from January to August that year came from far-right extremists. The Department of Homeland Security warned in June that, as the midterms approached, "calls for violence by domestic violent extremists directed at democratic institutions, political candidates, party offices, election events, and election workers will likely increase," especially from "racially or ethnically motivated or anti-government/anti-authority" extremists.
The attack on Pelosi parallels a sharp escalation in antisemitic public expressions, including those by Ye, the performer formerly known as Kanye West. It is also evident in crude, racist Republican attack ads blaming Democrats for higher crime rates, even though the highest gun homicide rates are in states with the laxest gun safety laws, and the deluge of racism on Twitter following its acquisition by billionaire Elon Musk.
Conspiracy theories, hate speech, and the efforts by some to downplay the life-threatening attack on Paul Pelosi are "a clear sign of where the demagogic rhetoric leads," Burger said. "That all of this is happening in the lead up to the midterm elections is even more disconcerting."
Many Republicans have villainized Speaker Pelosi for years. But the rhetoric escalated during Trump's presidency, symbolized by the January 6 insurrectionists at the U.S. Capitol searching for the Speaker and taking over her office. Republicans have spent nearly $40 million attacking Pelosi in midterm ads, the Washington Post reported October 29.
On Oct. 26, Time reported that National Republican Congressional Committee chair Rep. Tom Emmer posted a video of himself shooting a rifle with the messages "exercising my Second Amendment rights" and "13 days to make history. Let's #FirePelosi."
In a weekend interview, Trump conflated the attack on Paul Pelosi with crime in Democratic-led cities saying, "look at what's happened to San Francisco generally," despite voluminous evidence of the racist, alt-right record of the assailant. Similarly, Fox News host Jesse Watters dismissed the attacker's writings and also blamed crime in San Francisco, saying, "People are being hit with hammers every day."
Texas Senator Ted Cruz Monday retweeted right-wing social media posts casting doubts about the record of the assailant. Among others, Donald Trump Jr., Republican Arizona gubernatorial candidate Kari Lake, and Republican Louisiana Congressman Clay Higgins mocked the attack. Conspiracy theories seeking to dismiss the linkage of the attack to extremist rhetoric were promoted by close Trump associate Roger Stone, Trump ally Dinesh D'Souza, and new Twitter owner and Trump supporter Elon Musk before he deleted it in response to sharp criticism.
"We are at a crossroads," said Burger. "We can become a nation that promotes civil discourse, healing, and an understanding that diversity is a strength, not a threat to anyone in our shared nation. Or we can continue down this destructive path that will only lead to more bloodshed, the loss of personal security for everyone, and the destruction of our democracy."
"This makes the stakes in next week's midterm elections even more important," she continued. "Our very democracy is at stake."
---
National Nurses United is the largest and fastest-growing union and professional association of registered nurses in the United States with nearly 225,000 members nationwide.