Press Release
RNs applaud the reintroduction of the VA Employee Fairness Act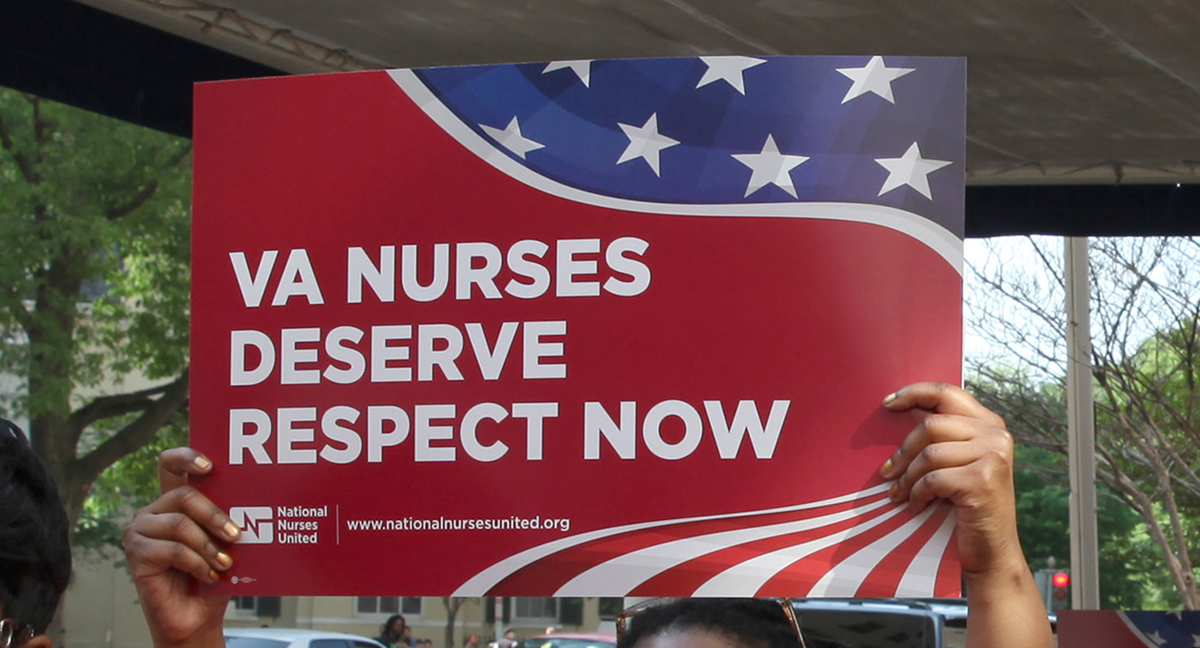 National Nurses United (NNU) applauds Sen. Sherrod Brown (D-OH) and Rep. Mark Takano (D-CA) on the reintroduction of the VA Employee Fairness Act which would grant full collective bargaining rights for nurses and other clinicians at Veterans Administration medical facilities, which is essential to ensure the highest quality care for our nation's veterans.
Sen. Brown and Rep. Takano reintroduced the act with the support of 71 House cosponsors. The legislation would reform Section 7422 of U.S. Code Title 38, which currently limits the rights of VA professionals in collective bargaining.
"Registered nurses have a duty to advocate for their patients at the bedside, and they must be protected when they speak up about issues that affect patient care," said Irma Westmoreland, RN, chair of Veterans Affairs for NNU. "Without full collective bargaining rights, nurses can be vulnerable to retaliation when they bring up workplace issues such as unsafe staffing, insufficient supplies, or inappropriate nurse assignments. The VA Employee Fairness Act would strengthen our nurses' ability to speak out about patient safety issues and, therefore, help ensure that the VA continues to provide the highest quality of care to our veterans.
"Thanks to VA's talented health care professionals, VA offers some of the best health care in the world," said Rep. Takano, the Chairman of the House Committee on Veterans' Affairs. "During the height of the Covid-19 pandemic, VA's doctors, nurses, and medical professionals even stepped up to serve all Americans. However, many of these providers still don't have key workplace rights that are standard across the federal government. If we're going to fill VA's 39,000 vacancies, we need to ensure VA can continue to recruit and retain top-tier medical professionals and provide exemplary care for our nation's veterans. By granting these essential health care workers full collective bargaining rights, our bill will help make that possible."
"The nurses, physicians, dentists, physician assistants, and other health care workers at our nation's VA medical centers, many of whom are veterans themselves, are the best at what they do," said Sen. Brown, a member of the Senate Committee on Veterans' Affairs. "Expanding the right to collectively bargain is one of the most important tools we can use to empower these workers and ensure they have a voice in the workplace. It means these essential workers can advocate for patient safety and improved health care coverage, they can earn higher wages, and they can have more paid time off, which will improve our veterans' care and strengthen local economies, families, and communities."
Under the current law, Section 7422 of Title 38 restricts the collective bargaining rights of RNs and other clinical professionals over matters concerning professional conduct or competence, patient care, peer review, and compensation. This bill would grant frontline nurses in the VA expanded collective bargaining rights, by repealing provisions from Section 7422.
"It is simply wrong that the nurses who care for our veterans are being denied the same basic workers' rights that other unionized workers enjoy," said Zenei Triunfo-Cortez, RN and an NNU president. "We must ensure that the collective voice of our VA nurses is protected so they can address the issues that arise as we care for our country's heroes."
The VA Employee Fairness Act ensures registered nurses in the VA can file grievances and pursue arbitration over issues related to direct patient care as well as to their economic standards and health coverage.
NNU represents 12,000 registered nurses at 23 VA facilities across the country, many of whom are veterans themselves.
National Nurses United is the largest and fastest-growing union and professional association of registered nurses in the United States with more than 170,000 members nationwide. NNU plays a leadership role in safeguarding the health and safety of RNs and their patients and has won landmark legislation in the areas of staffing, safe patient handling, infectious disease, and workplace violence prevention.