Press Release
National Nurses United applauds paid leave legislation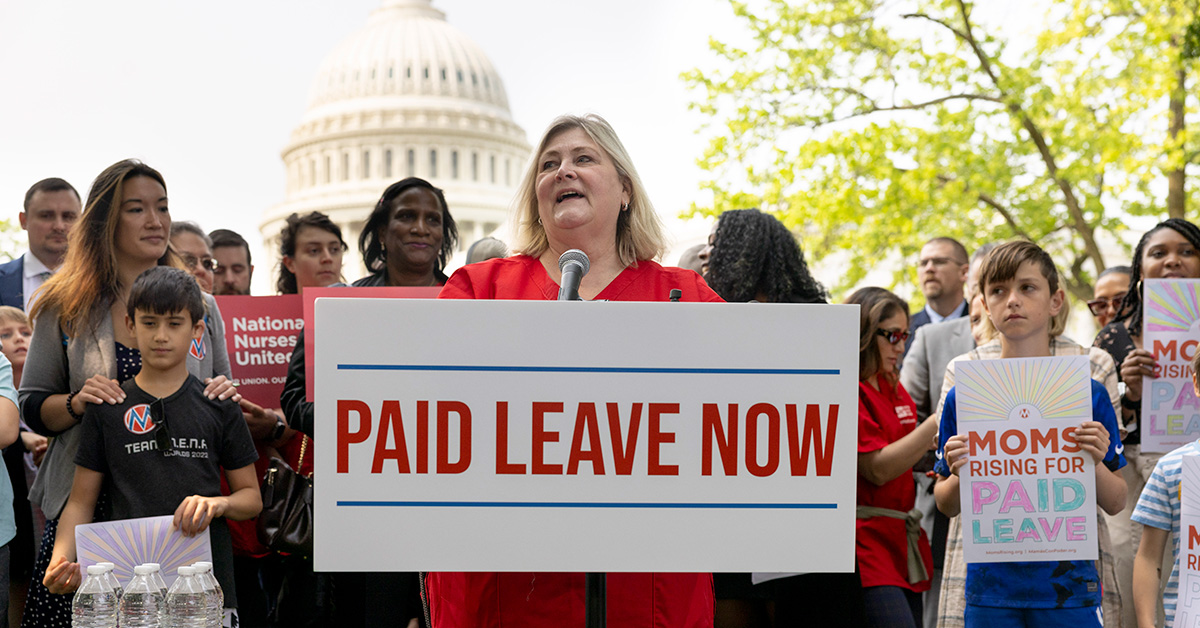 National Nurses United (NNU), the largest union and professional association for registered nurses, applauds the introduction of legislation to guarantee paid family and medical leave to all workers.
"Nurses want what is best for patients, and that's why our union supports paid sick and family leave for all workers", said NNU President Jean Ross, RN. "Nurses see the negative health consequences on patients when they are unable to take leave due to their own illness, or the need to care for family. Nobody should have to choose between their own health or the health of their loved ones, and their livelihood."
"Further, nursing is a majority female profession, and paid sick and family leave is essential to ensuring that nursing becomes a sustainable profession," said Ross. "When I had kids, my job would have been terminated each time I got pregnant if I didn't have a union contract that protected my job and seniority. I don't think you can underestimate the security you feel when you know you can be there for your kids or when a family member needs you. You can care for them and not be forced to choose between a paycheck and caring for your loved ones. I don't think you can put a price on that."
The FAMILY Act, sponsored by Sen. Kirsten Gillibrand and Congresswoman Rosa DeLauro would establish the first national paid family and medical leave program in the country, ensuring that every worker has access to paid leave for every serious medical event, each time it is needed. The bill calls for 12 weeks of paid leave. The Healthy Families Act, sponsored by Sen. Bernie Sanders and Rep. Rosa DeLauro, allows workers in businesses with 15 or more employees to earn seven job protected paid sick days each year.
"Without universal paid leave, millions of Americans must choose between their livelihood and the health and well-being of themselves and their families. After ten years fighting for paid leave, we are still the only industrialized nation without this essential program," said Sen. Gillibrand. "I am proud to join my partner, Representative DeLauro, to introduce an improved version of the FAMILY Act with marked changes that will help serve all workers and all loved ones for major life events. Now is the time to deliver on paid leave for the future of our families, our middle class, and our country."
"It is time to end this absurdity," said Sen. Sanders. "It is time for the United States to join nearly every other major country in the world and finally guarantee paid sick leave. In the richest country in the history of the world, it is a total disgrace that millions of workers are having to choose between their job and caring for their family, their newborn child, or themselves when they are sick and in need of care. It is time Congress passed this legislation to ensure workers receive the basic dignity and benefits that they deserve."
"Thirty years ago, we broke ground by enshrining the Family and Medical Leave Act into law, providing unpaid family and medical leave for working Americans," said Rep. DeLauro. "Let's break ground again by making it paid. Since 2013, I have been proud to be joined by Senator Gillibrand in introducing the FAMILY Act, which would establish the nation's first universal, comprehensive paid family and medical leave program. I am also proud to be joined by my colleague Senator Bernie Sanders in reintroducing the Healthy Families Act, legislation that would provide paid sick days to working Americans."
---
National Nurses United is the largest and fastest-growing union and professional association of registered nurses in the United States with nearly 225,000 members nationwide.