Press Release
National Nurses United Applauds CDC for Recommending a Partial Return to Indoor Masking, Recommends More be Done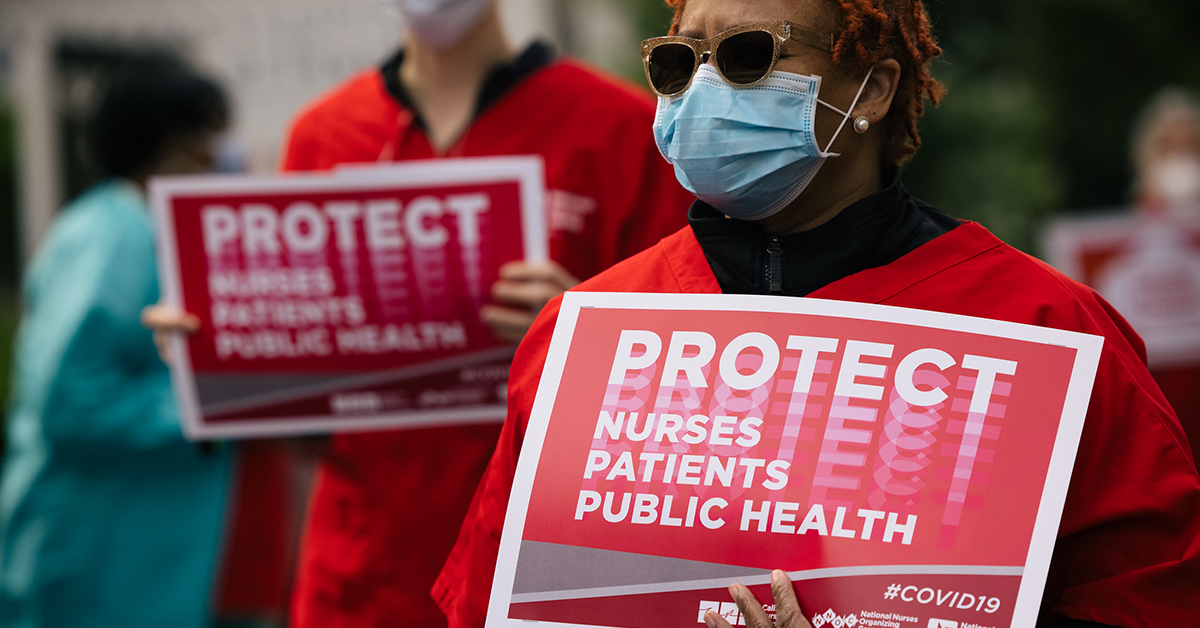 National Nurses United (NNU), the largest union of registered nurses in the United States, today applauded new Centers for Disease Control and Prevention (CDC) guidance stating that fully vaccinated people should resume wearing masks in public, indoor settings in areas of the country with substantial or high transmission. NNU also reiterated its position that masking should be universal, in all settings, for all people, regardless of vaccination status.
"As registered nurses, we always course correct when a care plan for our patient must be adjusted in order to promote optimal healing. We applaud the CDC for adjusting its care plan for this country by recommending a partial return to indoor masking for vaccinated people," said NNU Executive Director Bonnie Castillo, RN. "A fundamental tenet of public health is that our health is interconnected and we all must work together to control this pandemic. The Delta variant is increasingly showing us that vaccinated people can become infected and spread the virus, so this new guidance will help us all protect one another—and it will save lives. But, because we all must be responsible for one another, the CDC should take the next logical step and urge indoor masking everywhere in the country."
"Rather than making people figure out if they are in a substantial or high transmission area, or leaving public health up to the honor system, registered nurses recommend reinstating universal masking in all locations, regardless of vaccination status," said NNU President Deborah Burger, RN. "Masking is not a matter of personal choice, it's a matter of public health, and we know that today's moderate transmission area is tomorrow's high transmission area. We're all in this together, and none of us are safe until all of us are safe."
NNU also commended a second part of the CDC's new guidance, stating that if people have been exposed to someone who has Covid-19, they should get tested three to five days after exposure, even while asymptomatic; wear a mask indoors in public for 14 days following exposure (or until they test negative); and isolate for 10 days if they test positive.
Since the start of the pandemic, NNU has also been recommending that the CDC and public health officials maintain guidance recommending multiple measures of infection control to curb Covid-19 transmission. Nurses say vaccination has been one critical component of a comprehensive public health program that also must include universal masking in all settings (not just limited to some areas of the country), tracking breakthrough infections, distancing, screening and testing, contact tracing and case isolation, ventilation, and for health care workers, optimal, single-use PPE, safe staffing, the ability to quarantine, proper isolation of patients, and more.
"This pandemic is far from over and we are, in fact, at a new critical crossroads with cases surging again. We nurses know that to protect the lives of our patients, our colleagues, and all essential workers, we must use multiple layers of protection to drastically reduce Covid cases. Science shows the multiple-measures approach is the most effective and something we can implement now," said Burger. "Masking is a cheap, effective, and simple way to limit the spread of this virus."
In May of this year, NNU held a press conference and released a scientific brief, urging the CDC to reinstate universal masking and other infection control measures, and in July, the union sent a letter to the CDC demanding the same.
This updated masking guidance by the CDC is a step in the right direction, said NNU, and the agency could continue to strengthen its efforts against Covid by resuming tracking and reporting of data on all breakthrough infections of fully vaccinated people (not just in certain cohorts, as the CDC explained they were doing in today's announcement), and by fully recognizing aerosol transmission of Covid and revising all of its guidance accordingly.
National Nurses United is the largest union and professional organization of registered nurses in the United States with more than 175,000 members nationwide.