Press Release
NLRB Moves Forward With Complaint that Johns Hopkins Hospital Violated Registered Nurses Labor Rights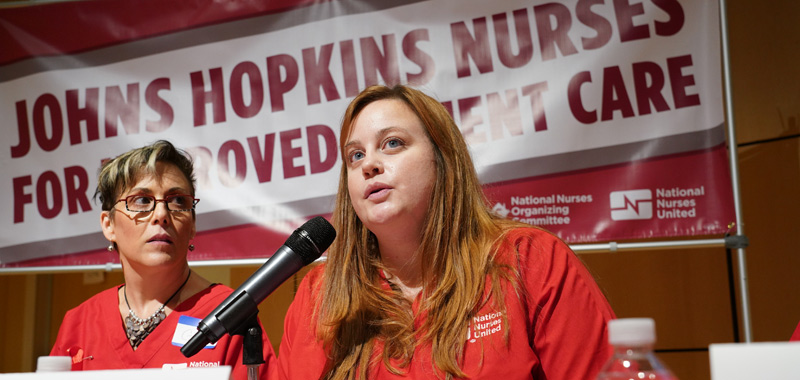 Hearing Set For March 6 in Baltimore
Registered nurses at Johns Hopkins Hospital welcome the National Labor Relations Board Office of General Counsel's decision to move forward with a complaint against the hospital citing numerous alleged labor violations, National Nurses United announced today.
 
The regional office of the NLRB has scheduled a hearing in Baltimore on March 6, 2019 at 10 a.m. At the hearing an Administrative Law Judge will take testimony from RNs and Johns Hopkins management, before determining whether or not Johns Hopkins Hospital violated federal labor law and prescribing remedies, including rescission of unlawful policies. The hearing is open to the public and will be held at Hearing Room A, Bank of America Center, Tower II, 6th floor, 100 South Charles Street.
 
"As RNs, our power to advocate for quality patient care is greatly enhanced when we have union protection and collective bargaining. If Johns Hopkins Hospital truly cares about patient care they will end this cycle of repeated labor violations and recognize our federally protected rights to speak up for our patients and ourselves," said  Pavi Jaisankar, RN,  Inpatient Psychiatry.   
 
"By moving this complaint forward the NLRB is sending a message to Johns Hopkins that they cannot disregard nurses' right to organize. We want Johns Hopkins Hospital to live up to its reputation for quality care. To do that, they must listen to the bedside nurses, and stop wasting millions of dollars on 'anti union consultants," said Kim Henriquez, RN, Oncology.
 
Johns Hopkins RNs began organizing to affiliate with NNU last year, after attempts to engage management on patient care issues were rebuffed. Management responded by investing millions of dollars in an illegal effort to thwart unionization. In December RNs released a unit-by-unit survey documenting extensive problems with patient care. To view the report visit: Johns Hopkins Hospital Patient Care Report.
 
The NLRB's complaint against the hospital, alleges that Johns Hopkins Hospital violated nurses labor rights by engaging in conduct to block their efforts to organize a union. Here is a partial list of the conduct that is cited in the complaint:
Prohibited RNs from talking about the Union while permitting RNs to talk about other non-work topics.
Interrogated RNs about their union activity.
Created the impression of surveillance of RNs' Union activity.
Promulgated and began maintaining a rule prohibiting employees from soliciting and distributing in locked break rooms in units other than their own.
Enforced the rule described above selectively and disparately against union supporters, while permitting non-union solicitation and distribution in the same areas.
Supervisor promulgated and began maintaining a rule prohibiting RNs from speaking about the union in break rooms, stating "we just cannot entertain any union activity on the unit."
In order to discourage RNs' union activity, the employer distributed a "You Asked, We Answered" document, in which it promulgated and has maintained a rule prohibiting RNs accessing certain break rooms in units other than their own.