Press Release
National Strategy Call to Win Medicare for All, Tuesday, Nov. 13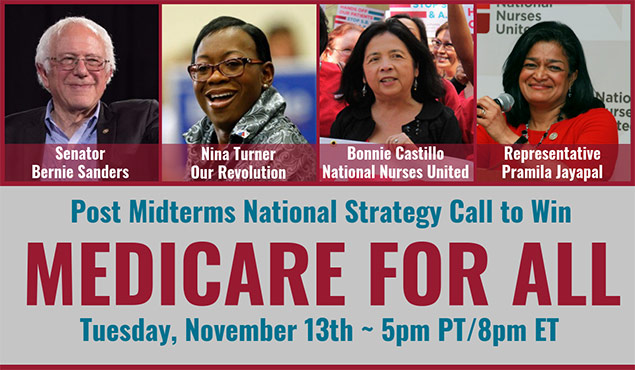 Featuring Senator Bernie Sanders, US Rep. Pramila Jayapal, NNU Executive Director, Bonnie Castillo RN, Our Revolution President, Nina Turner
The Nurses' Campaign to Win Medicare for All is hosting a national strategy call, Tuesday, Nov. 13, to discuss next steps in organizing for Medicare for All, now that Democrats have won control of the House of Representatives in the midterm elections.
The call will feature Senator Bernie Sanders, Our Revolution President, Nina Turner, and National Nurses United Executive Director, Bonnie Castillo, RN. US Rep. Pramila Jayapal, co-founder of the Medicare for All Congressional Caucus, launched in July with 70 co-founding members, will also participate in the call.
"We will work with the growing House Medicare for All caucus to press for action on Medicare for All, while also continuing to escalate movement building in states from coast to coast in support of HR 676, The Expanded & Improved Medicare for All Act," said NNU Executive Director, Bonnie Castillo, RN.
What: National Strategy Call on Medicare for All
When: Tuesday, November 13th at 5 pm PT / 6 pm MT / 7 pm CT / 8 pm ET
To join the call register here
By signing up for this call, you will receive email information about how to join the call.
"The nurses' enthusiastic and heartfelt organizing at the grassroots level to win improved, expanded Medicare for All had a powerful impact on the midterms," said NNU Co-President Jean Ross, RN. "We are excited to join with health care activists throughout the nation on the upcoming call to celebrate the strength and vitality of our movement and discuss future steps."
To register for the call go to url: https://medicare4all.org/event/nov13call/