Press Release
National Nurses United's Statement on Protests and Systemic Racism 'Stop Blaming Underlying Health Conditions and Comorbidities'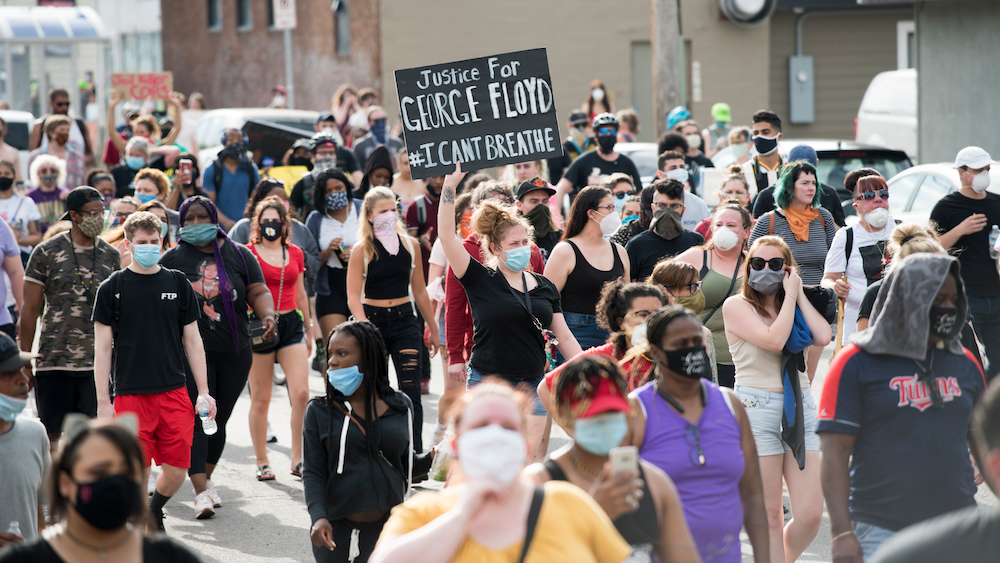 Following a weekend of nationwide protests, National Nurses United (NNU) today said the nation is long overdue in confronting the systemic racism that is at the heart of much of the current crisis and long overdue in dedicating itself to fundamental reforms.
"There's a common link between the latest wave of police and white supremacist killings of African Americans and the disproportionate racial impact of the pandemic and the economic crisis," said NNU Executive Director Bonnie Castillo, RN.
"Nurses understand that when you have pain and suffering, whether it is one patient or a community that is hurting, the first priority must be healing and recovery, driven by compassion and humanity," Castillo said. "We're seeing far too much of the opposite reaction."
Across the United States, African Americans and in many areas Latinos, have died of COVID-19 in numbers as high as three to four times the rate of whites, and have lost jobs in greater percentages since March. "Coupled with the murders of George Floyd, Breonna Taylor, and Ahmaud Arbery, there is a palpable outrage and frustration after years of inaction that has prompted the protests," said Castillo.
"Instead of addressing the persistent thread of racism, and working for transformative change to policing practices and the health, economic, and political crisis that harms African Americans and other communities of color in far greater numbers, they see inaction, evasion of responsibility, and outright blaming of those most harmed by these policies," said Castillo.
For example, the medical examiner in Minneapolis issued a report asserting it could find "no physical findings that support a diagnosis of traumatic asphyxia or strangulation" that caused the death of George Floyd, blaming instead underlying medical conditions including coronary artery disease and hypertensive heart disease.
"He didn't die of heart disease last Monday," Castillo said. "He died when he had a police officer heavily kneeling on his neck, for up to nine minutes while handcuffed and lying on his stomach imploring him to stop because 'I can't breathe.' He did not die due to pre-existing conditions, he died because of police misconduct."
"Pre-existing illness is a marketing tool developed by the insurance industry to deny health coverage, or charge exorbitant prices, for people who may be ill for many reasons that have nothing to do with their health practices, ranging from genetic conditions to environmental pollution to racial disparities in medical treatment."
"We all exist and need and deserve care throughout our lifetimes, which is the fundamental commitment of nurses, and pre-existing illness should never be used as a pretext for denying care or denying the actions of those who inflict harm, injury or other suffering. What really pre-exists is the legacy of racism."
The examiner's report resembled a recent statement by Health and Human Services Secretary Alex Azar who cited African American comorbidities such as obesity and diabetes for the drastically high black COVID-19 death rates, noted Castillo, calling it "a transparent attempt to cover up the disastrously failed response of the Trump Administration to the pandemic."
"In fact, it is racism that is the deadly disease, whether it is infusing police killings, the decades of racist disparities in health care, housing, employment, education, criminal justice, and so many other facets of our society that have boiled over in a call for change now in our streets," Castillo concluded. "This is an extremely perilous moment. We are at a crossroads in this nation. It is increasingly evident that verbal opposition to the policies in Washington and in many states, is not enough.
"We have to fundamentally challenge the systemic roots of this crisis, notably the systemic racism Trump's people not only deny but foment.
"And we must acknowledge that it is the economic, political, legal, and corporate system that reinforces this crisis. We must push for the transformative changes that will protect the health and safety of everyone, protect our diversity, and protect our democracy."
National Nurses United is the largest and fastest-growing union and professional association of registered nurses in the United States with more than 150,000 members nationwide