Press Release
National Nurses United Statement on Latest Plague of Shootings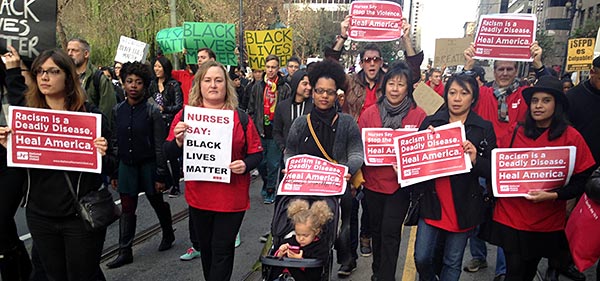 National Nurses United adds its voice to Americans across the political spectrum who are appalled at the shootings this week in Louisiana, Minnesota, and Texas.
Nurses on the front line are especially aware of the terror and horror that confronts the families affected by what has increasingly become a national epidemic. It must stop.
The hundreds of incidents of lethal police shootings this year alone, that have a disproportionate impact on African Americans, continues to be a stain on the fabric of our nation. We join with the grieving of their families, the concern over the impact on our communities, and the pain we all experience over the harmful divisions this violence spurs in our society. 
One year ago, after a horrific shooting that claimed nine lives in an African-American church in Charleston, SC., NNU endorsed the call by many others for a national dialogue about structural racism. But we must also emphasize the need for meaningful action that goes beyond dialogue.
The events of this week, are a brutal reminder that health, including personal safety, is a broad thematic that affects every segment of nation, from racially motivated police shootings to the courts to incarceration, and racial disparities in healthcare, housing, job opportunities, and education.
As we said one year ago, there are clear correlations between structural racism in the criminal justice system and economic, political and social justice.
But in each area there is also a clear and present danger to life and health, as well as an infringement on the human rights of those affected and on American democracy. As nurses, we are dedicated to prevent all forms of illness, protect health and alleviate human suffering.
NNU welcomes many features of that national dialogue we have seen over the past year, including the public activism of Black Lives Matter members and supporters, nascent efforts to address criminal justice and policing reforms, and the improved attention of these issues in the Presidential campaign.
Still, as the events of recent days have shown, we, as a nation, as a people, have a long ways to go. Words are important, but they are not enough.
We must press for comprehensive action that addresses the direct correlations between structural racism in the political, economic, and social sphere.
We must insist that our law enforcement agencies and criminal justice system are responsive and held accountable.
And we must all dedicate ourselves to a consistent approach to rooting out both the legacy and the persistence of structural racism throughout our nation to secure, once and for all, the health, the security, and the rights of all Americans.