Press Release
National Nurses United statement on Chauvin Trial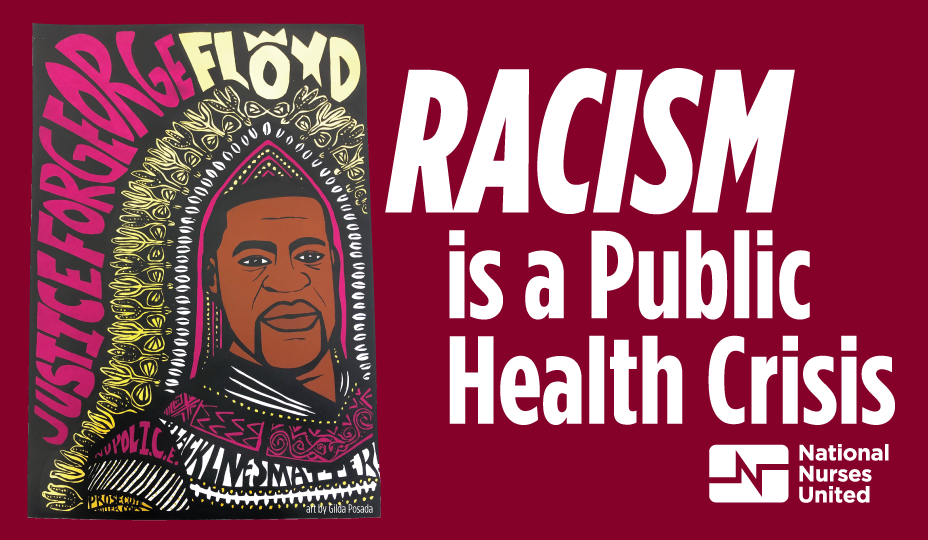 One important verdict, but more work needed on racial justice
National Nurses United today welcomed the conviction of former Minneapolis police officer Derek Chauvin for the brutal murder of George Floyd last May, adding that more work is needed on racial justice, including in policing practices.
"We hope this verdict will send a message about the importance of holding police officers accountable for terrifying acts of police violence and misconduct. We also recognize that this decision would not have been possible without the outpouring of millions of Americans demanding justice following the murder of George Floyd," said NNU President Jean Ross, RN.
"We know this was just one case; there are so many more where there was no accountability or justice: Breonna Taylor, Elijah McClain, Philando Castile, Michael Brown, Tamir Rice, Eric Garner, and so many others whose names are seared in our memories of destroyed lives, wounded families, and traumatized communities," said Zenei Triunfo-Cortez, RN, also NNU president. "More is clearly needed to protect public health and safety, especially for Black and Brown communities who are enduring disproportionate harm."
"As nurses, we know that racism is a public health crisis," said NNU Executive Director Bonnie Castillo, RN. "We have seen the impact of racism on the lives of communities of color during the pandemic — from the disproportionate deaths of Black, Latinx, and Indigenous people due to Covid-19 to the recent xenophobic attacks against Asians. We have a duty to speak out to end the suffering caused by an out-of-control system of policing and to demand transformational changes in policing practices."
While police kill white people most often, the chance of being killed is 2.5 times higher as a Black person and nearly twice as high for Latinx. "We need a new mandate for public safety that is grounded in people's rights to participate in public life, that ensures people access to the resources and opportunities they need to live healthy and full lives," NNU President Deborah Burger, RN added.
NNU advocates for:
Comprehensive and

systemic

changes in policing practices, including stronger de-escalation methods to limit the use of lethal force, the elimination of racial profiling, and greater independent public oversight and accountability.
Ending the system of qualified immunity to hold police officers accountable for their conduct.
Condemning the use of terminology such as "excited delirium" and other racist pseudoscience used to criminalize Black, Indigenous, Brown, and all people of color (BIPOC), and justify excessive use of force, including overuse of powerful and often lethal sedatives.
Ross also cited a statement last week by the Minnesota Nurses Association, an NNU affiliate which cited many killings that should, and "could have been avoided."
"As registered nurses," said MNA, "we recognize a society where Black and Brown lives are not valued erodes the collective well-being of our communities. As we have seen with systemic racist policies causing the loss of lives of people of color during the Covid-19 pandemic, we see systemic racism surfacing with the loss of Black lives in policing. We have a responsibility in improving the general welfare of our communities and we must advocate and support when injustice takes place and stand in solidarity with other workers fighting for justice."
In a statement last week, NNU also called for other steps in continuing the fight against structural racism:
Demand transformative changes to protect the health, safety, and personal security of all people, including the right to live in an environment free of fear of violence and discriminatory treatment based on race, ethnicity, national origin, gender, religion, sexual orientation, gender identity or expression, disability, or immigration status.
End the excessive increase in public spending on policing and prisons to reinvest in public health, mental health services, public education, job programs, housing, nutrition, transportation, daycare, retirement, and at-risk youth programs.
Ensure marginalized communities have equal access to health care.
Stop corporate health care industry practices that disproportionately impact BIPOC patients and nurses, such as hospital closures and service cuts.
Protect BIPOC political rights by supporting legislation that expands the right to vote.
End workplace discrimination and anti-worker policies (such as right to work legislation) that disproportionately affect workers of color and immigrant workers.
"We honor the life of George Floyd—and countless others lost to police violence. We take this moment to renew our commitment to transforming public safety and our justice system," Ross said.