Press Release
National Nurses United Statement on Bolivian Coup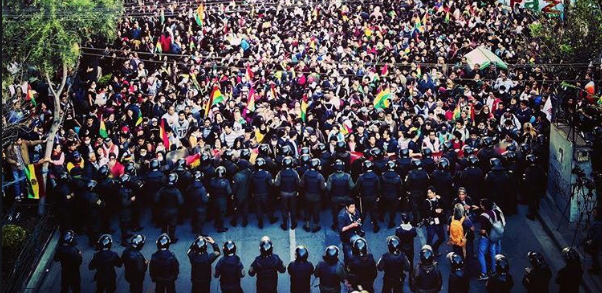 National Nurses United (NNU) today joined with the AFL-CIO, international labor leaders, and other activists in condemning the military coup in Bolivia and urging an end to political repression and violence.
NNU endorsed concerns by AFL-CIO President Richard Trumka, the Trade Union Confederation of the Americas (TUCA), the International Trade Union Confederation (ITUC), and the leader of Brazil's National Federation of Nurses (FNE) to protest the "military interference" in Bolivia.
Additionally, NNU also supports calls for restoration of democracy and a fair electoral process, including deposed former Bolivian President Evo Morales; and international solidarity for former ministers, their families, and supporters who have faced attacks or threats.
"We are alarmed by scenes of military intervention in the governance of Bolivia, arrests and acts of violence committed against supporters of the former Morales government, and racial attacks on indigenous peoples of Bolivia that have been seen across social media," said NNU President Deborah Burger, RN. 
"As nurses we have concerns for the health and safety of all Bolivian people, and urge an immediate, peaceful resolution that protects the rights and security of all Bolivians," Burger said.
 Burger said NNU endorses a statement yesterday by AFL-CIO President Trumka who said in a tweet: "The @AFLCIO joins the @ituc @CSA_TUCA in condemning military interference in Bolivia's election process. Morales reduced widespread poverty and fought for the inclusion of the indigenous majority. Bolivians must be able to vote peacefully and freely in new elections."
FNE President Shirley Diaz Morales, RN, said in a post that Evo Morales had accepted the call for new elections and peace before being deposed. "We in Latin America cannot tolerate that every time any leader stands up against social injustice" they face a coup and cannot be silent "in the face of violence in Bolivia." FNE is a member, along with NNU, of Global Nurses United, an international federation of nurses unions in 28 countries. 
Additionally, NNU cited an ITUC statement which stated that Morales "was forced to resign by high ranking military officials. The news comes after threats on his life and violence against ministers, parliamentarians and their families."
"No elected president should be forced out of office under military orders," said ITUC General Secretary Sharan Burrow. "That is not how democracy works. The electoral process is the solution, not intervention by military leaders. Military coups can never be the answer."
Morales, the ITUC observed, was first elected in 2006. In his three terms as president, he oversaw a major reduction in poverty, with overall poverty going from 59.9 percent to 34.6 percent in 2017 and extreme poverty cut by more than half in the same period. His inclusive policies saw huge budgets dedicated to health, education, and electrification, which notably resulted in illiteracy rates dropping from 13.28 percent in 2001 to 3.8 percent in 2014.
President Morales, the ITUC added, also called for a fresh vote to allow the Bolivian people to make their choice. Burger said NNU agrees with the ITUC call that "This should be respected and … the international community (should) support it."
National Nurses United is the largest and fastest-growing union and professional association of registered nurses in the United States with more than 150,000 members nationwide. NNU plays a leadership role in safeguarding the health and safety of RNs and their patients and has won landmark legislation in the areas of staffing, safe patient handling, infectious disease, and workplace violence prevention.