Press Release
National Nurses United on Senate Republicans' stimulus proposal: 'Senate Republicans have abandoned nurses and patients'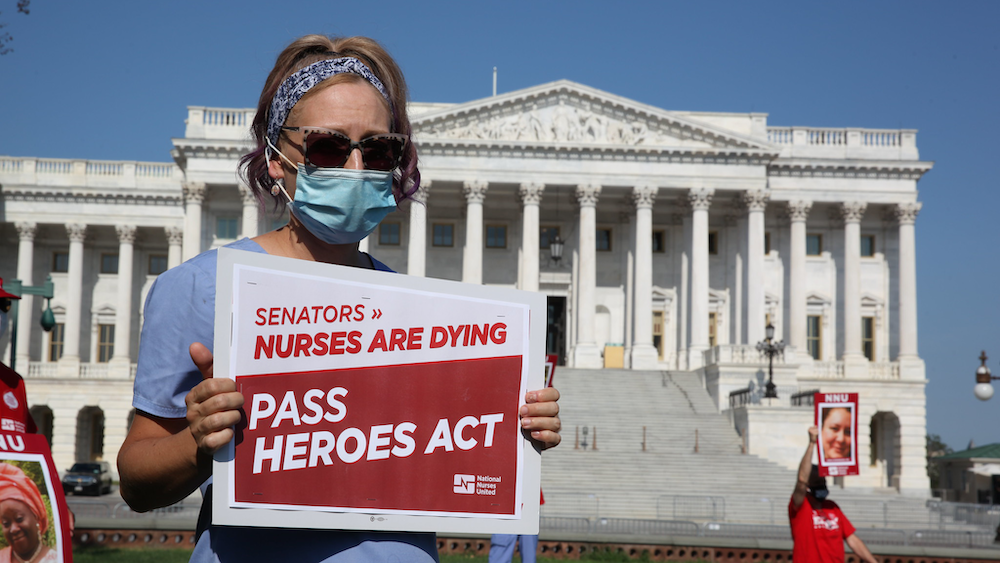 Senate Republicans today released a fourth COVID-19 stimulus package proposal that utterly fails to address the urgent needs of working people across the country, who are in desperate want of economic support and a comprehensive pandemic response, as well as the needs of nurses and health care workers on the front lines of COVID-19.
By reducing unemployment benefits while our country is still experiencing a widespread surge of COVID-19 infections and related job losses, the HEALS Act hurts our patients' ability to afford housing, food, health care, and more, which directly affects their physical and mental health. Because nurses cannot protect our patients while we remain unprotected ourselves, we are also outraged to learn that Senate Republicans have not included the critical protections we need to provide care to COVID-19 patients during this pandemic.
"For more than six months, nurses across the country have been demanding help from Congress and the White House," said Bonnie Castillo, RN, executive director of NNU.  "We have been risking our lives every single day to care for patients during the COVID-19 pandemic, without the personal protective equipment (PPE) and workplace protocols that would prevent exposure to the virus. Despite the ongoing dire situation in our nation's hospitals, Senate Republicans have failed to include any provisions in the HEALS Act that would protect nurses and our patients. Today, Senate Republicans once again abandoned nurses and our patients."
National Nurses United calls on the United States Senate to instead pass the HEROES Act, which includes a mandate for an OSHA emergency temporary standard on infectious diseases to protect frontline workers during the pandemic, and legislation that would increase production of critical medical supplies, including PPE. As an occupation dedicated to healing, registered nurses condemn the so-called "HEALS" Act and call on Senate Republicans to stop cutting corners on our patients' and colleagues' lives.