Press Release
National Nurses United Responds to The View's Disparaging Remarks about Nurses
National Nurses United (NNU), the largest organization of nurses in the U.S., would like to express disappointment regarding ABC show The View's disparaging, patronizing and misinformed comments on nursing.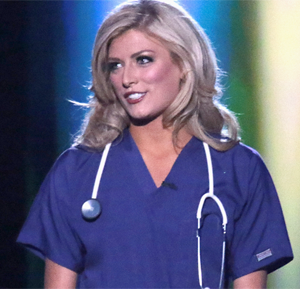 This week, in discussing the talent portion of the Miss America pageant, hosts of The View mocked Miss Colorado Kelly Johnson's (pictured to the right) monologue on her profession as a nurse, including host Joy Behar asking why she was holding "a doctor's stethoscope." Behar later excused her comments as "inattentive," saying she thought Johnson's uniform was "a costume," and co-host Whoopi Goldberg encouraged viewers to see the initial segment as "a joke."
NNU's registered nurse members would like to be clear that trivializing the role of nurses is not only unfunny—but also part of a consistent media misrepresentation of nurses playing a supporting, background role, in the shadow of doctors. In reality, nurses are trained, college-educated professionals, with their own independent, complex, life-saving scope of practice. Nurses spend the most time with patients, observing signs and symptoms of illness, reactions to treatment, and changes in condition, to which they must respond promptly and effectively. They mobilize the healthcare team, manage complex technology, oversee the care and responses to therapies, and endlessly advocate in support of a patient's best interest and recovery. To do this, they use tools such as their own stethoscopes. Given the amount of time nurses spend with patients, it would be fair to say nurses use them more often than doctors.
Additionally, when patients and families are at their most vulnerable, as Johnson pointed out, nurses are there to provide emotional support and help with navigating the often-confusing healthcare system. Without a single payer system, it's also important to note that patients who still find themselves under- or uninsured (even with the Affordable Care Act) are often entering hospitals only when their illnesses have already become life threatening, making the front line of care—nurses—even more critical. A nurse's compassion is only the emotional component to an also physically and mentally demanding job. As Johnson implies at the end of her monologue, the phrase "just a nurse" cannot possibly do justice to the reality of how many nurses' stethoscopes capture everything from a baby's first breath and cry, to a dying patient's last heart beat and everything in between.
To that end, NNU welcomes this opportunity to more clearly define the role of nurses in mainstream media. We would like to encourage hosts of The View to use their platform not to just spread stereotypes about nurses, perpetuated by popular TV shows—but to play a critical role in speaking of nurses as the dignified professionals they are. Johnson's talent may not have come draped in a sequined evening gown. Saving patients often happens in non-descript scrubs, as a matter of course—all in a day's work. That is a talent for which we owe nurses respect, if not our very lives.