Press Release
National Nurses United join Dr. Jill Biden for a roundtable on the COVID-19 pandemic and the government response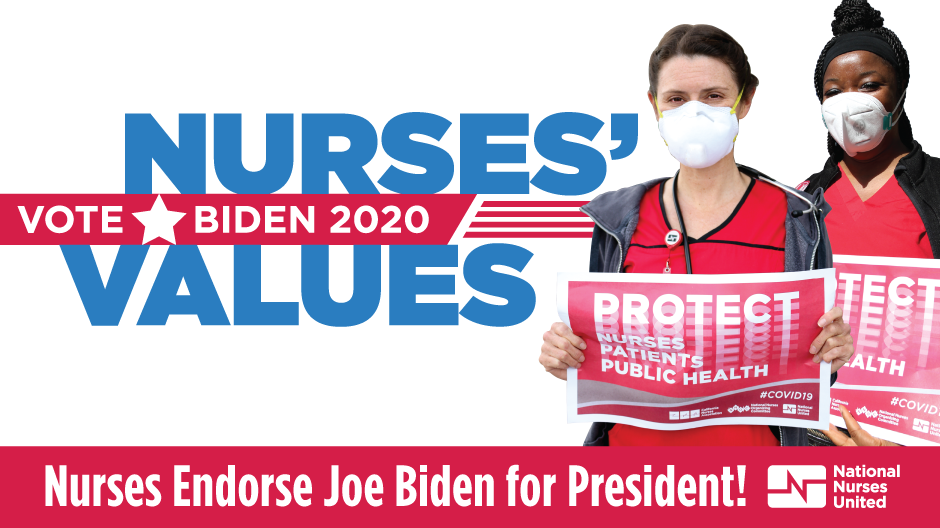 On Monday, Sep. 14, members of National Nurses United from Arizona and Nevada will join Dr. Jill Biden and NNU President Deborah Burger, RN for a roundtable discussion on COVID-19's  impact on safe working conditions and patient safety, Vice President Joe Biden's pandemic response plan, and President Donald Trump's failure to keep the country safe.
"The current administration has failed nurses and the public since day one of this crisis and now more than 191,000 people in the United States have died," said Deborah Burger, RN. "We are very excited to share our concerns and our stories from the front lines with Dr. Jill Biden. We know that Vice President Biden understands that science, truth, and compassion must be our guiding principles as we face the COVID-19 pandemic together as a nation."
National Nurses United RNs have endorsed Vice President Joe Biden and Sen. Kamala Harris for the 2020 presidential and vice presidential ticket. NNU is the nation's largest and fastest-growing union and professional association of registered nurses, with more than 155,000 members nationwide.
What: Roundtable with Dr. Jill Biden, NNU President Deborah Burger, RN, and frontline nurses
When: Monday, September 14, 1 p.m. EDT/10 a.m. PDT
Where: Virtual roundtable