Press Release
National Nurses United registered nurses honor and remember longtime friend and champion of workers, AFL-CIO President Richard Trumka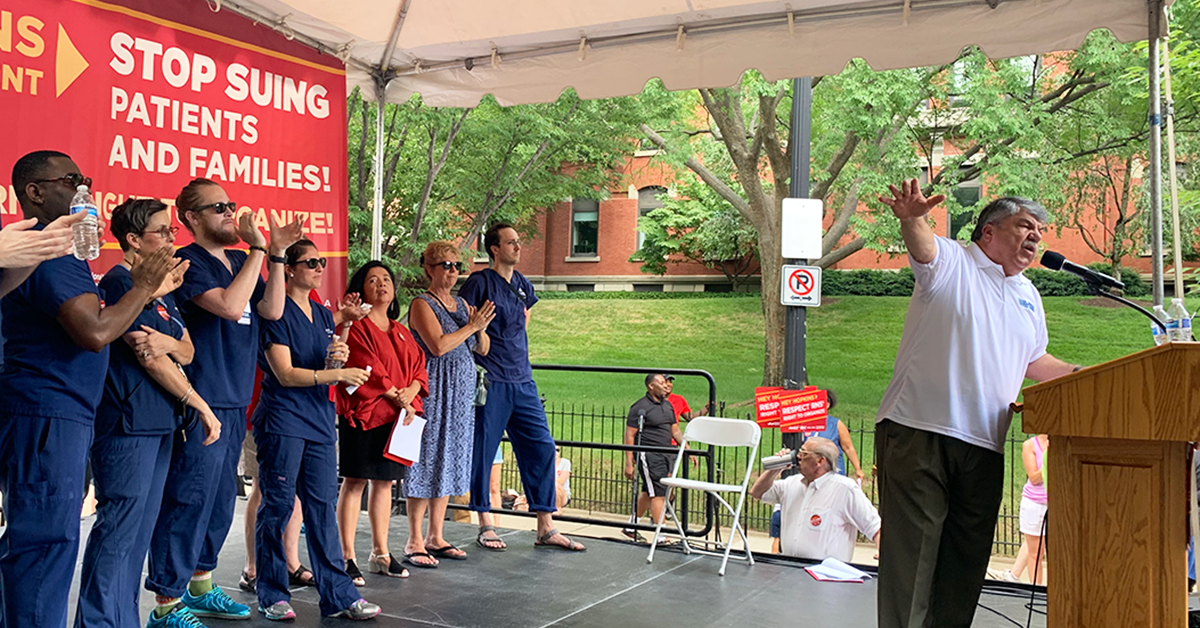 President Richard L. Trumka was a longtime champion of workers' rights and the labor movement, during the difficult and challenging decades of neoliberal and far-right assaults by transnational corporations, their many advocates in Congress, the White House and state governments, and the multiple anti-union institutions and media allied with them. His leadership and advocacy will be greatly missed.
For National Nurses United and our registered nurse members, President Trumka was a longtime friend. He stood with us for decades in confronting the attacks on RNs and patient care standards conducted by a corporate health care industry more focused on profits and budget goals than on public health and safety and on the rights of frontline caregivers. Through multiple efforts by hospital corporations to roll back nurses' standards and patient care protections, NNU could always count on Rich Trumka to be by our side.
His leadership as a champion of working people was clear from the time he was first elected as president of the United Mine Workers of America (UMWA) in 1982 and his courageous leadership during that union's multiple strikes against coal companies over his tenure.  For decades, he was also a prominent proponent of international labor solidarity, leading the UMWA's solidarity efforts with mine workers in South Africa, Colombia, and many other countries around the world -- work that he continued when he was secretary-treasurer and then president of the AFL-CIO. Trumka's leadership was especially evident during the devastating years of the Trump administration, providing a strong pillar of opposition to Trump's assaults on workplace protections and labor law rights. The AFL-CIO, under Trumka's direction, played a critical role in the vitally important election of President Biden.
Everyone owes President Trumka gratitude in particular for his advocacy on behalf of science and public health during the calamity of the worst global pandemic in a century. For the past 18 months, Trumka worked closely with NNU in our health and safety efforts to confront the failures of the Trump administration, the Centers for Disease Control and Prevention, and other federal agencies to demand the safety protections so urgently needed to save lives. The human toll we have all endured would have been even worse without his work, in close cooperation with our union, to put pressure on the federal government, state governments, and employers.
In the past six months, we have begun to see gains, evidenced by greater attention and regulations to provide critically needed resources and leadership, in this once-in-a-century fight that are the direct product of our close working relationship with President Trumka. We have a long way to go to end this terrible pandemic, but every step of progress will be part of Rich Trumka's lasting legacy.
Our condolences to Rich Trumka's family and the entire AFL-CIO and labor movement family. Rest in power, Rich Trumka.
National Nurses United is the country's largest union and professional association of registered nurses, with more than 175,000 members nationwide.