Press Release
National Nurses United Endorses Sanders Amendment to Protect Social Security, Medicaid and Medicare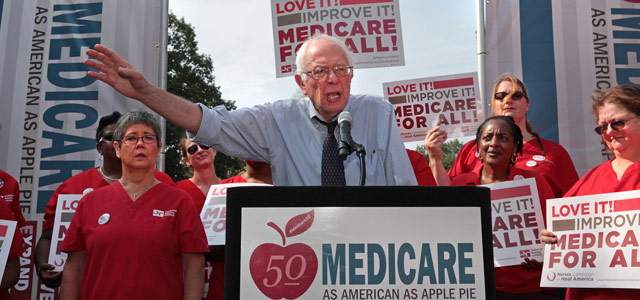 National Nurses United today strongly endorsed a proposed Senate budget amendment by Senator Bernie Sanders that that would protect funding for Social Security, Medicare and Medicaid.
If adopted, the amendment would require a three-fifths Senate vote for any cuts to these vital programs.  The amendment invokes President-Elect Trump's pledge not to cut these programs.
Sanders filed the amendment, Amendment 19, on January 5. The amendment vote is scheduled for Tuesday afternoon. Sanders is the ranking minority member of the Senate Budget Committee.
In a letter to members of the Senate today, NNU Co-Presidents Deborah Burger, RN and Jean Ross, RN called the proposal "essential for the well-being of our patients, their families and communities."
On Social Security, the Sanders amendment would require a three-fifths vote by the Senate for any proposal that results in the reduction of guaranteed benefits, an increase in the retirement age or early retirement age, or privatization effort.
On Medicare and Medicaid, the amendment would similarly require a three-fifths vote for reduction of benefits or, for Medicaid, reduced eligibility.
"It is a moral imperative that we guarantee healthcare for all as a right, not a privilege, and that seniors have a dignified and secure retirement. Social Security, Medicaid and Medicare are essential to the financial and personal security of our society, and particularly our seniors and the disabled; in fact, most Medicaid spending is dedicated to services for seniors," wrote Burger and Ross.
"As you well know, and as nurses experience in hospitals every day, budget choices are moral choices. How and where we spend public dollars reveals our values. For nurses, the values of caring, compassion and community must guide our choices, lay the foundation for a healthcare system, and animate our society… We urge you to vote 'yes' on Senate Amendment 19," they conclude. 
See Also: