Press Release
National Nurses United Endorses Erin Murphy for Minnesota Governor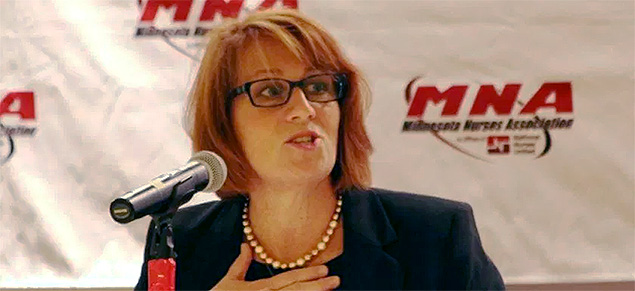 National Nurses United, the nation's largest union of registered nurses, today announced its endorsement of Minnesota State Representative Erin Murphy for Governor of Minnesota.
"We are endorsing Erin because she's a proven champion fighting for all Minnesotans," said Jean Ross, RN, Co-President of National Nurses United and resident of Bloomington, Minn. "As a registered nurse herself, Erin stands for nurses' values of caring, compassion and community—values that most Minnesotans share.  National Nurses United is proud to support her."
Nurses cited Murphy's leadership during her term as Minnesota House Majority Leader in protecting and expanding MinnesotaCare, her firm commitment to bring single-payer Medicare for All to Minnesota so that everyone in the state has guaranteed, therapeutic health care, her dedication to eliminate disparities that unfairly impact people of color, and her efforts to rectify the short staffing crisis that continues to negatively impact patient care in hospitals across the state.
"Erin has been an impressive leader in the Minnesota legislature and will be able to utilize those skills as the next governor of our state for the benefit of all who live here," said Mary Turner, President of the Minnesota Nurses Association, NNU's Minnesota affiliate representing 21,000 RNs throughout the state. "Erin is the only candidate for governor who advocates for the right of everyone in the state to have guaranteed health care, something that is a top priority for the state's registered nurses.  We urge all voters to support her."
Murphy is speaking about her single-payer health care plan at events across the state this week, including today in St. Paul, tomorrow in Mankato, Rochester and Winona, and Thursday in Brainerd and Duluth.
"I'm incredibly proud to receive the endorsement of National Nurses United," said Murphy. "At this critical moment in our politics, we need progressive leadership and I look forward to fighting shoulder-to-shoulder with NNU for health and justice for every Minnesotan. I learned from nursing that you always dig in on the hard issues and you never walk away from a patient – it's how I've led for the past 12 years at the legislature and how I'll continue to lead as the next governor of Minnesota."
"Our current healthcare system is broken, benefitting the industry and monied interests. They are powerful but the people are more powerful," said Murphy. "Now is our time. When we stand up for young people, farmers, nurses, teachers, refugees and immigrants, and our elders, we can make true progress. Minnesota has the ability to guarantee that no one dies or goes bankrupt from lack of care. We can show the country what it looks like to lead and put the well-being of people first."